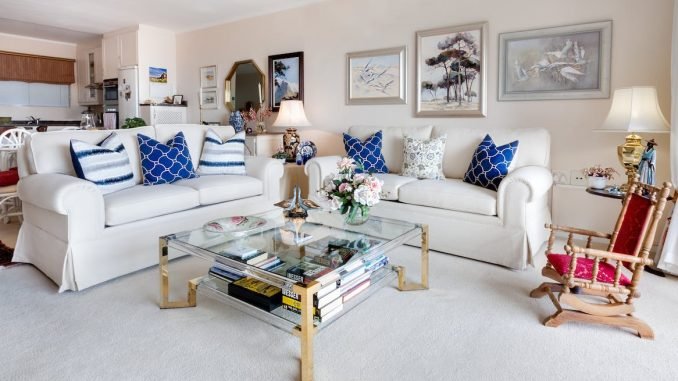 Given the city's warm, sunny climate, high-end amenities, and thriving job market, Atlanta is a prestigious housing market. Georgia's capital appeals to families and professionals eager to plant roots and raise children in a city surrounded by art, culture, and history. Atlanta homes attract homebuyers with high ROI potential, as the local housing market ranks among the strongest nationwide.
Homeowners in Atlanta have much to gain from maintaining and boosting their property's market value and ROI potential. Even if you don't want to sell, functional upgrades will make your home more comfortable and luxuriously well-appointed. This year's interior trend radar for Atlanta is abuzz with chunky patterns and warm colors.
We urge you to take inspiration from Georgia's rich southern heritage and infuse your home with vibrancy and warm tones. Home improvements that combine aesthetic charm with practicality will help elevate your life quality with functional and tastefully done interiors.
Read on to explore some brilliant home improvements to transform your Atlanta home with meaningful upgrades.
1.      Safety Against Natural Hazards
Atlanta has an alarming risk of multiple natural hazards, primarily flooding, wildfire, windstorms, and tornados. Among these risks, flooding is the most pressing concern, disrupting day-to-day life for homeowners in multiple communities. Statistics reveal that Atlanta has a moderate risk of flooding, demanding homeowners erect solid defenses to protect their lives and properties.
Failure to establish flood barriers exposes Atlanta homes and their occupants to unprecedented damage and risks. Flooding creates scores of fire and safety hazards, alongside cutting off access to emergency services and basic utilities. Homeowners can eliminate the risk by deploying effective barriers like inflatable floodwalls, floodgates, skirts, or shields.
And if water has entered your home after a flood, it is equally important to engage trusted Atlanta water damage specialists as soon as possible for proper cleanup. The longer you take to start the restoration process, the more extensive and costly it will be.
We also advise working closely with seasoned water damage experts to seal exposed areas with flood-resistant materials and minimize risk factors.
2.      Dramatic Wallpapers with Accent Walls
Interior designers believe dramatic wallpapers with chunky patterns are making a glamorous comeback this year with bigger and bolder patterns. Homeowners who want to breathe new life into their living spaces can explore multiple design influences. Wallpapers are incredibly versatile and easy to maintain, ideal for homeowners who love changing and experimenting with interior décor.
You can use a seamless and harmonious combination of wallpaper and paint to customize the cosmetic profile in any room. Wallpapers open an exciting world of evocative aesthetics, from classic southern-style charm to warm tones and whimsical fairytale interiors. We urge you to envision a dramatic transformation by pairing wallpaper with subtle paints and an attention-grabbing accent wall.
When designing an accent wall, it's wise to embrace the 60-30-10 Rule. The main color tone should dominate 60% of the room, allocating 30% space to the secondary tone and 10% for the accent color. You can adorn 60% of the walls with a bright pastel color and 30% with wallpaper, leaving 10% for a dazzling accent color.
Accent walls are ideal for hanging up your precious antiques and heirlooms or creating a beautiful photo wall with priceless memories.
3.      A Whimsical Outdoor Space
Atlanta has partly cloudy year-round weather with hot and humid summers and chilly and wet winters. The sub-tropical weather demands an ambient outdoor space where one can cool off or unwind without being exposed to the elements.
Besides, an underutilized backyard is a ridiculous waste of precious residential square footage. We advise transforming your backyard into a whimsical outdoor space adorned with fragrant blooms and rustic fixtures. If you love entertaining guests for Southern-style meals and BBQs, you need an inviting and spacious seating arrangement.
Building a rustic wooden deck is a fairly common approach to creating an outdoor seating area. We suggest a polished wooden pergola with tulle curtains and stone walkways if you want a more aesthetic profile. You can decorate the pergola with comfortable bamboo furniture featuring vibrant patterns and colorful linens. Pair the pergola with a fire pit and a BBQ station to make the outdoor space suitable for bonfires and grilling.
If the space allows, consider adding blooms and greenery by allocating a few patches for a garden. You can set the garden apart from the seating area by creating a traditional arbor decorated with flowers and veins.
4.      A Gourmet Kitchen
Homeowners eager to boost functional utility and market value should look no further than a kitchen renovation. Creating a gourmet kitchen will elevate your culinary adventures with supercharged functionality alongside attracting scores of serious buyers.
But it's important to set priorities when devising a budget and starting with the functional aspects. Investing in state-of-the-art smart kitchen appliances is the best way to upgrade a kitchen, infusing it with tech-savvy gadgets. Smart kitchen appliances and tools help professionals balance their domestic chores seamlessly with busy work lives.
Examining existing issues when brainstorming ideas for your kitchen renovation is wise. Do you struggle with overwhelming clutter due to a lack of storage solutions? Would you like to expand the floor plan to add a walk-in pantry and a cozy breakfast nook? Have you always dreamt of a spacious kitchen that opens into a herb and vegetable garden?
If you plan it strategically, you can create your dream kitchen with a step-by-step approach. Altering the floor plan is an excellent approach to incorporating all the underutilized space into a kitchen suitable for cooking and dining.
Final Thoughts
It's easy to get carried away with design inspirations when you lack professional insight, market-specific knowledge, and budgeting acumen. Homeowners who approach home improvement projects without balancing creativity with practicality waste a lot of money.
Focus on the aspects you'd like to improve to maximize comfort and convenience and support practical life upgrades. For instance, an open floor plan will make your home more spacious by adding fluidity and improving the traffic flow. Adding more storage solutions is an excellent way to eliminate clutter and maintain efficiently organized living spaces. These are just some basic ideas you can start off with.