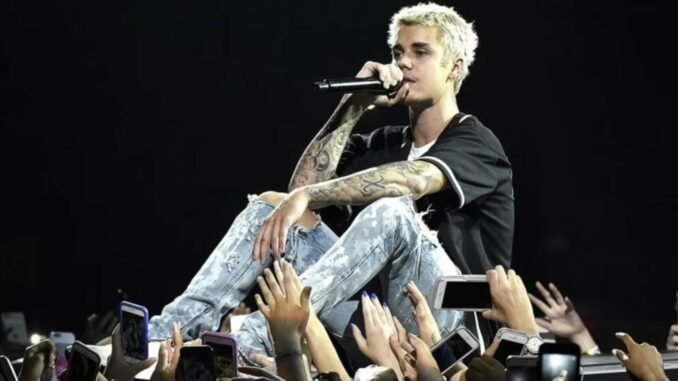 It's quite inspiring to hear stories about musicians who didn't have the best start to life; those who grew up with nothing and are now earning their millions with hit music careers and worldwide tours.need to tour anymore, after the major success they had. Needless to say, their not-so-glamorous pasts are merely distant memory.
10

Justin Bieber
This famous millennial has taken over the world with his hits, sold-out world tours and headlines in every magazine. Justin hit the big time when he was in his teens and every teenager in the world was obsessed with him. Now, Bieber has grown up and gotten married. In the beginning, though, Justin didn't live the lavish lifestyle: he grew up poor and struggling.
Now, Justin has a net worth of $265 million.
9

Celine Dion
This diva is known for her sensational hits. Celine has been in the music industry for a long time, but in the beginning, she didn't have it so easy: she was the youngest of 14 children. That's a lot of mouths to feed, and her parents didn't have high earning jobs. The house was crowded and Celine was unable to have her own bedroom. She slept on a bed by the staircase.
RELATED: 10 Musicians Who Hate Their Hit Songs But Are Still Making Millions Off Of Them
It sounds tough, but now Celine has lavish houses all over the world and can pick any bedroom she wants. She is a top earner as her net worth is $800 million.
8

Mariah Carey
The pop singer is one of the top-earning musicians in the world. Her songs have been number one on the Billboard charts throughout the years and she has a lot of albums. Before she hit the big time, Mariah was an independent teenager. She moved to Manhattan, New York and lived in an apartment with other girls.
Money was tight as Carey slept on a mattress and allegedly only had a dollar for herself after paying bills. Now, Mariah doesn't have to worry about anything, with $300 million in the bank.
7

Jay-Z
Referred to as the GOAT by many, Jay-Z lives a lavish lifestyle thanks to his big success in multiple business ventures both in and out of the music industry. Before becoming a businessman (or as he calls himself, "a business, man"), he had a tough upbringing. He continues to write songs directly related to growing up in Brooklyn's notorious Marcy Projects.
His current net worth is around $930 million.
6

Jennifer Lopez
You don't get to be known as one of Hollywood's biggest divas (in a good way, of course) without being known for living a lavish life. J. Lo grew up in the Bronx and shared a bed with her three sisters. Now, her mansions are likely filled with luxuries she once could only dream of as a little girl.
RELATED: The 10 Ways Kylie Jenner Made It To A Billion Dollars
It wasn't easy when she left home to pursue her dancing dream. Lopez slept in a cot in her dance studio. Now, she's living her dream as a singer and dancing on stage at her world tours, not to mention her Vegas residency. J. Lo is worth upwards of $400 million.
5

Eminem
Eminem didn't have such a great start in life. As fans would know from his music, he lived in a trailer park with his mom before moving into a rundown house in a bad neighborhood in Detroit. Eminem also moved around a lot between housing projects in Detroit and Missouri, in poor neighborhoods because his mom didn't have enough money.
Now, Eminem is one of the most popular rappers and his impressive net worth shows it. His 2019 net worth is $210 million.
4

Shania Twain
The country singer didn't have it easy as a child. Shania grew up in a small town in Timmins, Ontario, and it was tough. Twain often went to school hungry because her mom and stepfather couldn't afford groceries or rent; she's been vocal about eating mayo sandwiches for lunch.
Shania's musical abilities were noticed when she performed at a Vegas-style resort near her hometown to pay bills. Now, Shania is one of the most popular country singers of all time and she has $400 million in her bank account.
3

A$AP Rocky
He is a well-known rapper but before the fame, Rocky had it tough living in Harlem, New York. Before he lived in an apartment with his family, they lived in a homeless shelter for awhile because his parents couldn't afford to live on their own.
RELATED: Top 10 Richest Actors In The World Of 2019
A$AP doesn't hide his past because he feels it made him who he is today. Now, A$AP doesn't have to worry about paying bills with his $6 million.
2

Dolly Parton
The famous country singer lives the dream, with her chart-topping hits and numerous albums. It was a different story for her as a young girl, though: Dolly was raised in a one-bedroom raised cabin with 11 siblings. The small cabin is in Tennessee and her family would hunt for meat and gather fruit.
It was a total self-sufficient lifestyle. Dolly gave that life all away for a life of luxury, which she can afford with her $500 million.
1

Jewel
She is a singer and songwriter who has sold over 30 million albums worldwide. Her success is an inspiring story, because Jewel didn't have it easy growing up. She was homeless on the streets of Alaska and shoplifted just to get some food. The only thoughts on her mind were food and shelter, and it wasn't easy to get by.
Thankfully, Jewel doesn't have to worry about being homeless anymore as she can afford houses with her $32 million net worth.
The following musicians have had top-selling albums on the top 100 charts and continue to sell out their concerts whenever they go on tour. Many of them don't even