Chloe Bailey, 19, and Halle Bailey, 17, know the power of persistence (and social media!). The sisters, known by their stage name, Chloe x Halle, got their start posting cover songs on YouTube. Their rendition of Beyonce's "Pretty Hurts" caught the attention of Queen Bey herself and the rest, as they say, is history. Bey signed them to her label, Parkwood Entertainment, in 2013 and the duo have since toured worldwide on the Formation Tour and released new music. Fans can now spot them on the Freeform spinoff "Grown-ish" with Yara Shahidi. "We pinch ourselves every day," Chloe told Rolling Stone in 2017. "We're just two young girls who like to create music from scratch in their living room." Added Halle of label boss Beyonce, "We're so grateful that we have a resource like her. She's been through everything."
You might not who JD McCrary is yet, but you will soon! The 10 year old created quite a buzz when he performed flawlessly at the 2018 Grammys with Childish Gambino (aka Donald Glover). The twosome may have seemed like a random pairing, but Donald and JD are actually future co-stars: JD plays a young Simba in the upcoming "Lion King" live-action remake while Donald plays the older Simba. In 2018, JD is also set to play Kenny Payne on Tyler Perry's new series, "The Paynes," a spinoff of the popular show "House of Payne." Definitely a future star in the making!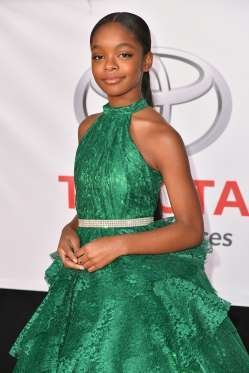 Marsai Martin is one accomplished 13 year old. The young Texan has been playing twin daughter Diane Johnson on ABC's "Black-ish" since 2014, but most recently made headlines for executive producing and starring in her own film, the Universal comedy "Little," which is based on her own idea. The story focuses on a woman who gets the chance to relive her carefree childhood after the pressures of adulthood overwhelm her. The movie's script was penned by "Girls Trip" writer Tracy Oliver, so it's guaranteed to be truly hilarious. Congrats, Marsai!