A Tribe Called Quest has just released their sixth and final studio album, announced only weeks ago by Q-tip via a handwritten note shared on social media. The album is a collaboration by several major players in the industry including: Kanye West, Jack White, Kendrick Lamar, Talib Kweli, Andre 300, Busta Rhymes, and Anderson .Paak, in addition to all four original members, including the late Phife Dawg. Stream the album now via Spotify below:
A Tribe Called Quest has become that of hip-hop mythology, known for revolutionizing the art of both producing and rapping. In the wake of Phife Dawg's passing, the album has taken on a posthumous aspect, with tribute to the original member evident in the music. Each song drips in classic Tribe flow, paying tribute to the classic boom-bap looping style that became a signature feature of their music, while also utilizing the modern technology available to them.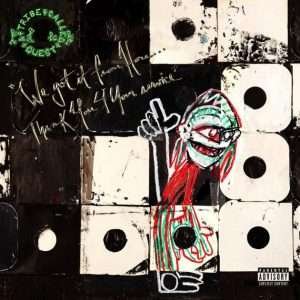 The transitions are seamless, each track blending so well into the next that the album as a whole seems to pass by in seconds. Listening through it feels as if Tribe never left us, as if this is just their next EP that we all had awaited. But without getting into specifics here are some takeaways from this album:
Phife Dawg had flow till the end. Listening to his verses, Phife sounds as if he had never left his prime. His timing is immaculate and delivery as smooth as ever.
Q-Tip is a legendary producer. It's evident that Q-Tip played a major role in putting this album together and although it was a huge group effort, Tip surely put his heart and soul into this one.
Classic hip-hop is not dead. With all the chatter about the youngest generation of so-called 'mumble rappers,' this group of vets showed us that a sweet loop, some boom-bap drums, and some silky smooth flow is all you need to make great hip-hop.