[Los Angeles, California, 3rd/June/2021] –  We held an interview with the Seattle-based hip-hop brand, The High Children. ( special feature on Pump it up magazine print and Digital Edition – Vol.6 – Issue #6 – June 2021 – Available June 10th) The brand originated in the early 2000s became an instant hit with their positive energy being the message behind their music. Their melodic singing coupled with the rap styled catchy hooks along with their LIVE on-stage rap performances made them widely desired at the Seattle hip-hop scene and had them playing on MNC's, SP1200's, and turntables.
The High Children Brand contains JJ Hudson, DJ Nasty Nes, GrandMixer GMS, Jayson, Jamal, Robbie Rob & DJ 3rd Degree as members.
The Chief Evangelist, DJ Nasty Nes has been on the Seattle hip-hop scene for 38 years now. He relocated to the US in 1970 where his dreams began to become a reality. Nasty Nes debuted the West Coast's first ever all rap radio show "Freshtracks" on Seattle's 1250 KFOX in 1980. Freshtracks was a two hour show that played on Sunday nights on KKFX 1250 ("KFOX") and consisted of a mix of new songs and a master mix created by Nasty Nes. Nastymix Records, the Northwest's first hip-hop label, was founded in 1985 with the local release of Sir Mix-A-Lot's "Square Dance Rap". Nasty Nes is the guy who actually discovered Sir Mix-A-Lot. Nastymix Records gained international recognition with Sir Mix-A-Lot's 1992 #1 hit, "Baby Got Back"(year end Billboard chart #4, though on Def American Records). In 1988, Nes took his rap radio show 'Rap Attack' to KCMU and his 'Hotmix' show to KUBE 93. Nes moved to South California in 1997 to became the rap editor for HITS magazine and five years later established rapattacklives.com, his own online promotions business. In 2019, DJ Nasty Nes revived his classic radio show, KFOX Nightbeat, featuring songs he originally played on Fresh Tracks and Nightbeat, as well as exclusive new music, and master mixes by GrandMixer GMS. Nes, in his own words said,
"Seeing Grandmaster Flash perform live on the wheels in New York gave me the incentive to be a radio DJ and a mix DJ"
GrandMixer GMS first hit the spotlight as a break-dancer at 11 years old and then in 1986, became the 1st DJ to mix for commercial radio in Spokane at just 14 years of age. GMS won the Inland Northwest Battle of the DJ's and began mixing with Tobin Costen on Spokane's then only all rap show in 1993. After these successful accolades, GMS began mixing for Nasty-Nes on Seattle's KCMU Rap Attack till he retired from music in the mid 90's.
GMS came out of retirement to reunite with Nasty-Nes for KFOX Nightbeat in 2020. The same year,
GMS became the 1st DJ from Spokane to mix on "Sway In the Morning" – the world's #1 Hip-Hop radio show.
GMS' work consistently ranks in the top 5 on Mixcloud's Global charts – even hitting #1 on multiple charts. GMS became the DJ/Remixer for Tairrie B, the former Eazy E artist after working on her new album "Feminenergy". GMS was voted "DJ of the Week" by both The Urban Influencer and Radio Airplay Experts for the month of October 2020. GMS recently launched Global Frequency, a #1 radio mixshow syndicated worldwide on multiple platforms, including WRDR, Esway Radio and Pump It Up Magazine Radio (Los Angeles).
JJ Hudson, aka Jmoji, is the VP Fashion of the High Children brand. The talented artist's single "J", topped the charts on the latest top 30 college rap radio hits. JJ Hudson's hit single "J" was remixed by Nes & GMS.
The High Children brand has evolved itself into a brand embodying all: their music, fashion, and entertainment with video being the predominant language of their art form.
Jayson Ramos, CEO of The High Children brand is currently the head of video at Amazon Web Services, providing solutions to the multi-billion dollar company leveraging his music production, writing and performance experience.
The High Children brand's CIO, Jamal Allen has been the music host on Canada's MTV Select. He has produced remixes for Snoop dog, Mike Jones, Ashley Tisdale and Blake Lewis while working as an instructor for AT&T and DEV Tech as well.
Peter Maroda, CXO of the High Children brand introduced digital production to the record label Nastymix Records in the 90's. He has also managed a creative service agency providing services to Microsoft, Getty Images and Nordstrom. At Amazon, he grew an account and project management team with a focus on leveraging new processes, tools and data, increasing operational scale over 10x.
VP Promotions of the High Children brand Tim Jaffe has been a DJ since 12 years of age and has been involved in the music industry for the last 35 years now. He has been a host, music producer and DJ for several brands over the years. Tim Jaffe, DJ 3rd Degree, authors a weekly review column of new music for www.rapattacklives.com and is the host for Hot For The Streets Drive Time Mix Show (Wednesdays at 8pm EST/5pm PST) & The Coast to Coast Hip Hop Show (Fridays at 8pm EST/5pm PST) on www.EsWayRadio.com. Robbie Rob is the VP Music Operations at the High Children brand.
The High Children brand envisions itself having fun, staying young, inspired and taking its goals to the highest level.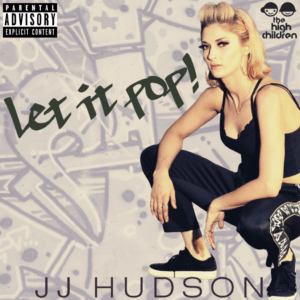 Contact The High Children at Facebook , Instagram , Youtube , Webpage
Don't miss out on the  High Children's special feature on Pump it up magazine print and Digital Edition – Vol.6 – Issue #6 – June 2021 – Available June 10th
Magazine Media Assets:
Barnes & Noble:  https://bit.ly/3gaC7mi
Amazon: https://amzn.to/3gaK6Qm
Magcloud: https://bit.ly/3g5RV9Z
Facebook: https://www.facebook.com/pumpitupmagazine
Instagram:  https://instagram.com/pumpitupmagazine
Pump it up Magazine Website: www.pumpitupmagazine.com
MUSIC LINKS:
New "J" (NES&GMS Remix): https://youtu.be/sYiRU03KOEg
JJ HUDSON 
SPOTIFY 
https://open.spotify.com/artist/4aPUpB0qWMiQWBESseGGTs?si=2oxJHej3RNKA-zjSCdG7wQ
AMAZON
https://www.amazon.com/dp/B08T9X83G2/ref=cm_sw_r_cp_awdb_8F2ZW7FCQC86BZYJZA2E
APPLE I-TUNES 
https://music.apple.com/us/album/banger-banger-edm-mix-single/1549418347 
YOUTUBE
https://youtube.com/playlist?list=PLEosXrZpHfuZn6JHjN6U4F8jM0DMdC6bE
THE HIGH CHILDREN 
SPOTIFY 
https://open.spotify.com/artist/5JfIpKDUb0yjBk0tPB4CFF
DJ 3rd DEGREE
SPOTIFY
https://open.spotify.com/artist/2nHJQ2KvzfE4mqpc2hZnbh
GRANDMIXER GMS
 SPOTIFY
https://open.spotify.com/artist/0Aw2zDXRK9taVZwUwMlmyD 
AMAZON 
https://www.amazon.com/All-Things-Must-Come-Blend/dp/B08JG84W4V 
BANDCAMP 
https://grandmixergms.bandcamp.com/releases 
https://tairrieb.bandcamp.com/track/nasty-woman-grandmixer-gms-remix 
https://tairrieb.bandcamp.com/track/truth-bomb-grandmixer-gms-remix 
MIXCLOUD
https://www.mixcloud.com/GrandMixerGMS/
SOCIAL MEDIA LINKS: 
THC
https://www.instagram.com/thehighchildren/
https://www.instagram.com/thehighchildren_music/
https://twitter.com/TheHighChildren
JJ HUDSON
https://www.instagram.com/iamjjhudson/
https://www.instagram.com/jjhudsonmusic/
https://www.instagram.com/jjhudsonmodel/
https://www.tiktok.com/@iamjjhudson
NASTY NES
www.FaceBook.com/KFOXNIGHTBEAT
 DJ 3RD DEGREE 
Twitter & IG: @DJ3rdDegree
Facebook fan page: @therealdj3rddegree  
GRANDMIXER GMS
https://www.instagram.com/grandmixergms/
https://www.facebook.com/OnKFOXNightbeat