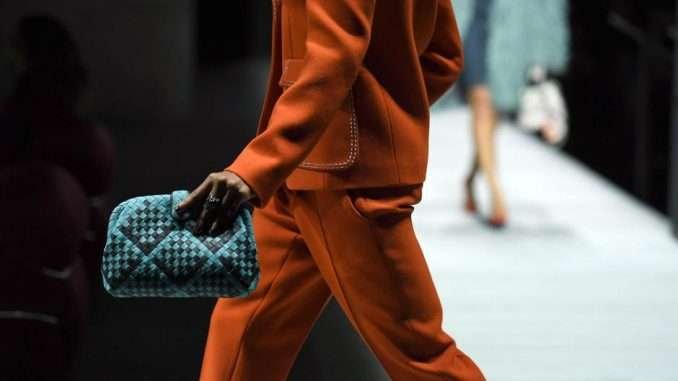 Ripples from the #MeToo movement have reached New York Fashion Week, not just in terms of the brands that are present, but those that aren't. Marchesa, which was cofounded by Georgina Chapman, the estranged wife of Harvey Weinstein, cancelled its NYFW show at the last minute, leading to increased speculation about whether the company can weather this storm. Given that it has been notably absent from this season's red carpets, and that high-profile actresses such as Jessica Chastain have admitted that they came under pressure from Weinstein to wear his wife's dresses, it seems unlikely that the brand will receive a "sympathy bump", as some have predicted.
"Marchesa had access to the entertainment business and a way to market and advertise that no other designers had," says Allen Adamson, a brand analyst in New York. "They had an inside track to the red carpet and now that's gone."
The issue of sexual misconduct in the fashion industry was placed in the spotlight in the run-up to the New York shows, aided no doubt by allegations about some of the industry's most high-profile photographers. New professional guidelines set by the Council of Fashion Designers of America, as part of its Initiative for Health, Safety and Diversity, aim to offer greater protection for models.
"The CFDA firmly believes that everyone in our industry deserves the right to feel safe and respected. We have zero tolerance for unsafe environments and strongly encourage everyone in the fashion industry to report abuse in the workplace," says the newly expanded initiative, which also encourages victims to approach The Model Alliance for support.
Diane von Furstenberg, president of the CFDA, referenced the issue in remarks made during her NYFW showing: "I just wanted to say that with everything that's happening with women right now … I personally am more committed than ever to empowering women." She also used the occasion to introduce Nathan Jenden, who has returned to the brand as chief design officer and vice president, creative. He previously worked at DVF for a decade, up until 2011. When he addressed the crowd at his NYFW comeback, he described his designs as "all about being brave, about being unapologetically a woman, about celebrating femininity".
Also making his debut at NYFW was Giovanni Morelli, the new creative director of Stuart Weitzman.
Succeeding the brand's namesake, who stepped down last year, Morelli introduced chunkier and more comfortable heels, casual flats, sandals, loafers and sneakers to the brand's signature collection of sky-high heels and boots, acknowledging the need to appeal to a range of women. "I really believe very firmly that our brand should have different kinds of shoes for different kinds of women," Morelli says. "We're not the kind of brand that believes only in the high heel."
Empowering women was also the message over at Prabal Gurung. He presented pieces in vibrant hues of purple, red and blue that drew inspiration from the women-led Mosuo tribe of China; while bright pinks, some in lush cashmere, and sari and sarong-inspired draping made reference to the Gulabi Gang of female activists in northern India, Gurung said. They "adorn themselves in pink saris symbolic of their self-proclaimed power and fearlessness," he noted.
Speaking of girl power, Victoria Beckham's NYFW show marked the beginning of her brand's 10th anniversary year and her final outing at NYFW (she'll show in London moving forward).
While she usually takes a little bow at the end of her shows, this time around she rushed over to the front row to give husband David Beckham and their children a big hug.
This edition of NYFW played witness to some other notable firsts – and lasts. In a one-off to mark the opening of its flagship homeware store on Madison Avenue, Italian brand Bottega Veneta presented clothing collections in the Big Apple for the first time, with the help of Gigi Hadid on the runway and Salma Hayek, Julianne Moore and Priyanka Chopra in the front row.Female models were swathed in soft evening dresses in satin and silk, multi-coloured coats, and the odd pop of animal print, while the men stole the show in bright orange suits, plaid purple jackets, tiger-print collars and yellow socks. "Statement-making boots on a pavement-friendly low heel" proved that Bottega's creative director Tomas Maier also had comfort in mind for female fans.
And finally, NYFW saw designer Carolina Herrera take her final bow as creative director of her eponymous label. The 79-year-old Venezuelan-born designer founded her company in 1981, and has been replaced by the young American designer Wes Gordon. The first-lady favourite (Michelle Obama has been spotted in her gowns several times, as has Melania Trump and Ivanka Trump, while Caroline Kennedy got married in one of her pieces) will transition into a new role as global brand ambassador.
_________________
Source : Lifestyle