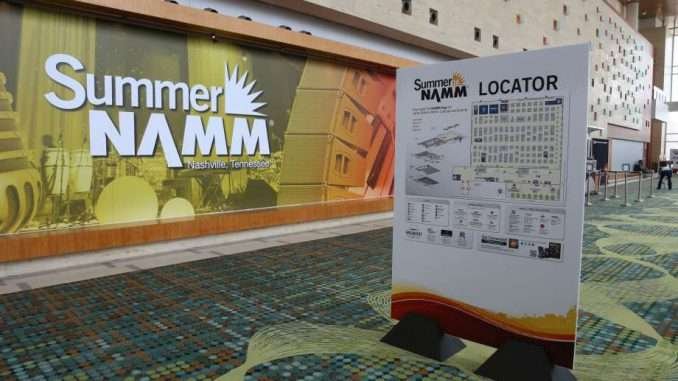 The music begins at The NAMM Show—and for that reason, it attracts the world's most powerful buyers. In 2016, the estimated purchasing power of registered global buying companies totaled in excess of $10.7 billion—with 87 percent of The Music Trades national Top 200 Music Stores list present. With added benefits of valuable educational sessions and networking opportunities, the show is attended by high-quality buyers specifically looking to check out your products, innovations and technology. And they represent a range of retail segments and music-related industries, including:
Music retailers
Corporate buyers
Manufacturer reps
Global distributors
Buyer groups
Recording studios
Artists
Music educators
Entertainment companies
Gaming industry
Sound contractors
Touring/theater
Worship market
With areas like the Venue and its focus on lighting, touring and sound solutions, Music Metro's platform for electric, acoustic and innovative products, Lounge 88's piano showcase in a gallery setting and the main halls with neighborhoods of every type of instrument, gear and accessory imaginable, there's something for everyone at The NAMM Show.
Immerse yourself in the sights and sounds of "Music City," while reporting from Summer NAMM. Held at Nashville's Music City Center, Summer NAMM offers music instruments and product debuts from more than 1,500 brands, live music and opportunities to interview industry leaders and artists.
Summer NAMM Media Registration
Register online now through Friday, June 24
NAMM welcomes media outlets including print, TV, radio and digital to cover the music products industry at Summer NAMM. Non-transferable credentials can be picked up starting Wednesday, June 22, 2016, with photo ID. Media has access to the Summer NAMM Media Center, all Summer NAMM exhibits, the Top 100 Dealer Awards, and NAMM U educational sessions.
Writers, photographers, editors or producers with an editorial assignment are welcome to apply for media credentials.
APPLY FOR CREDENTIALS NOW
Email namm@lippingroup.com with questions.
Advertising sales representatives, publishers and marketing staff do not qualify as media, but may qualify for NAMM membership.
On-Site Media Registration
Summer NAMM's media registration desk is located on lobby level 2 of Music City Center. To register please present a photo ID, staff business card or a letter of assignment, along with bylined work. NAMM reserves the right to verify the identity of any person, accepting and/or using a media credential.
Media Center Location
Summer NAMM's Media Center is now located in the main lobby in front of Hall D. This room is available to post or file coverage and take breaks while covering the show. FREE wireless and hardwired connections are available.
Summer NAMM Media Registration Hours
Wednesday, June 22    9 a.m.–5 p.m.
Thursday, June 23    9 a.m.–5 p.m.
Friday, June 24    9 a.m.–5 p.m.
Saturday, June 25    9 a.m.–3 p.m.
Summer NAMM Information
Show Map | Show Directory | Events | Exhibitor Media Kits
https://www.namm.org