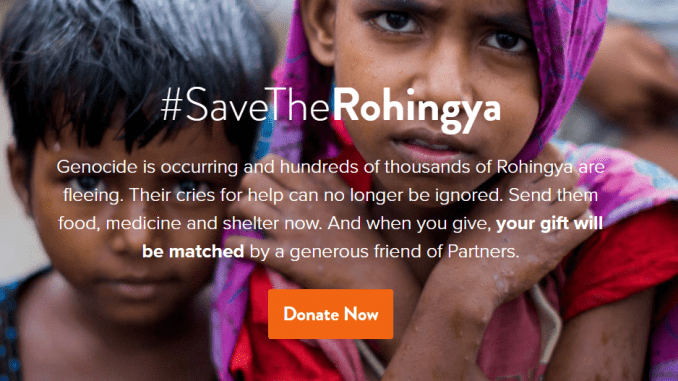 Genocide is occurring and hundreds of thousands of Rohingya are fleeing. Their cries for help can no longer be ignored. Send them food, medicine and shelter now.
The Rohingya are a stateless Muslim minority group in Myanmar. The estimated 1 million Rohingya living in Myanmar have been subjected to systematic persecution and grave human rights abuses by authorities for decades. Escalating violence in September 2017 has now forced an additional 370,000 to flee to Bangladesh.
Despite the election of a nominally-civilian government in November 2015, the new Myanmar Government has not shifted its policies of persecution of the Rohingya. Over 100,000 live in internally displaced persons camps with no freedom of movement or access to food, water, sanitation, healthcare and education. A report released by the International State Crime Initiative at the Queen Mary University of London has concluded that the Rohingya "face the final stages of genocide".
Since 2012, Partners has been providing emergency relief to those in camps in Rakhine State as well as those fleeing violence to Bangladesh, including rice distribution, basic medical support, tarps for shelter as well as animals, seeds and fertilizer to help establish more sustainable food supply. PLEASE HELP provide life-saving relief to these vulnerable children and families and advocate for their freedom.
Donate now, click here : https://www.partners.ngo/take-action/save-the-rohingya