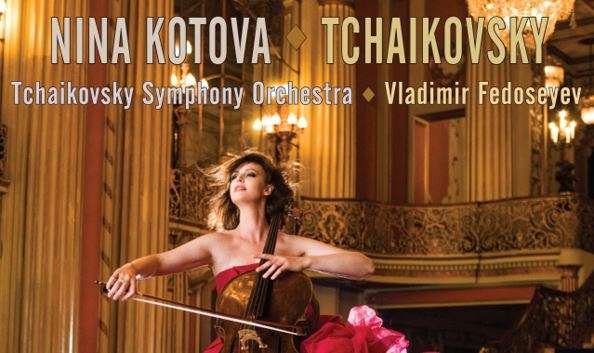 It is on a rare occasion that life blesses us with someone of exceptional talent as that of Nina Kotova. The Russian-American cellist has received worldwide notoriety for her musical genius. She has performed in front of audiences far and wide, including such prestigious venues as; Red Square in Moscow, for the Imperial family of Japan, Buckingham Palace, Carnegie Hall in New York,  the Forbidden City Concert Hall in Beijing, and the Concertgebouw in Amsterdam just to name a few.
While being an artist of great versatility, Nina Kotova is popularly known for her work as a soloist with major orchestras and as a chamber musician. She was born into a musical family and daughter of Ivan Ivanovich Kotov. In spite of all her accomplishments and press-related accolades, Kotova remains resolved in the principles of success through hard work. Like the beauty of an aged red wine, the craftswomanship of her career as a cellist continues to unfold with time. Tchaikovsky, Kotova's latest album, stands as a superb testimony to her continued growth as one of the world's greatest classical musicians of our present generation.
Tchaikovsky features a melodious communion between Nina Kotova and the legendary Russian maestro Vladimir Fedoseyev, who leads the Moscow's Tchaikovsky Symphony Orchestra, in their epitomization of the works of Russia's great composer, Pyotr Ilyich Tchaikovsky. This album is definitely a soulful reprise of the legendary composer's work and cultural heritage endeared by everyone involved in the album's production.
Kotova delivers an enchanting performance on the album opening Pezzo capriccioso, a dramatic piece that was composed by Tchaikovsky in a single week. The brilliant cellist does well in transporting the listener into an environment of challenges and moods faced by the composer when this piece was originally written. It is from this vantage point that our journey begins in what proves to be a worthy masterpiece.
The synthesis of Kotova's work on Tchaikovsky is covered in the celebrated Variations on a Rococo Theme. This is truly a speechless experience if you've ever witnessed Kotova and orchestra perform this timeless, yet emotional work, live or recorded. Not only does Fedoseyev and the Tchaikovsky Symphony Orchestra leave the listener speechless on Variations on a Rococo Theme, op.33, but Kotova's artistry is one that must be acknowledged as a precedent among cellists. Fortunately, for true music enthusiasts, we are still in the beginnings of a wonderful album.
Fortunately, for music enthusiasts, we are still in the beginnings of a wonderful album. Variations on a Rococo Theme is followed by the remarkable Moderato assai quasi Andante. Other delightful demonstrations of Kotova's genius are found in such sparkling treasures as Variation II: Tempo della Thema and Variation VI: Andante. In the latter part of the album, Fedoseyev and the Tchaikovsky Symphony Orchestra rise to the foreground of this embellished occasion beginning with Serenade for Strings and other Tchaikovsky orchestra-centered compositions.
Overall, Tchaikovsky turns out to be one of Kotova's greatest achievements and work to be studied by the academic world of music and the public alike. Historically, there is much to be embraced when one of the world's most cherished conductors, Russia's oldest orchestra, and the mistress of the cello are in a timeless experience of something great! Tchaikovsky is a masterpiece that stands above my usual rating system. all I can say is bravo!