Nadel Paris is a talented singer who has been building her reputation as a solid performer, with stunning live shows and cool live renditions of her own tunes.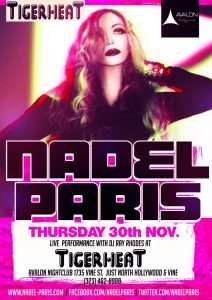 Nadel will charm the audience at Avalon Hollywood with a very special performance that will be held on November 30th.
This talented singer has been taking the Hollywood music scene by storm, and she is known for a sound that feels lush and melodic, yet deep and intimate, making for a truly unique musical treat for the audience. At the show, Nadel will be performing two exciting tracks with DJ Ray Rhodes and her crew of Dancers.
Don't miss out on two very special renditions of London Royal and Ohlalalala, which will rock the dance floor with world-class beats and lots of pure energy!
Visit Nadel's official website in order to book your tickets and get more info now!
www.nadel-paris.com | facebook.com/nadelparis | twitter.com/nadelparis
Please arrive early in order to get in and if you wish to be able to stand closer to the stage.