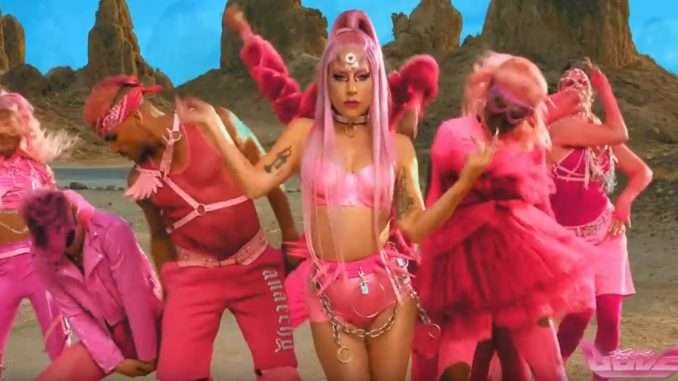 Twitter users found the stone rolled away from the tomb Friday, but when they entered, they did not find the body of the Lord Lady Gaga.
Praise be to the God and Mother of our Lord Lady Gaga! In her great mercy, she has given us new birth into a living hope through the resurrection of Gaga from the dead.
For on February 28, her first solo single in four years, "Stupid Love", dropped. And they gays wept a single tear.
Lady Gaga fans go, well, gaga over 'Stupid Love'.
Across the conceivable universe and all other universes in the greater multiverse, gay people squinted at their laptop screens to watch the Y2K Aesthetic Tumblr meets Sailor Moon meets Power Rangers meets mildly Kool-Aid-type cult.
Gaga confirmed it was shot entirely on an iPhone 11 Pro, with the video directed by Daniel Askill.
I am awake pic.twitter.com/liwjhhtkKm

— Paul McCallion (@OrangePaulp) February 28, 2020
Members of the heterosexual public have already filed countless noise complaints of LGBT+ people loudly singing in showers while learning the choreography to "Stupid Love".
The track, which definitely does not sound like that catchy leaked song from a few weeks ago which you, dear reader, definitely did not listen to as that would be music piracy and you would never do that, is the lead single off her hotly anticipated sixth studio album, tentatively titled LG6.
Fan theories heaved after the hitmaker announced the impending release of the song with a single billboard, Gaga appeared to confirm on Twitter the new album's name as Chromatica.
Again, if a loved one of yours ever goes missing, call a Little Monster. They are far more capable than the Federal Bureau of Investigation.
"Don't mind me," Gaga said, "I'll just be in the corner breathing into a paper bag."
Moreover, the video itself ends with the Bayonette-esque "Chromatica" logo, flickering away in hot pink on the screen.
As the gays decreed their new supreme, countless users meme-d the video into absolute oblivion.
listening to #StupidLove legally is a different experience pic.twitter.com/AXUq8gDUTg

— lex #LG6 (@dancinillusion) February 28, 2020
Lady Gaga – Stupid Love (2020) pic.twitter.com/oEG9GbUoqQ

— evan (@e_hazey) February 27, 2020
goodnight pic.twitter.com/1VRN2c9RDX

— Justin (@jubtrumpo) February 28, 2020
This absolute copper-bottomed banger is making me want to pour Prosecco in my coffee. Welcome back dance-pop Gaga! https://t.co/zD0DrYJbbx

— Nick Levine (@mrnicklevine) February 28, 2020
I can't believe @ladygaga ended violence and android's existence in one comeback. The impact it would make #StupidLove pic.twitter.com/KTM0ApChxT

— Adrien (@nomenadri) February 28, 2020
the video… it exists! it has that! but the song? we remain stanning a stone cold bop pic.twitter.com/Ppq5vZBBvQ

— joshua (@joshcharles_21) February 28, 2020
Lady Gaga is on her way to save pop music #StupidLove pic.twitter.com/wnLEhxAncp

— Gaga Now  (@ladygaganownet) February 27, 2020
The release of the song of deep religious importance came after a whirlwind two months for Little Monsters, when the song was leaked in January. Blasted by speaker systems in New York City fashion shows and demanded by fans in Gaga gigs, fans have been emotionally preparing for today for weeks.
Now that the song and the accompanying video has dropped, it confirmed that the last two months weren't a fever dream or a collective hallucination.
We WILL be streaming Stupid Love like it's the first time we've ever heard it pic.twitter.com/ulQZHP1jtf

— AllegedLee (@_leemunro) February 28, 2020
Oh, and in other news:
earth is cancelled

— Lady Gaga (@ladygaga) February 28, 2020
Source: Pinknews