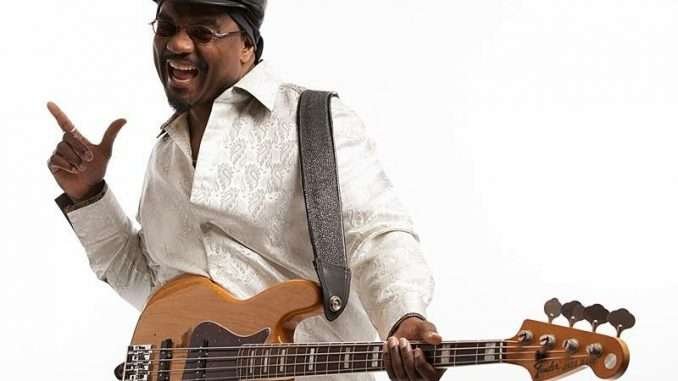 Pump it up Magazine is happy to introduce you to James Manning, one of the best bassist in the world. He appeared on TV Shows such Jay Leno, Jimmy Fallon, Arsenio Hall, as played with  Nathalie Cole, Billy Preston, Ice Cube, Eddie Murphy, to name a few….
1. Who are your primary musical influences?
 My main in influences far as bass is James Jamerson "Pops", Anthony "For the Love of Money"Jackson, Larry "The Jam"Graham, Marshall "Rock" Jones of the Ohio Players, Marcus Miller & Jaco Pastorius
2. What are you listening to musically, in the past 12 months that has enhanced the way you think about music and your craft?
    Everything
3. How does your personal musical voice directly relate to the function of the basses? Also, what are your main instruments?
    I go on what I feel, but in good taste by using all of things I've learn from all musicians, the pass and present. Than I incorporated in to my style.  My main instruments is bass, key bass & key, drum programming 
4. Describe your musical composition process.
     Well most people strart with a melody, I start from the ground up, bass, drums & percussion, this is mostly found and it's very important in dance music. than comes keyboards, guitars and the sweet things on top.
5. How does music affect your culture and immediate environment?
    Well about every five to ten years are black music R&B, Jazz, Rock & Blues goes through a change because of economics. The world is getting smaller, because of the internet, Facebook, Instagram etc…  Right now music is free, there is no residuals money for the hundred of thousands of musicians that recorded on hit records.
6. What would you be, if not a professional musician? 
    TV producer
7. Describe your standing practice regimen. Also, what technical (and musical) aspects of your playing are you currently working on? 
    I do scales warm ups. far as technical (and musical) aspects. i still reach back in the pass
8. Can music ever truly become commercial? Why, or why not? 
    All music is commercial, it depend who has an appetite for it.
Every Big Accomplishment, Was Once An Impossibility. Keep Progressing
Yours Truly BIGGAMEJAMES

.
TOURS:
2011-Present. THE AL MCKAY ALL STARS, World
2012-2013 SHUGGIE OTIS, World
1993-2015 NORMAN BROWN, World
2006-2009 NATALIE COLE, World
1988-2005 BILLY PRESTON, World
2003-2004 CHAKA KHAN, World
2000-2003 MARY WILSON, World
2000-2002 JEFFREY OSBORNE, United States
2001 NORMAN BROWN, ALEX BUGNON & CHRIS BOTTI
9th Annual JazzTrax Christmas Concert Tour United
States
2000-2001 K-CI & JOJO, United States, Europe, South Africa &
Japan
1998 ALI WOODSON OF THE TEMPTATIONS, United States
1997 CHANTA MOORE, United States
1997 JESSE POWELL, United States
1997-2001 THE EMOTIONS, United States
1995-1996 AFTER 7, World Tour
1994 BILL WITHERS, Austria
1985-1992 SHANICE WILSON, United States & Japan
1991-1992 MARK LINDSAY OF PAUL REVERE & THE RAIDERS,
United States
1991 SAM MOORE OF SAM & DAVE, European Tour
1991 BILLY PRESTON & SYREETA WRIGHT, United States
TV APPEARANCES
2013 Late Night with Jimmy Fallon, Shuggie Otis, (NBC)
2001 TONIGHT SHOW with JAY LENO'S K-ci & JoJo
1994-1998 NORMAN BROWN, Lou Rauls Parade Of Stars 97,
B.E.T Jazz Central 94,95,96,97,98 Mojazz Live On B.E.T. 1994
1995-1996 AFTER 7, Apollo, The Stephanie Miller Show, Friday Night
Videos,Lifetime, B.E.T.'s Video Soul, Lou Rauls Parade Of Stars
1992 JAY LENO'S TONIGHT SHOW, Shanice (NBC's Opening Show)
1992 ARSENIO HALL SHOW, Johnny Gill & Shanice Wilson
1992 WALT DISNEY SPECIAL, Shanice Wilson, (CBS)
SPECIAL ABILITIES:
Producer
Audio Engineer
Song Writer/Composer
JAMES MANNING Recorded Performances:
2015 What Matters Most, SunSoul Orchestra
2015 Amazing, Reverend Julian Turner and Turner Family
2014 Just for Fun, Threestyle
2014 Shuggie Otis Live in Williamsburg, Shuggie Otis
2013 Where Does This Door Go, Mayer Hawthorne
2013 Seven, Vesta
2012 What's Up, Lynn Cannon
2011 Stranded, Greyson Chance
2011 Home is in your eyes, Greyson Chance
2011 Devils Heart, Greyson Chance
2010 Keep It Groovy, Gee Mack
2010 Released, Elaine Norwood
2009 Quite Like Me, Dionyza
2008 This World Gone Mad, Parker
2007 In The Meantime, Cliff Brown
2006 Hideout is a Crook's Best Friend, LAuren
2006 Double Blessing, Elaine Norwood
2006 Candy Man, Dee Bradley
2005 Exodus, Ja Rule, The Inc Records
2005 The Very Best of Norman Brown, GRP Records
2005 20th Century Masters – Smooth Jazz: Christmas Collection,
Norman Brown, Hip-O Records
2004 Gail Jhonson, Just For Kicks, Philly The Kid Records
2004 The Bernie Mac Show Non-Stop funk Party,
Right Stuff Records
2003 Paul Jackson, Crystal Park, Blue Note Records
2002 Ja Rule, Thug Lovin' Murder Inc./Def-Jam Records
2002 Lynn Cannon, Walk In The Park, Working It, Cannon Records
2001 The Bernie Mac Show, Bass on Bernie Mac's Theme, FOX
2001 Linda Taylor, Kanji To Me, For The Next Time, Rubicon Music
2001 Jodeci, What We Going To Do, MCA Records
2000 K-ci & Jojo, No Looking Back MCA Records
2000 K-ci & Jojo, Don't Be Afraid, MCA Records
1998 Najee , Indian Summer, Verve Records
1998 Najee, Morning Tenderness, Verve Records
1998 Najee, Room To Breathe, Verve Records
1998 Najee, Not A Day Goes By, Verve Records
1997 Christmas On Death Row, Christmas Song by Danny Boy
Death Row Records
1997 Christmas On Death Row, White Christmas by Guess
Death Row Records
1997 Christmas On Death Row, Christmas Everyday by Guess
Death Row Records
1996 Norman Brown, After The Love Is Gone, Motown Records
1996 Polyester Players, Double Knit Boogie, Polyjam Records
1996 Polyester Players, Heaven Must Be Like This, Polyjam Records
1996 Polyesters Players, Soul Sister, Polyjam Records
1996 Polyesters Players, Positive Vibrations, Polyjam Records
1995 Montel Jordan, It's Over!, P.M.P./ Ral Records,
1994 Norman Brown, Come Together, Motown Records
1994 Larry Sanders Show, H.B.O.
1994 Mojazz Christmas Album, The Christmas Song by Norman
Brown, Motown Records
1994 Kenneth Mengram, Shady Baby, Quest Records
1993 Buddy Ace, It's Time To Move On, Evejim Records
1993 Buddy Ace, Damn Sho Get Over You, Evejim Records
1993 Buddy Ace, Let Me Do Something For You, Evejim Records
1992 Eddie Murphy, Cuteness, Motown Records
1992 Emmanuel Lewis
1992 Rhonda Clark, (If Loving You Is Wrong) I Don't Want To Be
Right, Tabu/A&M Records
1992 Audrey, Soft & Wet, Awesome Records
1991 Ice Cube, Priority Records
1991 War
1991 Billy Preston
1985 Shanice Wilson, Gotta Dance, A&M Records