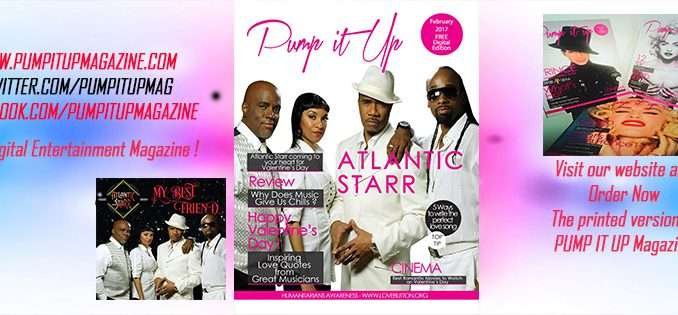 Hello Readers !
Love is a wonderful feeling. And what better way to convey it than with music?
we bring to you LOVE music from the greatest romantic music maestros :
ATLANTIC STARR
and the best tips and reviews and interview about love !
So Whether you're spending Feb. 14 alone or with someone special, I wish you a happy Valentine's Day and that somewhere that love finds you in some way…
Thank you, this issue has been the best EMOTIONAL rollercoaster
TO READ THE FREE DIGITAL EDITION PLEASE CLICK ON THE IMAGE BELOW
HAPPY VALENTINE'S DAY !
PUMP IT UP MAGAZINE | VALENTINE'S SPECIAL FEBRUARY 2017Hello readers !Love is a wonderful feeling. And what better way to convey it than with music?oN THIS SPECIAL VALENTINE'S EDITION,we bring to you LOVE music from the greatest romantic music maestros : ATLANTIC STARRand the best tips and reviews AND INTERVIEW bout love !SO Whether you're spending Feb. 14 alone or with someone special, I wish you a happy Valentine's Day and…