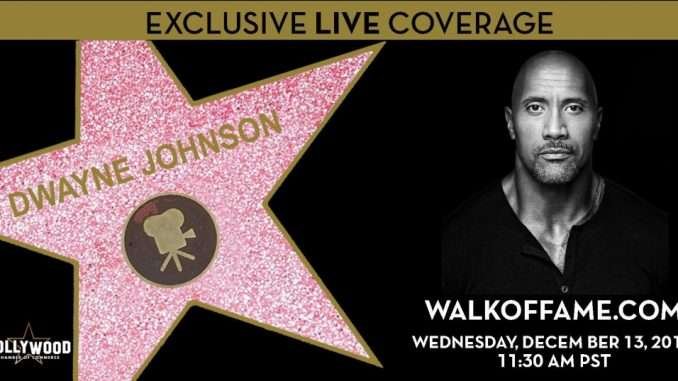 The Hollywood Chamber of Commerce is proud to announce that actor Dwayne Johnson will be honored with the 2,624th star on the Hollywood Walk of Fame on Wednesday, December 13th, at 11:30 a.m. PST. The star will be dedicated in the category of Motion Pictures at 6801 Hollywood Boulevard in front of Hollywood & Highland.
"Everyone loves Dwayne Johnson! We predict that his star will be a very popular one to visit on our famous walk. Not only does Dwayne have a great personality and talent, but he also does a great amount of philanthropic work which is part of the criteria for earning an immortal spot on the Walk of Fame. We envision scores of photos being taken at his star by his fans," stated Ana Martinez, Produ…cer of the Walk of Fame ceremonies.
The Hollywood Chamber of Commerce which administers the popular star ceremonies encourages people who are unable to attend and fans around the world to watch the event exclusively on www.walkoffame.com.
Read more about Dwayne Johnson: http://www.walkoffame.com/pages/upcoming-ceremonies
★★★
ALL PRESS MUST RSVP TO ANA MARTINEZ AT (323) 468-1376 OR Stargirl@hollywoodchamber.net
ABOUT THE HOLLYWOOD WALK OF FAME www.WalkOfFame.com
The Hollywood Walk of Fame is an internationally-recognized Hollywood icon. With approximately 24 star ceremonies annually broadcast around the world, the constant reinforcement provided to the public has made the Walk of Fame a top visitor attraction. The Hollywood Chamber of Commerce continues to add stars on the Walk of Fame as the representative of the City of Los Angeles. The Walk of Fame is a tribute to all of those who worked diligently to develop the concept and to maintain this world-class tourist attraction. The Walk of Fame is open to the public. No paid admission or assigned seating at star ceremonies. It is understood that the cost of installing a star on the Walk of Fame upon approval is $40,000 and the sponsor of the nominee accepts the responsibility for arranging for payment to the Hollywood Historic Trust, a 501(c)3 charitable foundation. The funds are used to pay for the creation/installation of the star and ceremony, as well as maintenance of the Walk of Fame. Download the official app for iPhones and Android devices at http://officialhollywoodwalkoffameapp.com/
For more than 96 years, the Hollywood Chamber of Commerce has provided leadership, business development resources, networking, and government affairs programs and services to keep the Hollywood business and residential communities safe, relevant and economically vital. Jeff Zarrinnam, is the Chair of the Hollywood Chamber of Commerce Board of Directors 2017-18, and Leron Gubler is the President/CEO of the Hollywood Chamber of Commerce. For more information please visit www.hollywoodchamber.net.
The Hollywood Walk of Fame and the Hollywood Sign are registered trademarks of the Hollywood Chamber of Commerce.
★