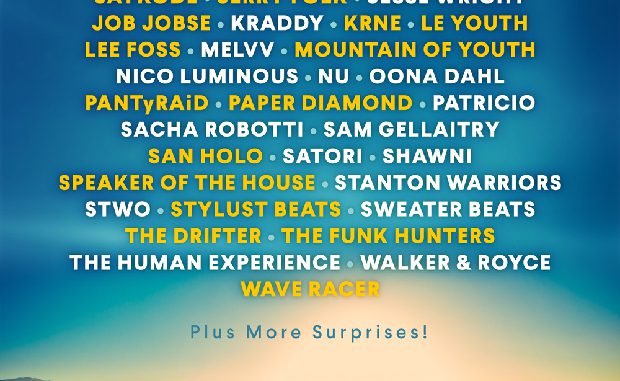 Coachella fiends! Get ready, get set, get wet. The Indio festival's "Big Fish" stage is back and primed to be wavier than ever. LA party-production boss Do LaB is proud to announce the return of its hit stage-concept, an interactive water attraction and electronic haven specially-designed for cooling off and heating up at the same damn time.
Los Angeles DJ Pumpkin Dies in Car Crash
Crowds were stunned last year under the Big Fish's canopy of technicolor scales. The beats were hot and the scene was splashing. Strategically-placed misters and rowdy hype people armed with flower-covered water guns kept temps down all hours of the day and night. Fans can expect all that water play in 2016, plus a totally stacked roster of the dance scene's shiniest faves and most exciting up-and-comers.
Lightning in a Bottle 2016 Lineup: Grimes, Chet Faker, Cashmere Cat & More
Ain't nothin' fishy about this lineup. The two-weekend dance-a-thon fries up fresh catches for every taste in your school (that's a fish squad, of course). From downtempo to experimental, g-house, future house, and TWONK, there's a little something delicious to hook even the most discerning of big mouth bass. Check out the full lineup below, and watch the official Big Fish recap video from 2015.
Weekend 1
Active Sun
Big Wild
Brillz
Dena Amy
Dreamers
Delight
Everyman
FDVM
Ghastly
Humans
Imagined Herbal Flows
JayKode
Jerry Folk
Job Jobse
KRNE
Le Youth
Lee Foss
Mountain of Youth
Pantyraid
Paper Diamond
San Holo
Speaker of the House
Stylust Beats
The Drifter
The Funk Hunters
Wave Racer
+ Special Guests TBA!
Weekend 2
Ardalan
Autograf
Bedouin
Cut Snake
Ekali
Gilligan Moss
Hotel Garuda
Hunter Leggitt
Jesse Wright
Kraddy
Melvv
Nico Luminous
NU
Oona Dahl
Patricio
Sacha Robotti
Sam Gellaitry
Satori
Shawni
Stanton Warriors
STWO
Sweater Beats
The Human Experience
Walker & Royce
+ Special Guests TBA!
BILLBOARD