source: www.twitter.com
The color for the new 2020 is the classic blue. Pantone is the new color and the № is 19-4952, is a very strong indigo blue. This water color dominates in the 10 category fashion, beauty, lifestyle, politic, media, travel, art, technology, texture and street style. This color blue evokes the freedom and possibility of the sky and the sea. When you wear it you will be in harmony all day, don't forget to see the zodiac maybe it is your color, but for 2020 this color is a must have nuance that you don't want to miss.
The deep blue color is very comfortable and relaxing. This is a classic to be all day in blue, it's very elegant in its simplicity and is also, the best color for business meetings, it will make you look both professional and elegant at the same time. ,
Get a coat, a dress, a  shirt or a suit in classic blue or just dress in blue from head to toe. We can wear the classic blue color with all nuance of the blue and can mix it with green, with white, with black and with lime green too.
This new runway season you will see so many beautiful collection all of them in classic blue. One of the big names on the runway is Balenciaga, Marni, Marc Jacobs, and Gucci for spring 2020.
They present to us so many fabulous collection with this special color for the new 2020: the classic blue.
Must have outfits with classic blue
Shades of blue
Be just in blue this is a one of the very trendy outfits for the new 2020 for this winter season and for the next spring, wеаr shades of blue
Blue and black
Wear the classic blue with black this will be one of the very wearing fashion combinations. You can be in the office in these two very strong colors or with a very beautiful evening dress.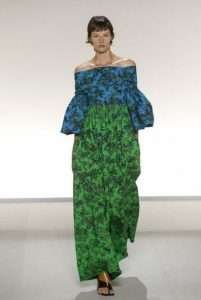 Blue and green
One of the amazing fashion trends is the classic blue with green. Buy everything with these two colors and wear it to the start of the next spring season.
by Krasimira Veselinova