1. Great to have you on Pump it up Magazine. Please, introduce yourself?
What is up, world!! My name is Aries Marquis. I am a singer-songwriter in the genres of mainly pop, and R&B. I am from Baton Rouge, Louisiana, and I am just excited to be sharing my gift of music with the world!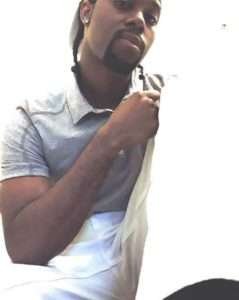 2. How did you get started in the music business?
I got started in the music business because of my dad. He heard me singing on something I recorded for my phone inbox in 2006, and he was blown away. The benefit was, my dad was already a music manager, but I never thought about being in the industry. Lol. He told me that I should try it out, and the first thing he advised me of was to "Continue to hone your skills as a vocalist, and as a writer". Until this day, that is what I have done.
3. Tell us about your new single? And what's the story behind it
My newest single, Phases, is based on a true story (mostly all of my music is) about me and a woman I was interested in. I finally let her know how I felt about her, and want to go beyond the "friend" stage. She basically informed me that she had been hurt before, and that she would have to heal from her past before getting serious. I told her that I was the same way, but I was confident that I could trust her with my heart, and this was just a phase we had to go thru, but would eventually get out of. Thus, right after this, I literally told her that the conversation would make a good song, and I told her it would be called "Phases".
4. What makes your productions unique? And how would you describe it? (genres/sub-genres)?
One thing that I think makes my production unique is that I am doing everything in my power NOT to follow the trends. I just create what I feel. I create what I desire to create, not what everyone else is creating. One example is that in most of my songs, I love to use strings, whether it is uptempo, or down tempo. Another thing I love to use is harmonies, because I grew up in the 90s where harmonies were the "thing", and I also grew up in a choir environment from school and church service. This also adds to me using my lead vocals, in a soulful way. Adding all of this, I have strong love for synth instruments. Lol…so,
I mix this synth sound with harmonies and soulful lead vocals, with a dash of 90s styles and that makes my production. I usually say I am pop, because pop is (in my opinion) the most diverse genre of music. Nevertheless, in my mind, I usually claim myself as a soul pop artist.
5. Who are your biggest musical influences? And any particular artist/band you would like to collaborate with in the future?
When it comes to my biggest influences, I can name a ton. Lol. I will try to cut it down to my top 8 main artists: Michael Jackson, H-Town, Daryl Coley (Gospel), Justin Timberlake, Eric Benet, Maxwell, D'angelo, Mariah Carey. I know I can't break down why each artist is a huge influence to me, but I will sum it up: These artists were in their own lanes, and although some gave them flack for their sound, they went against the grain, and created much success. They influenced me with their unique production, heartfelt and relatable songwriting skills, their soulful vocal delivery and their energetic stage performances. When it comes to any artists I would want to collab with in the future, most definitely Jamar Rogers, contestant of The Voice, Luke James, Dua Lipa, Allen Stone, and quite a few others. Lol. I also want to collab with producers such as Timbaland and Missy Elliot, Babyface, and Paul Epworth.
6. Which is the best moment in your musical career that you're most proud of? (awards, projects or public performances etc)
My most proud moment of my music career was winning a showcase at L'auberge Casino Baton Rouge. I worked there as a security ambassador, and they had an annual showcase. I performed at the final one in 2018, and I didn't even know what I wanted to perform at first, but I finally chose a song that I classify as my theme song: Love Me For Me from my album, Imperfections. I was really nervous, and afraid that many wouldn't like the song, and I workout and practiced for two weeks before the show. Moreover, I was facing the previous show winner in it, as well. To make a long story short, I gave my all on stage, and even though I did, I felt I lost either to the performer after me (who was a great dancer) or the previous winner (who was a great singer). When they called second place…they said "From the security department", I felt that was me, until they called out the dancer, who was from the security department. I then said, out loud, "Well, who is first place??". When they said, "And first place goes to….also from security!!" the crowd erupted, and they shouted my name! For the first time in my life, I wept in joy for the victory over some of the best talent I ever faced! I think of this memory every other day.
7. What advice would you give to aspiring musicians?
The advice that I would give to aspiring artists is this: make real music, stay focused, market and promote consistently, and NEVER give up. If you do these things, then you are 99.8%guaranteed to see the results you are looking for, and I am a living example. Lol.
8. If you had one message to give to your fans, what would it be?
The message that I have for my fans is that if you continue to listen to my music, I will continue to make music that is relatable and positive. That is my message, and my music theme: empathy & positivity. This world can be pretty dark, and there are so many people that hear music, but can't actually listen to it, because it is not positive enough, or they can't relate; it's just a "good sound". As for me, dear fans…I have empathy, and I am with you. I want to give you more than just a "good sound".
9. What's next for you? Any upcoming projects or tours?
The next thing on my agenda is to release this new uptempo single, titled, Downpour, and after that, I am going to release a revamped version of my debut album, Imperfections. Hopefully, I get to pushing that around the fall. I am looking forward to a lot of people getting their ears to this upcoming album and single!
To Know more about Aries Marquis, please visit:
Website: Https://www.ariesmarquis.com
Spotify: https://open.spotify.com/artist/1086hK4AIbvUbaLt87Rct1?si=zOaVbOK4T1aVZz2kA4XLng
Apple Music: https://music.apple.com/us/artist/aries-marquis/644058775
Youtube: https://www.youtube.com/ariesmarquis
Amazon Music: https://music.amazon.com/artists/B00CLELRTG?ref=dm_sh_8bd0-f32a-dmcp-6403-3a64e&musicTerritory=US&marketplaceId=ATVPDKIKX0DER
SOCIAL MEDIA:
Facebook: https://www.facebook.com/AriesMarquis/
Instagram: https://www.instagram.com/ariesmarquis/