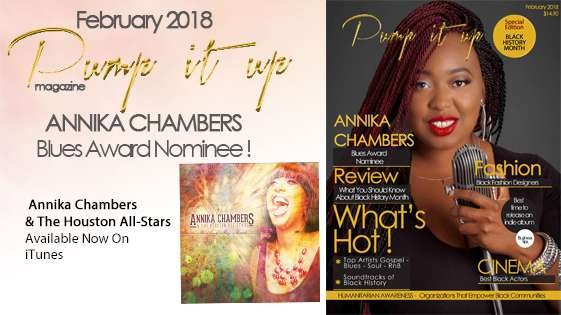 Available on the Montrose Records Label
This Woman Has It All
Whether it's touring the United States, South America, or Europe Annika Chambers is lighting up audiences worldwide. Her highly entertaining playful stage presence mixed with her soulful heartfelt vocals is knocking the socks off of audiences all around the world. Hailing from Houston, Texas Annika Chambers teams with record producer Richard Cagle, President of Montrose Records. The rest as they say has been history but it doesn't end there. "I knew in my heart right away that Annika should pursue making an album because she was presenting something extraordinary. She was in the beginning and she continues to grow to this day. She is even better today which is hard to believe," Cagle said.
Annika Chambers can deliver the blues as was witnessed in 2017 at the Blues Foundation's famous annual Blues Music Awards. Annika took to the stage making a statement in red to be known, seen, and remembered. She walked up to the microphone as the band was playing her first song and when she belted it out a huge audience of her peers went crazy. To Annika the blues is the sharing of what lies deep within your heart and soul. Because this is how she feels the music, the blues comes out of her like it does and that is why audiences react so wildly as they do.
Annika Chambers Performing at the Blues Music Awards (2017)
Also shown blues guitar greats Kid Andersen (left) and Jonn Richardson (right)
Annika's First Release
Blew The Reviewers Away
After Cagle teamed Annika with The Houston All-Stars in the studio Annika presented the world with her first complete album aptly titled, "Making My Mark". The album is comprised of twelve tunes that deliver soul. Her songs were written by world famous writers such as Larry and Dominique Fulcher, B.B. King, Steve Cropper, Al Staehely, Alan Gorie, Joe Sample, and two that Annika penned herself. One of the stand out tracks, "It Hurts Me To My Heart" written by Rose Marie McCoy and Charles Singleton features the magical sounds of a moaning sax and Annika brings the tune to life. The track has a sixties soulful nostalgia to it on which Annika bonds with the lyrics in a way the listener feels her music and connects to her performance. But that is not the complete Annika, that is only one kind of delivery. In fact on track two "Barnyard Blues" Annika delivers a certain extra sparkle that comes through her rendition of this Paul Lawrence Dunbar, Mike Finnigan, Larry Fulcher, and Johnny Lee Schell song. Overall, reviewer after reviewer listened to the tracks on "Making My Mark" and Annika's popularity increased dramatically within the blues community around the world after its release. Special note – Annika will be returning to the studio soon – something really good is about to come to life.
Making My Mark, a 2014 release on the Montrose Label,
is available on both Amazon and iTunes for your convenience
Performance Doors Opened
And Annika Was On Her Way
Blues radio embraced Annika's international entrance on to the scene and soon large venues, listening rooms, and well established blues haunts were tracking her down. Most recently Annika took to the main stage at the largest blues festival in Europe, The Lucerne Blues Festival, and blew the audience away. She can write and sing and when she performs live does she ever put on a stage show, wow! Previous to Lucerne, Annika had played multiple music billings in South America as well as in other countries. But if you were to ask her where she enjoys getting on stage the most she will tell you Houston Texas, her home town. Annika can be seen on stage at Houston's famous The Big Easy and Shakespeare's just to name two home town blues clubs. Most folks don't know it but Houston was home to the famous Peacock Records who featured blues stars from around the nation in its Houston based studios. To this day the list of blues artists that call Houston home is staggering to say the least so it's no wonder why she feels so comfortable among her own. In May of 2017 Annika graced the stage at the Blues Foundation's Blues Music Awards presentation. As mentioned above the large overflowing room of her peers loved her performance as Annika was joined on stage by two of the greatest blues guitar players around, Kid Andersen out of California's Bay Area and Jonn Del Toro Richardson of south eastern Texas. With over one thousand blues artists, producers, promoters, magazine editors, radio station hosts, video channel personalities, record executives, talent buyers, booking agents, and other dignitaries in the room you just don't fool this crowd if you cannot perform. But this night the award nominees would be treated to the real deal and they along with their families and friends embraced this young rising blues artist with open arms.
When traveling stop in Houston and check out
s.
Houston's famous blues clubs
First of all Annika would like to thank Pump It Up publisher Anissa Sutton and her entire staff for choosing her to grace the front page of this special edition. Black History Month is a 28 day reminder of the multiple contributions that have been made by the Black community around the world, most notably in America, Annika's home. Second, it is the outpouring of support and the fantastic encouragement received from her fans around the world that keeps Annika sharing the blues internationally. Without their love things would be completely different. Thank you. Finally, speaking of support, without the unconditional support of her immediate family back in Houston none of this would have come together. What a great month to be on the front cover of Pump It Up Magazine – from the bottom of my heart, thank you.
To follow Annika on Facebook – https://m.facebook.com/bluesbaby85
To learn more about Annika visit – http://www.montroserecords.com/
Special thanks to professional photographers Ron Fontenot & Tom Callin
International Blues Artist
Ms. Annika Chambers