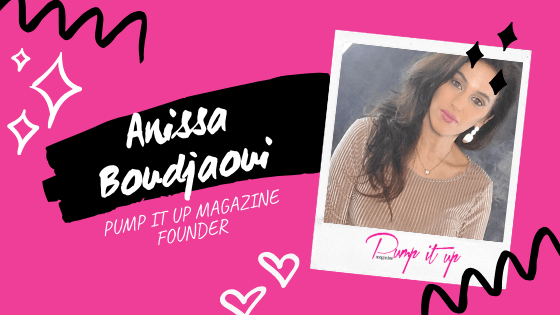 "I want to give a platform and advice to indie artists," Anissa states. "I know what they go through. It's so hard to get people to listen to what you create…to support it, share it and help you succeed. Many artists only think about being an artist – singing, writing songs and performing – but they must know the business. People take advantage of you if you don't. I am a firm believer that artists must work hard by doing their part to learn all of the elements that do on behind the scenes. Their private lives may be a catastrophe in the short term but in the long run, the most important thing is to keep on learning, keep on growing and keep on going."
Pump It Up was started in 2016 as a monthly magazine available digitally on line and in print on demand. In three years-time, Pump It Up has grown to 20,000 website subscribers, plus has expanded online at pumpitupmagazine.com to include a digital radio station programming 24 hours a day of exciting new music and artists, dayparted into genres ranging from French, Deep House and EDM to Pop-Dance, Jazz, R&B and Soul, Blues.
Assisting Anissa in all of her music decisions and negotiations is Michael B. Sutton, music producer/songwriter, a recording artist in his own right and the CEO of Sound of Los Angeles Records. www.TheSoundOfLa.com
Michael B. Sutton
For anyone seeking a supportive platform for independent artists of all stripes to stay up to date on the latest industry developments that can make the difference between just getting by and going all the way, tap into Pump It Up – today!