A pink-clad, queer-minded, rock-chick! angelicaa cites her native city of London and its progressive, liberal and creative environment as vital to her identity.
First and foremost a singer/songwriter and guitarist, 90's baby angelicaa combines her rock roots, like Alice in Chains, Led Zeppelin, Cat Power and PJ Harvey, with her influences in the rise of electronic music.
Grungey and soulful, her debut EP '& So…' captures teenage angst and growing up feeling different. angelicaa finds beauty in that struggle and creates something that is moody, sentimental, and ultimately, uplifting.
Her look is also key to her ethos; reclaiming pink as a symbol for androgyny, empowering herself as a woman and challenging expectations of gender.
A filmmaker, too, angelicaa is a Fine Art graduate from Central Saint Martins, specialising in documentary; her latest creation is a film titled 'Full Circle' which features young artists with alter egos. angelicaa also performs as a DJ as one half of duo Jew², playing London queer venues such as Dalston Superstore and Vogue Fabrics.
'& So…' features 3 tracks and is set for release on 11th November 2016 on the Brilliant Tunes label through all download and streaming platforms – the EP is also available to pre-order now
Click on the CD Cover image to pre order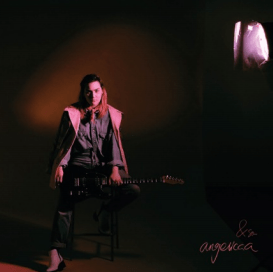 ONLINE LINKS
Facebook: https://www.facebook.com/angelicaamusic/
Twitter: https://twitter.com/angelicaa_music
Instagram: https://www.instagram.com/gellibryant/
Soundcloud: https://soundcloud.com/angelicaamusic
Vimeo page: https://vimeo.com/angelicabryant
Brilliant Tunes Label: https://www.facebook.com/brilliantunes/