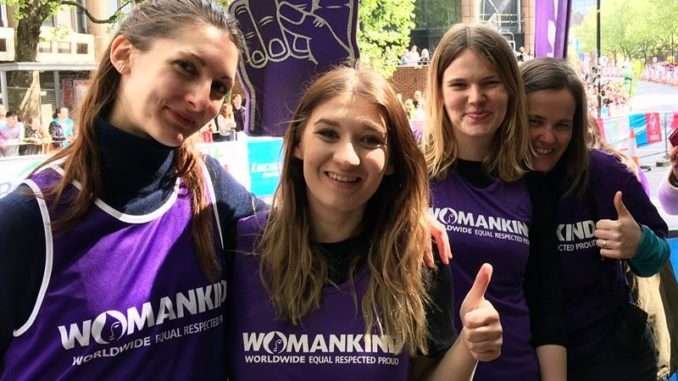 Every woman should have the freedom to make her own choices and claim her rights. Yet, women and girls are still denied them in every region of the world, just because they are women. Women's movements have the power to change this. And we all can be part of the change, it's easier than you might think!  Here are eight different ways you can help us support women's movements across the globe and ensure the rights of all women are respected, valued and realised.
Raise your voice

To this day, the situation for women is still shocking: Globally, at least 1 in 3 women experience violence in their lifetime. Women work longer hours and are paid less. Fewer than 1 in 4 parliamentarians worldwide are women. We need to make some noise about the issues! Sparking conversations through social media or in person is the bedrock of change, and an important way to drum up more support. Share local events with your friends, call others out when they make insensitive or ill-informed comments, and help amplify the voices of women on the front lines.

Volunteer

Volunteering with a women's rights organisation is the perfect opportunity to learn more about women's rights and contribute to change. Volunteers make a valuable contribution to Womankind's work, helping with research, event planning and communications work. Be the first to sign up to hear about Womankind opportunities by signing up here.

Start a fundraiser

Fundraisers are the perfect way to bring like-minded individuals together for a common cause and spread the word about global gender inequality. Why not consider planning a fundraiser that's inspired by women? A book sale of works by famous women or a concert featuring local women musicians are great ways to support women in the arts while also raising funds for our efforts to support women globally.

Attend marches and protests

Historically women's marches and protests have made real strides in securing support for women's movements. Public demonstrations offer a great opportunity to demand action for women's rights and attract attention to the cause. Bring along some friends to spread the word about the inequalities that impact women globally; you might be surprised by how many passersby want to join the movement!

Donate to women's movements and organisations

All over the world women are coming together in movements to push for gender equality. Yet too often, women's movements and organisations lack funding which hinders their ability to make positive changes in women's lives. Funding is crucial to achieving the goal of gender equality and women and girls's rights. Right now you can double your donation to the eco-feminist movement in Uganda who are resisting land grabs. All money raised through Reclaiming Stolen Livelihoods will be doubled by the UK government until 28th May.

Shop smartly

Make your money go further and shop with a purpose. By shopping through a company that donates to a charity of your choice, you can still support women's rights without spending more. Consider shopping at women-owned businesses, or purchasing fair trade goods to make a difference in the fight for gender equality and women's rights.

Challenge events

Feeling sporty or just fancy the challenge? Why not join one of our many runners, swimmers or cyclers participating in a sponsored event? Whether you're a seasoned professional or new to sport, challenge events are great fun. Get friends, family and colleagues to cheer you past the finish line! At Womankind, we plan community-minded events that help support our goals. Our upcoming event this spring is the Virgin London Marathon, a fundraising opportunity for runners and non-runners alike on 28th April. The registration fee is £100 which includes training tips, a running vest and personalised support. The fee goes towards Womankind's work across the world. Intrerested in signing up for next year's marathon? Book your place.

Become a corporate sponsor
Womankind's work wouldn't be possible without the generosity of our corporate partners who make a significant contribution to our work. These partnerships don't just allow you to create lasting change through donation or gifts in kind: it can also provide brand and media benefits for your business within the community. Whether your organisation is able to help plan fundraisers, donate, or volunteer, we appreciate your support! For more information on how to become a corporate sponsor, visit our company support page.
For more information on to help Womankind achieve our vision of a world where the rights of all women are respected, valued and realised visit our support page.