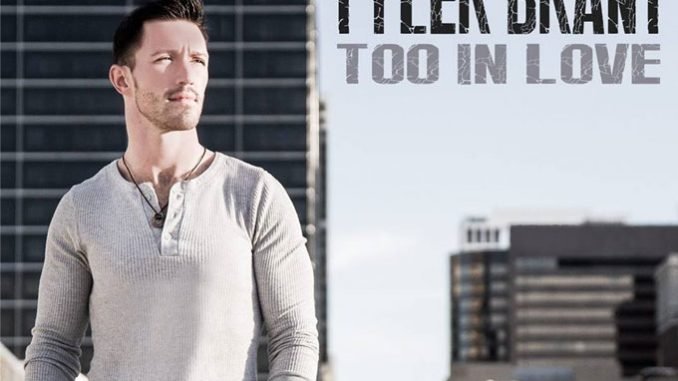 Tyler Brant is an Oklahoma native with a strong influence from not only country but many different genres and styles of music. Growing up in a small town, Tyler listened to Garth Brooks and Joe Diffie to name a few from that amazing time in country music. While his influence was heavily based on country classics, Tyler strives to include notes of all the sources that have made him the singer-songwriter, and performer he is today.
In a Country Music world filled with pop, rock, and hip hop, it's refreshing to know that because of singers like Tyler Brant, Country still has some Country left within its musical bars. If you haven't heard this guy before, than you need to check this out, he has a clear understanding on how to cultivate a captivating recording. Tyler also displays a voice on "Too In Love" that keeps him in good company with his contemporaries.
If listening to Eric Church, Luke Bryan, Thomas Rhett and Blake Shelton every day is your thing, then this track is going to be in heavy rotation. "Too In Love" is a wonderful mid-tempo love song that isn't sappy but tugs gently at memories and strings of things past and present. It plucks, tugs and strums those strings with an uncanny knowledge of what hurts.
Tyler Brant is a storyteller at the end of the day, and when he's channeling the loves and adventures he has experienced there is a sense of earnest passion for celebrating the important parts of life that is relatable on a universal scale.
There may not be new ground broken as far as themes and topics explored are concerned, but none of that matters as long as what is being presented feels honest and true. And that is what happens on "Too In Love", which comes roaring through your stereo loud and clear.
There's a vulnerability and truthfulness to the seemingly autobiographical track that really sells it, and what's more, it has a sound, showing us what Tyler's really capable of in this modern classic country format. His voice really conveys the emotions the song is meant to invoke.
Tyler Brant is an artist that quite obviously puts a lot of energy into his performances and his music in general. He is a great blend of country and rocker, with a brand and style of music that gets you energized. As testified on "Too In Love", his songs are very powerful and many can relate to them, while his lyrics and arrangements are extremely well thought out and will keep listeners interested.
"Too In Love" was Produced by ProducedbytheKidd – David Kidd (Los Angeles, CA) and Mastered by Joe Bozzi – Bernie Grundman Mastering.