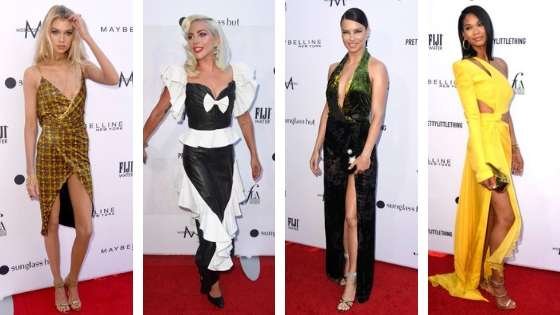 Traditional awards season may have come and gone, but on Sunday evening, those who are responsible for making the stars look their best during those many red carpet appearances got a bit of appreciation themselves at The Daily Front Row's 5th Annual Fashion Awards in Beverly Hills. The occasion, which honors stylists and beauty pros, among others, drew plenty of celebrities, models and other fashion folk — and of course, it was a big night for style.
Lady Gaga, who was on hand to present an award to her hairstylist, Frederic Aspiras, wore black-and-white Rodarte and sparkly eye makeup, and seemed to be in a particularly joyful mood for the occasion (see proof above). That playful, celebratory vibe was palpable for other attendees, too; most of them seemed to all be having a hell of a time in their most party-ready red carpet ensembles. Slick Woods, for example, paired her cream-colored dress with a pair of tiny sunglasses for a little bit of attitude, while folks like Busy Philipps, Rosie Huntington-Witeley and Jaime King each wore some iteration of fancy pants (Philipps's chrome sequin ones were especially festive).
But the real trend of the evening was a color story: red. Courtney Love, Salem Mitchell, Kate Hudson, Alicia Silverstone, Jasmine Sanders and Huntington-Whiteley were among the many attendees to opt for some variation of the hue, from crimson satin to brick-toned ruffles to poppy-colored ruching.
Click through the gallery below to see what all your favorite stars and fashion people wore for the occasion.