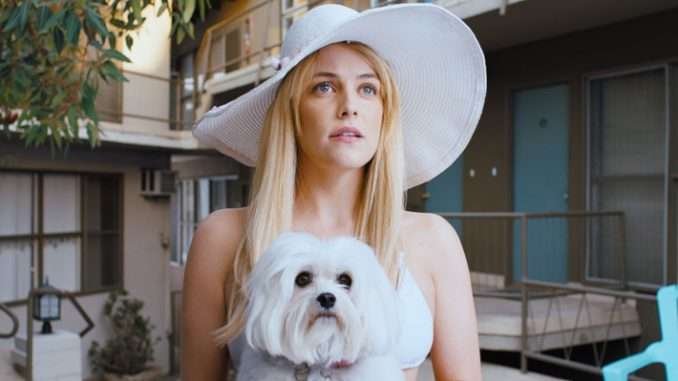 The 71st edition of the Cannes Film Festival begins early next week,  . Here are some of the most buzzed-about movies ahead of the fest.
Under the Silver Lake
Andrew Garfield leads this sprawling L.A. noir from director David Robert Mitchell, whose horror film It Follows was a Cannes hit a few years back. Set on the hip, East Side part of the city, Under the Silver Lake casts Garfield as a troubled young man searching for Riley Keough, who has gone missing. Check the coffeehouses, Andrew! Maybe she just needed free Wi-Fi and overpriced java!
BlackKklansman
Spike Lee directs the strange-but-true story of Ron Stallworth, a black Colorado Springs cop who infiltrated the Ku Klux Klan in the late 1970s. John David Washington, Adam Driver, and Topher Grace star, while recent Oscar winner Jordan Peele produces. Will the film be as outrageous as the formatting of its title?
The House That Jack Built
Lars von Trier was a Cannes staple until the notorious Melancholia press conference in 2011, where he made awkward Nazi jokes and spawned an all-too-relatable set of Kirsten Dunst reaction gifs. A Cannes ban on the filmmaker recently lifted, but he hasn't softened his act: The House That Jack Built is said to be a graphic serial-killer tale starring Matt Dillon as the murderer and Uma Thurman as one of his victims.
Everybody Knows
The two-time Academy award winning Asghar Farhadi (The Salesman, A Separation) returns with his starriest film yet, and a turn into Spanish-language cinema. Penélope Cruz stars as a Spanish woman who returns to her hometown with her Argentinian husband, when "unexpected events bring secrets into the open." One can presume those secrets will involve Javier Bardem, who shares top billing with Cruz. It will certainly be exciting to see such a proven talent as Farhadi handle this material, and lucky for festival attendees, it's opening the festival on Day One.
Solo: A Star Wars Story
Cannes often invites a big-budget studio film to screen out of competition, and this year's entry is the Star Wars spinoff that casts Alden Ehrenreich and Donald Glover as young versions of franchise staples Han Solo and Lando Calrissian, respectively. Don't expect to see original directors Phil Lord and Christopher Miller on the Croisette, since they were replaced during filming by Ron Howard. Can the film overcome its troubled production history and deliver on the hype?
Climax
Not much is known about this Gaspar Noé film, but based on Noé's body of work — and the bodies unclothed in most of that work — expect a sexually transgressive journey in the vein of Irreversible and Enter the Void. His last Cannes entry, Love, brought 3-D cum shots to the Croisette. What can he top that with?
Rafiki
The first ever Kenyan film to debut at Cannes has already been banned by its native country, making its premiere in the Un Certain Regard sidebar all the more attention-grabbing. The coming-of-age story of two teenage girls who fall in love with each other is by second-time feature director Wanuri Kahiu, who has staunchly refused to edit her film despite the requests of the film board of her country. We have high hopes that the film itself is as absorbing as the censorship drama surrounding it.
Shoplifters
Hirokazu Kore-eda makes the kind of leisurely family dramas that, while never quite setting the world on fire, stick with you for a long time, including his last Cannes premiere, 2016's After the Storm. This one concerns a down-on-their-luck family who steal to survive, and who take in an abandoned girl despite their already-thin resources. Whether or not this one, which plays in the official competition, has any Palme chances, it's always a pleasure to sit down to a new Kore-eda film.
Whitney
Three years ago, Cannes had a high-profile hit with Amy, a penetrating look at the life and sadly premature death of Amy Winehouse. Could this year's Whitney follow in its footsteps? Director Kevin Macdonald secured the cooperation of Whitney Houston's family and inner circle for his documentary, but the film is also rumored to shed new light on the same-sex rumors that surrounded the singer, so we're curious how it's come together.
The Man Who Killed Don Quixote
Could it be that the Chinese Democracy of movies will finally see the light of day? Terry Gilliam is scheduled to bring his long (long, long long) in-development passion project — the original iteration of which was the subject of the 2002 documentary Lost in La Mancha — to Cannes under peculiar circumstances, technically after the closing ceremony and the end of the festival. But those who stick around will be rewarded with, if nothing else, the culmination of a legendarily bedeviled film. Adam Driver, Jonathan Pryce, and Olga Kurylenko star, and the now-embattled Gilliam will likely be on hand with some unedited commentary during the press conference.
Burning
Lee Chang-dong's adaptation of a short story by Haruki Murakami is one of the spicier entries in the official competition, if only for the rising international star of Steven Yeun. He plays Ben, a mysterious friend of a friend of protagonist Jong-soo (Yoo Ah-in) who has a troubling hobby, but how much Lee's film adheres to Murakami's story is a mystery. It will make its South Korean debut during the festival as well, and a strong reception at Cannes could mean it's headed stateside sooner rather than later.
Mirai
The latest animated feature from Mamoru Hosoda (The Girl Who Leapt Through Time, Wolf Children) will make its world premiere in the Directors' Fortnight sidebar. A 4-year-old boy, upset about the impending birth of his baby sister Mirai, wanders into a magical garden, where he meets the grown-up version of her. That's the kind of plot synopsis you can already feel yourself tearing up over just reading, and there's potential here for Hosoda to have a global breakout on the order of Makoto Shinkai's record-breaking Your Name.
Fugue
If you haven't seen Agnieszka Smoczyńska's The Lure yet, get yourself a Filmstruck subscription and treat yourself to the baffling (in a good way) mermaid-horror-musical. It's one of the most exciting international debuts in recent years, and it's why we're so eager for the follow up, which will premiere at the Critics' Week sidebar. The plot, which follows an amnesiac woman who is forced to live with her forgotten family after they find her, sound like less of a genre explosion, but Smoczyńska's point of view is an exciting one, and we're eager to see what she comes up with.
Sorry Angel
Buzz is high for this new gay love story from Christophe Honoré, who may be best known stateside for Dans Paris and the bisexual musical Love Songs. France gave us an immediate queer classic with last year's Cannes prize winner BPM, so can the country deliver once more?
Knife + Heart
This film may have the wildest log line of any competition entry at Cannes this year: Vanessa Paradis plays a 1970s porn producer who tries to mount a more ambitious adult film … until a serial killer starts to attack all the actors in her production. Okay! All right! Can't say we've seen that one before, though now, we'll be the first in line on the red carpet.
source: Vulture