Jason Anderson shares some insight into the job of a sound engineer and tons of good advice for getting started. A consummate professional and top notch, Music Producer / Engineer / Live Sequence Programmer,
Jason Anderson worked with New Edition, Keith Sweat, Boyz ll Men, EnVogue, Ralph Tresvant, Johnny Gill, Teddy Riley, Faith Evans, Latoya Luckette, Los Lonely Boys, Shelby Lynn, BeBe Winans, Pointer Sister's, Stevie Wonder, Motown Records, Capitol Records, B-Sharp Records and Entertainment, Hidden Beach Recordings.

His words are definitely worth taking to heart.
---
1.Tell us a little bit about the day-to-day life of a sound engineer
For me it's always been about mental preparation first, getting my mind as well as body and attitude ready for the job. It's not just about showing up in the studio turning knobs and sliding faders up and down and I'm done type of thing. As a sound engineer you must take your job very serious, my clients and their projects mean everything to me so I put my all into every job. It's very long hours, starring at a computer screen listening to the same song over and over, fine tuning instruments and vocals. Trouble shooting is another task while engineering projects, every session won't be the same. You'll have challenges from hum / noise in tracks to unclean vocals due to a bad mic they used during their recording process so your job as an engineer is to figure out how to make it all sound great at the end of the day and that's the greatest part for me, taking on all the challenges and overcoming them. That's an engineers biggest award.
2.What kind of training do you have? Do you feel the path you took is common in the industry?
Training came for me years after I had already been in the business working with some major artist.
I took a Audio/Video course at Los Angeles Recording Workshop when it was located in North Hollywood, It's now on sunset blvd. It was a great experience at LARW, I learned a lot that I incorporated into what I had already knew about audio and video.
I definitely feel my path is similar to others. The way I see it is, people in the entertainment industry all share that one common thing which is the 'love for the art'. wether your into music or acting, it's all about knowing it's what you where born to do, Through the ups and downs willing to sacrifice to achieve your dreams and goals to become successful in this industry, I'm sure we've all walked that road of hardship to get where we are today. I had the love for music as a kid, was in a singing group in my teens and very fortunate to come up in the industry with friends, the legendary singing group New Edition which helped propel my career as well (Shout out to New Edition and Brooke Payne)
3.When did you know you wanted to become a live sound engineer?
I would have to say when I purchased my first professional studio equipment.
That's when I was able to experiment more on my own time on the art of mixing and recording while also studying tutorials from some of the great engineers in the business to get a broader understanding of how sound, the various types of instruments and vocals worked in the frequency spectrum. That's what began to interest me the most
4.How did you get your first SR gig?
Well actully my first sound recording gig wasn't a professional one. I had to pay my dues so I did favors for my friends mixing their projects for free for a good while just to get the experience under my belt and  eventually I finally got that 1st professional gig which was through a great friend of mine Bruce Walker who was the CEO of Mo Jazz Records on Motown.
5.How do you find work?
I found work by word of mouth mostly.
6.What separates a good sound engineer from a bad one?
I would say their work ethics. Your either going to take pride in your work or not.
7.Do you also do live Sound Engineering as well as Studio Recording?
Yes I do live sound engineering as well.
8.How do you prepare for the physical demands of a tour?
Exercise, meditate, rest and eating properly.
9.What is the toughest lesson you ever learned in the recording setting?
Keeping it professional at all times. Working under pressure and dealing with different personalities can take a toll on you.
10.Do you decide on a suitable sound quickly, or do you tend to tweak tones obsessively?
I tend to tweak until i'm satisfied. I never settle for what i'm not happy with.
11.What is your favorite DAW to work with when recording
Logic Pro
12.Who are some of the artists you've worked with?
New Edition, Ralph Tresvant, Johnny Gill, Keith Sweat, Boys ll Men, En Vogue, Faith Evans, Los Lonely Boys, Teddy Riley, BeBe Winans, Pointer Sisters Letoya Luckett,
and Aneessa's latest single "Gonna Be Alright" Better Days Mix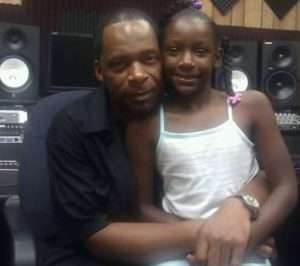 13.What was it like growing up in  the same town with stars like New Edition
We were friends before the success of new Edition but experiencing the frenzy the group caused in Boston and everywhere else they went was amazing. The frenzy still happens till this very day. Life has been a blessing and I'm truly thankful to God for it all.