1) What's your favorite part of the music creation process? And what do you think is the most stressful?
With composition, I love when I discover the idea and the melody comes… I record it right into my phone so I don't forget… I just sing it all, everything that streams into my head for as long as it keeps coming.  Then later I listen back and put it down on paper, figure out the chords, etc.  But that initial spark is really exciting!
I also love when the music takes shape through the musical instruments.  I can hear it in my head and then it's thrilling to witness the musicians to work their magic!  I have been blessed to know and work with some very talented people who can take the chords I've written, listen to my ideas about the song and fill in what I'm hearing in my head.  Todd Schroeder, the producer, arranger and musical director of "For My Folks" has this gift and was very generous with his talent in the creation of the album.  The songs are all covers, timeless, classic standards, and we tried to breathe new life into them in a way that was authentic to us.
2) When you select a song to cover, is there any specific process you go through when choosing the right song for you?
I love to sing songs that ring true to me — melodically and lyrically.  What feels honest to me may not be the same for someone else and vice versa… That's why it's such an individual and intuitive process for me, the expression of art… I love finding a song that sort of vibrates on my frequency.
3) If you could duet with any artist, who would it be and why?
Well I would say John Lloyd Young, because I just love his voice, but I just recorded a duet with him – so I already got my wish!  His voice is totally unique, it just makes me smile… and on top of that, he is truly a really great guy.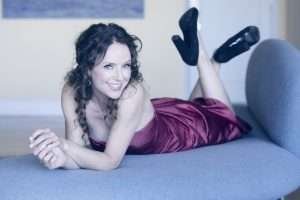 4) What's the one instrument / piece of musical gear you just can't live without?
I love my piano.  I am not a pianist… I can read music and play a little bit – my mom was a piano teacher… My piano is literally at the center of my home the way music is at the center of my heart.
5) If you could pick only a single song to introduce your music to a new listener, which song would you choose?
That is a tough one… I sing so many different styles!  My single "Valley of Fire" is pretty representative of who I am… it's very intimate, as is "Don't Give Up."  But in my new album of standards, "Where or  When" is my go-to single.  I think it has universal appeal while being very particular to my voice
6) What do you do for fun when you are not on stage?
Simple pleasures — I love to hike with my dogs, hang out with my family, go to lunch with friends.  I have two amazing kids who are at the center of my life.  I love date night with my husband – we like dinner and a movie. We are pretty old school.  I love going to the theatre, but I don't go enough!  My daughter and I just saw "Bright Star" by Steve Martin and Edie Brickell, which we loved
7) Anything else you'd like to share with our readers?
I did this new album "For My Folks" as a tribute to my parents but also as a thank you to my fans (mostly from the movie "Mr. Holland's Opus") who have expressed over the years a desire for me to record an album of standards.  I think we've created something that will scratch that itch!  I hope it reaches a broader audience because these classic old tunes have a timeless quality that is forever young and I think have a hopeful message.
Thanks for having me !
www.facebook.com/jeanlouisakellymusic
www.twitter.com/jeanlouisakellymusic