Best Stylish Fims Ever
1. A Single Man: Everything Tom Ford does is the epitome of chic, and his directorial debut is no exception.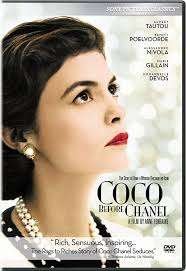 2. Funny Face: When Quality magazine seeks an intellectual look, it's off to Greenwich Village where bookshop clerk Audrey Hepburn fits the bill. And the rest is history.
3. The Royal Tenenbaums: If Gwyneth Paltrow's fur coat doesn't get you, Ben Stiller's tracksuit will.
4. Black Swan: You know you're in for some serious drama when you have Rodarte behind the seams of your prima ballerina's costumes.
5. Heathers: Those ruffles, those shoulder pads, those blazers: to die for.
6. Coco Before Chanel: The chicest period piece ever tracks the story of Gabrielle, the humble seamstress that launched thousands of tweed jackets.
7. Breakfast at Tiffany's: Because what girl hasn't channeled her inner Audrey Hepburn with an LBD and pearls on Halloween?
8. The Craft: This high school coven still casts a spell over us with its '90s goth gear.
9. American Gigolo: Who better to dress Richard Gere's smooth operator than Giorgio Armani?
10. Clueless: From this moment on, we knew that when we had to look our most capable, we'd depend on a white collarless shirt from Fred Segal.
11. Bonnie and Clyde: Being bad's never looked so good — nor worn better hats!
12. Marie Antoinette: Sofia Coppola let us eat cake with confectionery costumes and decadent sets, all to the tune of $40 million.
13. Blue Jasmine: In quite possibly 2013's most stylish film, Cate Blanchett called in the big guns with Carolina Herrera gowns, Hermès accessories, and Chanel as far as the eye could see.