"I Found Myself in You" is a stunning and powerful duet between husband and wife team, Aneessa & Michael B. Sutton.
The song, which was released on their fifth anniversary, captures the essence of their love perfectly, with lyrics of hope, tenderness, and discovery. The couple sings a beautiful story that perfectly illustrates the profound connection they share.
The music is an ode to the life they have created together and serves as a reminder that true love can always be found within one another. The instrumental accompaniment is soothing and mellow, featuring a steady and laid-back drumbeat, smooth saxophone melodies, and gentle piano chords. The vocals of Aneessa and Michael B. Sutton complement each other perfectly, with both singers bringing their own unique style to the table while still maintaining a cohesive and harmonious sound. The lyrics of the song are romantic and heartfelt, speaking of the discovery of true love and the joy of finding oneself in another person. The chemistry between the two vocalists is undeniable, making for a beautiful and emotionally resonant performance. Overall, "I Found Myself in You" is a well-crafted and enjoyable listen for fans of smooth jazz and love songs. It has powerful and moving vocal alchemy which make it even more meaningful and special.
.
A stunning duet with heartfelt lyrics about the joy of finding one's true love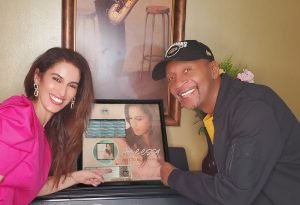 Brief Background Story: Aneessa was born in Saint-Étienne in eastern central France. Initially, she made an indelible impression on the dance scene under the stage names Anya Rose and Lady Aneessa. She eventually moved to Paris, France where she studied literature and languages at University La Sorbonne.
It was here that she began singing Jazz, Soul and Pop covers, before moving to Manchester England for a couple of years. She returned to France and started a variety of career moves – from starting her own record label, recording studio and a graphic design company. Along the way she met influential collaborators, and branched out into a number of projects on a global scale.
Aneessa eventually met up with Motown producer Michael B. Sutton, for business propositions for a media company she was working for. This business relationship blossomed into love commitment, and eventually the two began writing and producing new material together, with Aneessa turning her skills towards smooth jazz interpretations.
Michael B. Sutton is a legendary hit-making songwriter/producer who worked as a staff producer and writer for Motown Records. He has worked with or for, Jay-Z, Kanye West, Michael Jackson, Smokey Robinson, Diana Ross, Dionne Warwick, Anita Pointer, and many more. The list of his endeavors and accolades would not fit onto this page.
OFFICIAL LINKS:
https://linktr.ee/aneessamusic
https://www.instagram.com/aneessamusic/
https://www.facebook.com/aneessamusic/
https://www.youtube.com/channel/UC6xrOhpAnP-ebXYlFNBUYWA
https://open.spotify.com/artist/6AO7IqD0Dy8BUWjLSCYUF1
Michael B. Sutton's Website: www.Michaelbsutton.com
Stream "I Found Myself in You" on Soundcloud: https://rb.gy/ug8zum
Song Lyrics
For once in my life
I found someone who needs me
For once in my life
I found someone who cares
My waiting is over
I need look no further
I found myself in you
Where did you come from
The surprise of a lifetime
God must have known
My heart longs for you
My waiting is over
I need look no further
I found myself in you
Can we be in love forever
Can one heart beat for two
If we always pray together
God will bless me and you
Yeah..
The reflection in your eye
Is the window to my soul
The beat of you heart
Is the rhythm of mine
My waiting is over
I need look no further
I found myself in you
Can we be in love forever
Can one heart beat for two
If we always pray together
God will bless me and you
For once in my life
I found someone who needs me
For once in my life
I found someone who cares
My waiting is over
I need look no further
I found myself in you
I found, I found, I found, I found, myself in you
I found myself in you
I found myself in you
I found, I found, I found, I found, myself in you
I found myself in you