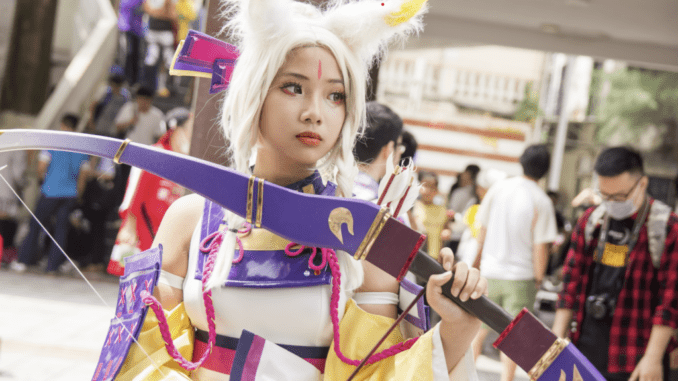 Cosplay is a passion for many, but for some, it's an art.  If you are just starting on your first cosplay or if you need some inspiration to make that next great project, these tips might just give you the edge over your competition.
You don't need to spend a fortune to make your cosplay costume look great. You can easily create amazing cosplay costumes for cheap. Here are some tips for an awesome cosplay costume:
1) Save At the Thrift Store
Buy your cosplay costume pieces from a thrift store. Save money and put it back into making your costume better with extra detailing or making it more accurate. You can also buy cosplay supplies online.
2) DIY Prop Weapons
Make your own weapons, armor, or accessories using duct tape. It's lightweight, more durable than paper, and good for cosplays that need a lightweight base before you paint it to look like metal or other materials.
3) Get Creative
You don't need to be professional to make a cosplay costume. Get creative and avoid the big-name brand cosplays. Start with something you already have in your closet, put some extra effort into it, finish off with some tips and make it look great.
4) Stay Safe
Check out the tutorials section of your mother's sewing machine before you sew together those little pieces. Nobody wants to sew their fingers together.
5) Use Professional Wigs
Cheap wigs are uncomfortable and you won't want to wear them for hours on end. They also shred and it's virtually impossible to style one. So, it's best to invest in a professional hair piece.
6) Don't Be Afraid to Get Messy
Everyone has been there: glue, clay, paint – it all gets on your clothes. Wear old clothes or have an extra set and prepare yourself for staining. If you don't want that new shirt or costume piece to get ruined in your cosplay build, then use old sheets or drop cloths under your work area.
6) Use an Airbrush
Consider using an airbrush or getting one from an online store. An airbrush will give your cosplay costume a more realistic look and can be used for adding details or changing colors once you're finished with your costume.
7) Take Your Time with Your Cosplay Costume
We are all in a hurry to finish our cosplay costumes but at the end of that convention weekend, you will have spent hundreds or thousands of dollars and many hours of hard work on your costume. If you delay the completion of one piece and then push on the other pieces, you will have an unfinished-looking costume.
8) Stay In Character
Cosplaying is a lot more fun when you are totally in character. Put some thought into it; if you're going as a famous character from Star Wars, what would they be like? Do they have any quirky habits or gestures? Ask for suggestions from friends who know about the fandom.
9) Have Fun
Cosplaying is a hobby and unlike acting, you are not paid to portray that character. Don't be afraid to get into character and have fun with it.
Art and cosplay are both wonderful hobbies where you can have so much fun with your friends while learning all kinds of new skills.