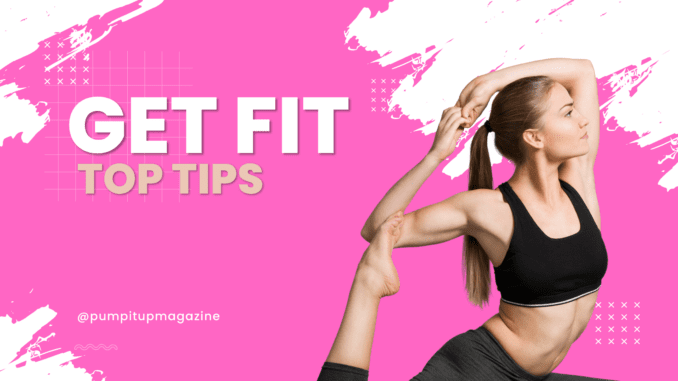 If you want to get the most out of your fitness routine, it's crucial to incorporate a variety of activities. Unfortunately, there is no single type of exercise that can cover all of your expectations and transform your results on its own. Therefore, it's always recommended to create a well-rounded fitness routine, that can help you reach your goals, whether that's losing weight or gaining muscle mass. Also, regardless of your experience, there are a few key elements that a balanced routine must include to ensure optimum results. Within this guide, we will take a closer look at these elements and what you should keep in mind when creating a well-rounded fitness routine.
Fitness Goals
Whether you are just starting out or you have some experience, goal setting can be a great tool to use at any stage. This can improve your chances of achieving your desired outcomes and enhancing your skills. It is important to make your overall goal something that is valuable to you. A long-term goal can turn into your biggest motivator when you are pushing through a tough workout later on. To help you succeed, you can also set smaller and more specific goals, which will keep you going. If you are unsure where to begin, a personal trainer can offer specialized advice and support along the way.
Protein Intake
Eating enough protein can help you build muscles and boost your metabolism. However, as protein can sometimes be difficult to digest, protein hydrolysis is often viewed as an effective way of improving protein digestion. Understanding protein hydrolysis can help you learn more about its efficacy, as well as its pros and cons for use in human health. Therefore, you may need to consider other options to maximize your nutrition and protein absorption. For example, Ingredient Optimized has developed new technology and products, such as ioWhey Protein and ioPea Protein, which are easier to digest and are better utilized in your body.
Resistance Training
Resistance training usually involves the use of equipment, such as weight machines or resistance bands. This should be a key component of your fitness routine, as it can help you build muscle and increase bone density. It is also a great way to lose weight or maintain a healthy weight. Therefore, it's important to train all major muscle groups, and as a result, this can improve your ability to tackle a variety of everyday tasks. Try to include different strength training exercises, such as push-ups, lunges, squats, free weights, and more.
Balance And Coordination
It is important to maintain your balance and coordination regardless of your age. This is because balance usually deteriorates with age, so it's crucial to add a variety of balance exercises to your fitness routine. Sometimes changes in our balance skills are so subtle that we might not realize that they are happening. Poor balance and coordination can often lead to falls and injuries, which can affect the bones and nervous system. You can incorporate different activities, such as walking, biking, or climbing stairs. In addition, yoga can be a great way to challenge your dynamic balance skills and improve your posture.
Cardio Exercises
Building a successful cardio routine can have a variety of benefits for your everyday life. It can lower your blood pressure, strengthen your immune system, and regulate your blood sugar. Thus, you should focus on finding ways to optimize your cardio workouts. For example, instead of staying at the same pace for a long time, include various degrees of intensity, such as high-intensity interval training. As a result, this will increase your metabolism faster than steady exercise. It might also be helpful to mix in a few bodyweight exercises to keep things interesting.
Stretching And Flexibility
A great way to reverse the shortening and tightening of muscles that usually occurs with age is to include flexibility exercises and stretching into your routine. Stiffer muscles can lead to balance problems and back pain, which can also make you more susceptible to injuries. In comparison, well-stretched muscles have the capability to reach their full range of motion. As a result, you can maximize your athletic performance, as well as functional abilities, such as reaching or bending. There are many morning stretches you can incorporate to boost your energy levels, along with evening stretches to help you relax before bed.
Core Strengthening
Having a strong core can help you perform a variety of everyday movements, such as lifting heavy items or even getting out of bed. However, it's crucial to do exercises correctly to prevent injury and pain. Your core muscles are located in your abdomen, lower back, and pelvis, which makes them vital to protecting your back and overall health. There are various exercises that you can implement, such as planks, bridges, oblique reaches, and fitness ball exercises. Make sure you mix up your routine and stay consistent to keep your core strong.
Tracking Results
Remember to track your progress to ensure you are on track. One of the simplest and most effective tools you can use is a workout journal, where you can write down the amount of weight you lifted in previous sessions or the number of reps you did. As a result, you can switch up your resistance training routine to keep your muscles challenged. You can also take advantage of different fitness trackers and health apps that can help you improve your overall health. Also, you can take note of the way your clothes fit and how you feel on a daily basis.
Muscle Recovery
Finally, you will need to maximize muscle recovery so that you can see the desired results. Therefore, you should ensure that you optimize your nutrition and always get a good night's sleep. You may also consider incorporating massage into your fitness routine, which can help with reducing muscle soreness. Also, you should always have a post-workout snack that contains both protein and carbohydrates so that your muscle tissue can begin repairing. To ensure you don't feel as tight the day after a workout, remember to cool down by performing static stretches.