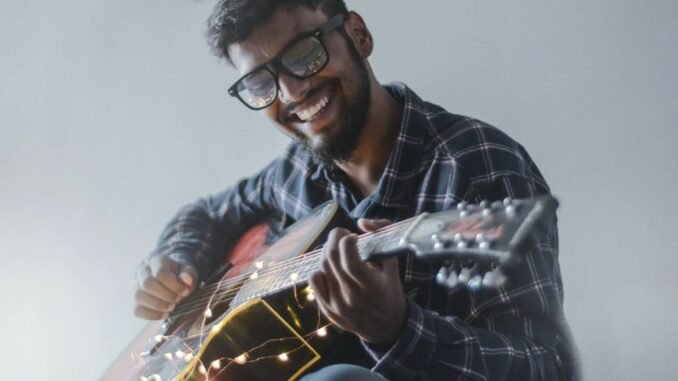 ‍
If you're a musician with aspirations of selling more music, your website should be one of your primary focuses. Having a professional and user-friendly band website is the first step to creating an online presence that will help you sell more music. We all know that technology has made it easier than ever to create websites, blog posts, and social media profiles for businesses. But not every site out there that looks great is user-friendly. If you're struggling to get your band website up and running or simply want some ideas for ways to improve yours, keep reading for some helpful tips and tricks for websites in the music industry.
Utilize semantic HTML for better SEO
The foundation of every great website starts with its source code. A basic website with enough quality content can rank decently in search results, but a website with a well-coded source can rank even higher. If you want to build a robust and user-friendly site, you'll also want to make a strong website foundation with semantic HTML. With semantic HTML, you'll be able to create a better user experience and strengthen your site's source code so it can rank higher on search engines. If a user searches for your products or music and you rank high enough on a search engine result, you could have thousands of potential customers visiting your site within the next few weeks.
Create a lead magnet for email marketing
One of the best ways to get people interested in your content, as well as your music, is through email marketing. Creating a lead magnet for your website allows you to collect email addresses from interested fans. Once you have their contact information, you can send them updates about your latest music, tour dates, and special offers. A lead magnet can be an Ebook, a coupon, a special report, or a sample of your music. Whatever you decide to offer, make sure it's high-quality and something people will be interested in reading or listening to. If you're struggling with ideas for your lead magnet, check out these 7 proven lead magnet ideas for musicians.
Incorporate video on your website
We're living in the age of social media and content, which means that video is enjoying a massive surge in popularity. While most people have heard of YouTube and other video-sharing platforms, not everyone has visited your website. Incorporating video content is a great place to start if you're looking for ways to improve your website for more band sales. This can be a great way to get people to visit your site and stay there for longer periods of time. If you want to maximize views on your website, make sure you optimize your videos for SEO. You want to get people to watch your videos, so don't forget to add in a catchy title and description to go along with it. Avoid using clickbait and stick to each description and title to avoid running your chances of people finding and sharing your video content.
Offer a free download or trial product.
If you're a band that creates music, free downloading your latest single or EP is a great way to build your fan base and drive more visitors to your website. While some artists might choose to give away the full version of their album for free to a limited number of fans, an EP or single is a great place to start. It allows you to get more fans on your website and is an easy way to get them to purchase your music in the future. If you're a recording studio, the same concept can be applied. Instead of giving away a full version of your work, offer a free sample of your latest creation. This could be a clip of your most recent music session or a short clip of a voiceover. Either way, it's an easy way to get more people interested in your services and visit your website.
Don't forget to capitalize on this by getting users to follow your social media accounts, sign up for emails, or whatever works for you. This will allow you to keep them up to date with news they might be interested in, including live shows or tour dates.
Add concert listings and show dates.
If you're interested in selling more tickets to your shows, adding concert listings and show dates to your website can be a good start. Nowadays, more and more fans are actively searching the Internet to find out more information about upcoming shows. If you have a show coming up in your hometown, add this information to your website so more people can find it. You can add a tab or link that leads to a page with your concert listings or simply add this information to your homepage.
Remember you must keep it up to date and move any old or outdated information. Again, this is a great place to get people to sign up for an email newsletter if you have one so you can give them early access to any tickets or new dates you will be adding, including future music releases or collaborations. A good idea could be to link it to your Google calendar and incorporate this into your website, so new information is displayed as you enter it into your calendar.
Add contact details
Adding contact details and a support section to your website, you are helping potential visitors find you. When they can see who you are, what you can offer, and how to get in touch, it makes them more likely to buy from you. This is especially true for artists or bands who rely on word-of-mouth to sell their work.
There are several ways to include these details on your website: a contact form, email address, phone number, and address or a Live chat tool for website. These options allow users to ask questions via your contact details so you can respond. However, a live chat feature can be preprogrammed to answer frequently asked questions (FAQ) and then direct users to someone who can help with more detailed requests.
Another way is through social media sites like Facebook and Instagram. You can add a quick bio and tagline under the About tab. If you have other social media accounts, like Twitter or YouTube, be sure to link to those as well.
Lastly, consider an FAQ section, especially if you are selling merchandise. Fans may want to know more about you as a musician or band, and FAQs can give them the details. Also include any critical information they will need to know regarding purchases, subscriptions, changes to terms and conditions, and so on. Make sure your FAQ section is clearly labeled and easy to access.
Adding these details is essential for attracting customers in any industry, but especially for musicians looking to sell their used merchandise online.
Focus on straightforward and easy navigation
Your website is one of the first places potential fans will learn about your music. If you want to keep them there for longer, you'll have to make navigation on your site as simple and easy as possible. Once you have your website set up, make sure you take the time to go through it carefully. If your website is too confusing, or there are too many links popping up all over the place, people will click away from your site and head to a different website instead. Look for places where you can reduce the number of links or ways for people to navigate. Doing this will help your site run much more smoothly, and you'll also be able to capture more email addresses and make more sales.
Add an EKP to your website.
An electronic press kit (EPK) is a free and easy way for artists to promote their music and showcase their talent to the world. With an EPK, you can easily create a professional-looking website showcasing your work best. You can also include videos, photos, and other content that complements your music. This makes it ideal for press, bloggers, and fans to find the most up-to-date information on activities, releases, and more.
You should take advantage of EPKs if you want to build a following or if you want to be discovered by the media. They are accommodating when you're just starting out when you don't have much money or time, as it can be easily updated, and all the information people require on you is easy to download.
An EPK can be used in many different ways. It can show your band's name, logo, lyrics, bio, tour dates, music videos, merch details, and more. You can also use it to promote other projects you're working on, such as book signings, speaking engagements, comedy shows, concerts, or DJ sets.
Conclusion
Whether you're just starting out or an established artist looking to boost sales, a website is a great place to start. It's essential to keep in mind that your website is your storefront, so it should be as professional and user-friendly as possible. A professional website can help you get more fans and sell more music. It's a place where fans can learn about your music and your upcoming shows and where they can buy tickets and merchandise. With these 10 ways, you can ensure that your website is user-friendly and full of high-quality content that will help you sell more music.