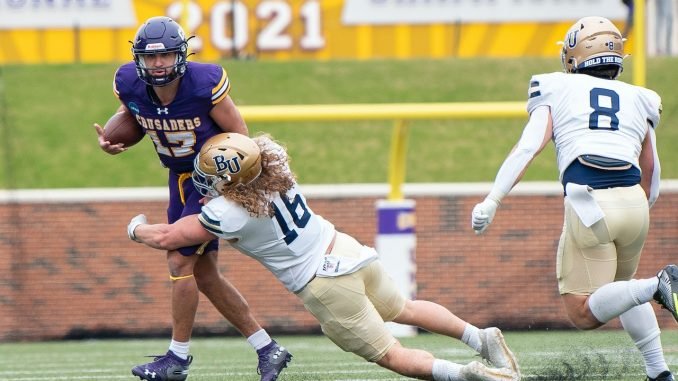 Nothing gets the crowd going like the sight of a giant inflatable football helmet at a sporting event. Inflatable helmets have become a popular addition to a variety of events, from sports gatherings to promotional activities. The recent popularity of inflatable helmets may make you wonder why they are so common at events.
These oversized replicas come in a visually appealing form that captivates people and draws attention. It also serves as a fantastic photo opportunity at events; you'll find people trying to take pictures in front or beside the helmet, further elevating the overall experience at the event.
If you want to add some excitement and fun to your next event, consider renting or purchasing an inflatable helmet. You won't be disappointed! Here, we will discuss the where, when, and why of using inflatable football helmets at events.
Where to Place Inflatable Football Helmets at Events
One notable advantage of giant inflatable football helmets is their versatility,  as they can serve as eye-catching promotional props, engaging event decorations, and fun interactive elements for fans. They have a range that extends far beyond sporting events. If you need something that can pull the attention of attendees, they can be a great addition to your setup. They also work if you want to improve the ambiance and aesthetics of your event. Everything looks better with inflatables. 
Below are a few examples of places where you can use giant inflatable helmets
Sport Stadiums and Arena
Inflatable football helmets are eye-catching attractions at sports venues. Aside from their aesthetic appeal, they also provide functional benefits. For example, inflatables for grand entrances create a captivating and electrifying atmosphere for players as they come onto the field, igniting their spirits and energizing both the team and the enthusiastic crowd. They also offer a place for a quick meeting between the coach and their players.
Tailgate Parties
Tailgate parties are notable parts of sports cultures, and giant inflatable helmets fit right into these parties. Football fans can use them as a social hub to party and mingle before the game starts. The helmets can also provide shade for people and keep food and drinks safe while they party.
Aside from tailgate parties, they work at any party, especially if the theme is football. It fits seamlessly into any party. Guests will even love to take photos beside them.
Sports Bars and Restaurants
If you want to create a football-centric atmosphere at your sports bar and restaurant, you could include a giant inflatable helmet in the décor. This will give your establishment a sports-themed feel and make your guests feel like they are part of the game while watching it on a big screen, enhancing the overall viewing experience.
Community Festivals
Football is an integral part of the local culture, so we can integrate giant inflatable football helmets at community festivals and events. It adds a fun element to these occasions, providing a social space for people to interact and engage with each other.
Promotional Events
Companies use versatile promotional inflatables that stand out in crowded places during marketing campaigns. They could employ giant inflatable helmets to pique the curiosity of attendees and lure them to their booths. They also customize them with brand identity elements like logos, graphics, colors, and images. This improves brand recognition and helps potential customers easily identify their brands later.
When to Deploy Inflatable Football Helmets at Events
The short answer is when you want to make a visual statement and a long-lasting impression in the attendees' minds. You should use inflatable football helmets when you want to add a wow factor to your events. Its visually appealing nature does the job, and the sheer size of the structure makes it ideal for people to see it and come towards it. But at the same time, you should deploy strategically in the right locations to maximize their potential to captivate the attendees.
Why Use Inflatable Football Helmets at Events
Inflatable helmets provide a sort of camaraderie and excitement at the event. They serve as a social spot for people to hang around and have fun at events. Aside from that, they also offer functional benefits for the event planner. Here are some reasons to use inflatable football helmets at events.
Enhanced visual appeal:

Inflatables can improve the visual beauty of your event. They look good and, by extension, make your event look better. You should include inflatable helmets if you want eye-catching structures at your party. 

Attendees Engagement:

If you want your guests to interact, talk to each other, and connect emotionally, then inflatable helmets are a great inclusion to your setup. It creates a unique, immersive environment that excites fans and elevates the party experience.

Brand Visibility:

Businesses can strategically use inflatable helmets to familiarize customers with their brands. The business gains brand visibility and recognition as attendees interact with the helmet. 

Memorable Photo Opportunities

: Inflatable helmets are the perfect backdrops for photos. Their large size and eye-catching shape make them great props for photos. When guests take pictures of them and share their experiences on social media, it will increase your event's reach and online visibility.
Conclusion
Now you have all the answers to where, when, and why you should use inflatable helmets at events. Inflatable helmets offer the right mix of balance of aesthetics and functionality to your events. Beyond their visual appeal, they can engage guests and offer brand visibility for your business. So, the next time you see an inflatable helmet at an event, remember that it is much more than a decoration.