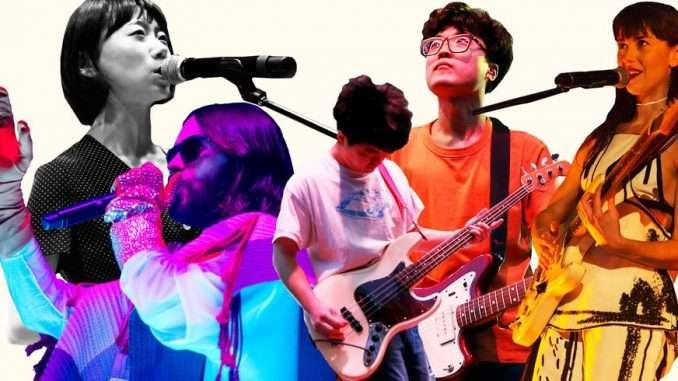 It's officially spring—and while spring cleaning is typically reserved for our closets, our playlist could use a little detoxing as well. Breezy, festival-ready bops from artists like Alison Wonderland, Twin Shadows, and Sofi Tukker, should do the job. If you're ready to warm it up, here are the 11 best songs to listen to this April.
1
Alison Wonderland, "High"
Known for her ambient, gritty production style, Alison Wonderland has made a name for herself as a powerhouse DJ in the electronic music sphere. For her third single, Wonderland recruits rapper Trippie Redd to inject his flair into the track. His sweeping, ominous intro builds up for nearly two minutes before the big drop. Who else could make us wait that long? Alison Wonderland's new album, Awake, hits stores on April 6.
Alison Wonderland, Awake; Amazon
Cardi B rose to fame on the boisterous rhymes heard on singles like "Bodak Yellow" and "Bartier Cardi"; now she's showing off her softer side on "Be Careful." Well, sort of. The rapper's signature brash demeanor remains intact as she sounds off on an unfaithful lover: "You gon' gain the whole world / But is it worth the girl that you're losin'?" Cardi's also got reinforcements: She brings Lauryn Hill's 1998 hit "X-Factor" in on the hook.
Cardi B, Invasion of Privacy; Amazon
3
Kimbra, "Version of Me"
Kimbra is vulnerable on "Version of Me," a story of someone who knows she's made mistakes and vows to change her ways. Kimbra questions if she's to blame for the failed relationship. The song turns away from elaborate production and calls upon mellow piano and the New Zealander's delicate warble to encapsulate heartbreak. Look out for the album, Primal Heart, on April 20.
Kimbra, Primal Heart; Amazon
Every new release from Saba sounds like a breath of fresh air. Over a skittering drum beat and soulful synths, "Life" finds the Chicago MC touching on a wide range of subjects, and, most notably, mass incarceration: "They want a barcode on my wrist / To auction off the kids that don't fit their description of a utopia / Like a problem won't exist if I just don't exist." With its account of family members' personal struggles, this track won't let any listener off the hook. Care For Me will be released on April 11.
Saba, Care For Me; Amazon
5
Sofi Tukker, "Baby I'm a Queen"
Sofi Tukker's lead vocalist, Sophie Hawley-Weld, asserts her dominance from the opening line of this cheeky pop jaunt: "Baby I'm a queen, so why do you call me baby?" Alongside this self-assured swagger, Hawley-Weld celebrates vulnerability, singing, "I might prefer desire to self control / I might prefer crying to being composed / I might prefer chaos to even flow." Their debut album, Treehouse, will be released on April 13.
Sofi Tukker, Treehouse; Amazon.com
6
Samantha Jade, "Roller Skates"
Samantha Jade is stepping into new waters for her upcoming album Best of My Love; her latest singles are heavily influenced by the timeless sounds of the disco/funk era. Jade's dazzling salute to The Emotions, a cover of "Best of My Love," demonstrated just how versatile her voice is. "Roller Skates" (which boasts a giant disco ball on the cover) is a shimmering earworm with a drop designed for a 2 A.M. warehouse rave. Best of My Love is slated for release on April 20.
Samantha Jade, Best of My Love; Amazon
Twin Shadow's "Brace" playfully blends an angelic chant with colorful synths, the perfect base for vocalist George Lewis Jr.'s honeyed vocals. Amidst this deceptively delicate mélange, Lewis sings about being strong enough to let yourself fall but also allowing someone to fall for you—the perfect message for Aries season. Caer hits stores on April 27.
Twin Shadow, Caer; Amazon
8
King Tuff, "Thru the Cracks"
"Thru The Cracks" has a folk-reminiscent sound that connects seamlessly with his gravelly sing-song. But while the bluesy guitar riff might feel light-hearted, King Tuff is opening up about losing a friend. "You know you had such a beautiful brain but no one understood you / You only saw one way to escape but I wish you didn't have to," he laments, with help from singer Jenny Lewis. The Other will arrive on April 13.
King Tuff, The Other; Amazon
9
Night Flowers, "Hey Love"
This is what spring sounds like. In Night Flowers' "Hey Love," bright guitar and harmonious vocals will captivate listeners—not to mention the infectious rock-tinged beat. The single is a taste of the UK indie pop group's upcoming debut album, which will be released on April 13.
Night Flowers, Wild Notion; Amazon
Advertisement – Continue Reading Below
10
Thirty Seconds to Mars, "One Track Mind"
Electro, rock, and hip-hop collide on Thirty Seconds to Mars' latest single, "One Track Mind." For the slow-burning track, Jared Leto's band enlists Harlem-born A$AP Rocky, who opts for an auto-tune-drenched croon instead of his usual rap flow. America comes out on April 6.
Thirty Seconds to Mars, America; Amazon
11
Say Sue Me, "After Falling Asleep"
Snooze is the last thing you'll want to do after hearing Say Sue Me's "After Falling Asleep." This is one of the South Korean indie pop band's Korean-language songs, which singer Sum Choi said was a deliberate choice for Korean fans. If you're not able to tune in to the lyrics, though, the tune's airy, chilled-out sound is all you need to get lost in a dream.
Say Sue Me, Where We Were Together; Amazon