Verity White is a multi-award-winning singer who impressed audiences at festivals (Lechlade, FeckFest, Frogfest) and live music venues (The Troubadour, Mr. Wofs, The Islington, Notting Hill Arts Club) in the UK. 
She has proven her prolific songwriter reputation by releasing in just over a year, her two EPs Parentheses and Stripped Bare, and a double A-side single "Too Much" / "Look Inside" that was followed by her brilliant debut album Breaking Out which was released in Winter 2017.
Ahead of her new album forthcoming in Winter 2018, Verity continues her hot streak of incredible songwriting. She released the first single from the album, the kick-ass "Own Me", in Summer 2018 and has now followed it up with her second single, "Fade Away", released October 6th.  Verity and her band are planning their second UK tour in Spring 2019 to accompany the new album.
"Fade Away" is a very personal song written for one of Verity's best friends, Ian, who she lost to cancer in January 2018. Verity hopes that with this song, she can connect "to anyone who's felt that great unknown when you lose someone you love…I hope this reaches those who need it and they feel less alone."
The guitar intro to "Fade Away" is a haunting riff that sets the mood for what feels like a classic rock style ballad. Verity's powerful vocals make their entrance tinged with a soulful sadness that you can feel as it permeates the first verse.
That feeling expands into the first chorus where Verity's vocals soar with a heartbreaking passion. The visual lyrics reveal the painful struggle of watching her friend fade away not knowing how long he has to live and searching for the elusive explanation of why he had to die.  In the mini-verse that follows, this is where you can feel Verity emotionally turn her anguish of those unanswered questions to a feeling of hope that her friend can hear her.   
The second chorus is where a melancholy rock riff sets off the tension of the dark melody. Verity's vocals elicit a tightrope tension as they align to the rapid tempo of the lyrics with soft gasps at the end of each line. You can actually visualize the cancer's treacherous path marching through her friend's body with its tentacles "pulling and picking" as it grows and spreads, headed for the final destructive blow as time slips away.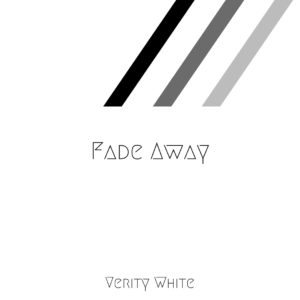 The song circles back to the first chorus and at the end, a single guitar chord fades away for a heartbreaking completion. 
"Fade Away" is a very personal journey that rides all of the emotions of losing someone you love and wanting an explanation of why it happened. The song will stir you emotionally on many levels but it will connect deeply with those who have gone through such a soul-wrenching experience.   
Highly Recommended. Verity showcases how an extraordinarily talented singer-songwriter she is with "Fade Away".  She can move you just as easily with her rocker vocals and songs as she can when sharing something as intimate as her grief.  This is a master lesson in how a deeply personal experience can be used to inspire and to connect heart to heart with listeners. 
Official Video: Fade Away
(Ian's Song)
You can buy "Fade Away" on Bandcamp and iTunes