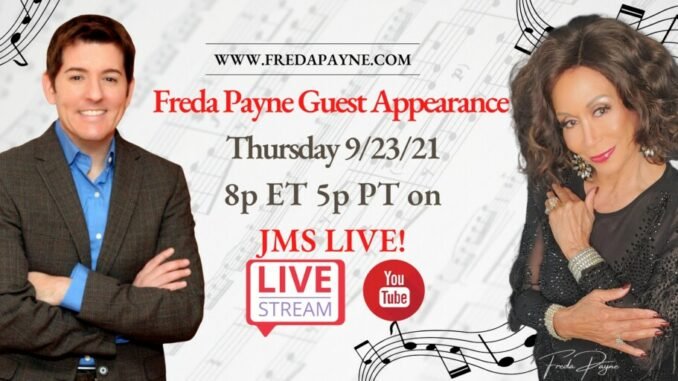 JMS – Thursday September 23rd, 2021 – 8pm eastern / 5pm pacific.
On this episode of The Jim Masters Show LIVE! television and radio personality Jim Masters chats with music legend, singer and actress Freda Payne.
Freda is best known for her career in music during the mid–1960s through the mid–1980s. Her most notable record is her 1970 hit single, "Band of Gold". Payne was also an actress in musicals and film, as well as the host of a TV talk show. Payne is the older sister of Scherrie Payne, a former singer with the American vocal group The Supremes. Payne was born in Detroit, Michigan, and grew up listening to jazz singers, such as Ella Fitzgerald and Billie Holiday. As a teenager, she attended the Detroit Institute of Musical Arts; she soon began singing radio commercial jingles, and took part in (and won many) local TV and radio talent shows. In 1963, she moved to New York City and worked with many entertainers, including Quincy Jones, Pearl Bailey, and Bill Cosby. She's recorded 26 albums, appeared in movies, hosted her own TV talk show, and starred in stage productions including, most recently, "Ella Fitzgerald: First Lady of Song". She's been inducted into the Rhythm and Blues Music Hall of Fame and the Soul Music Hall of Fame for a total of 3 times. She also appeared in the films, Private Obsession (1995), Ragdoll (1999), Nutty Professor II: The Klumps (2000), and Fire & Ice (made-for-TV, 2001). Freda recently, released a new album called "Let There Be Love", a collection of duets with legendary vocalists including the legendary Johnny Mathis. Join us for an episode filled with great conversation, inspiration and more as Freda Payne joins us. Spread the word, tell your friends about our show, share the link on social media.
Be sure and subscribe to our YouTube channel Jim Masters TV and click the notification bell so you can be notified about JMS live episode and our surprise pop-up shows.
Please give this episode a thumbs up like and leave a comment on our YouTube channel for us. Thanks and enjoy!
Click here https://youtu.be/F-A3OB3LAdE