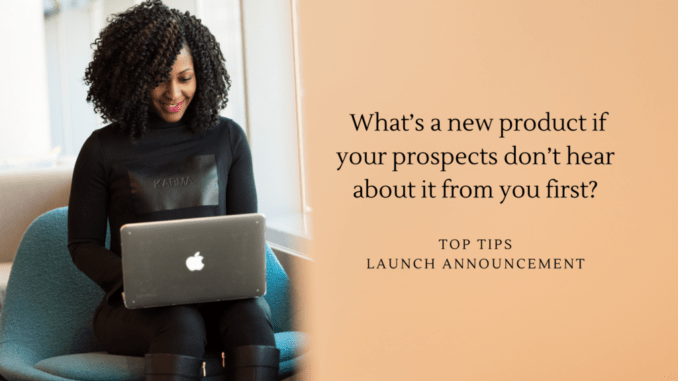 15 Inspiring Product Launch Announcement Email Examples
What's a new product if your prospects don't hear about it from you first?
Product launch announcement emails are important to spread the word about what's new, score early sales, get first product adopters and generate more revenue.
If you want to come up with announcement email ideas for your new product, service, event and features, this article is for you.
Let's get to work.
What is a Product Launch Email?
A product launch email is the email you send to inform your contacts about an upcoming product you're releasing. Businesses send these emails to excite contacts about the product, event, etc.
Your product launch announcement email is also the newsletter you send to promote:
New product releases
New feature updates
New policies or security measures
Upcoming events or webinars
Businesses put a lot of resources into product development. Your product release email should keep the momentum going and excite contacts about it.
Don't treat your announcement email as any newsletter. It's a considerable element of your product adoption.
6 Types of Product Launch Emails
There are 6 types of product launch emails that you can send to your prospects and customers.
1. New product release emails
It's exciting for the company to release a new product. The employees are excited and waiting for the interaction of prospects.
But first of all, do enough people know about your product launch?
This is your first success factor.
Your new product release email is the medium to inform and raise awareness of your contacts about the newly available product.
The team behind the product is excited about it. And it's best to build the same hype for the new product outside your company.
2. New features announcement emails
New feature announcement emails are exciting news for your existing customers.
A well-thought-through feature update message helps increase feature awareness and engage users with the new functionality.
Other than the objective of informing your customers, such emails build customers' trust as they see your business continually improving.
It's best to send your new feature announcement email to your existing customers or users.
You can also send it to prospects for a chance to get their attention back to your product or service.
Maybe your new feature is now the deal maker, so it's worth spreading the word about it to your prospects.
Note: If you're sending a new feature announcement email to prospects in Canada, verify your contacts' CASL consent status first or simply use a CASL compliant email software to prevent non-compliance issues.
3. Beta announcement emails
Beta tests are an essential and complicated part of a SaaS (Software as a Service) marketing strategy.
Beta announcement emails are important to help your software recruit early beta testers.
Usually, beta invitation emails include a link of the landing page in which interested contacts register.
A well-crafted beta announcement email will attract the right kinds of beta applicants that are motivated to have an exclusive look at what you're working on.
4. Pre-order announcement email campaign
The pre-order announcement email is the newsletter you send to your prospects to motivate them to pre-order your upcoming product.
Leads who pre-order your upcoming product are considered at the bottom of the sales funnel as they're interested and ready to buy.
Keep them among the first people to receive your actual product launch announcement email, so they place their orders.
Make your pre-order campaign time-limited to increase the sense of urgency from your prospective customers.

5. Event announcement emails
Nothing is scarier than hosting an event, and no one shows up. That's a terrifying thought.
Events, whether online or offline, require a lot of resources. And its success is critical to company performance.
Your event announcement email is one of the main factors of your event's success.
Send event invitation emails to your contacts to:
Excite and engage them.
Share details of the event such as dates, time, place, etc.
Maximize your event attendees.
Here is an event announcement email sample sent by Google Cloud promoting their Next'19 event.
Do you want to design your upcoming event announcement email?
You can register for Envoke's 30-days free trial and create a similar email campaign without any coding skills needed.
6. Special sales seasonal announcement emails
A seasonal sale announcement email aims to capitalize on certain holidays or events that appeal to the consumer.
In other words, check your calendar and mark the date on which your prospects have reason to celebrate.
Seasonal sale can be on Mother's Day, Canada Day, July 4th, the Chinese New Year, or even World Smile Day.
Here is a beautiful seasonal sale announcement email sent on the occasion of the summer season.
3 Important Stages of Product Launch Email Campaigns
1. Get your contacts excited with a teaser email
Announcement emails are not only to say, "Here is what I have new."
It's the process of getting your customers and prospects excited to increase their engagement with your upcoming product.
Your first to include in your product launch campaign is a teaser email.
The teaser email should share a fair amount of detail about what's coming without revealing the products. Such an email is sent to:
Make your contacts curious.
Increase their interest level.
Start the conversation about what's coming soon.
The best time to send your teaser emails is two weeks before the actual product launch date.
Your teaser email should aim to grab the attention and get contacts excited to learn more about your new product.
Here is an example of an appealing teaser email to inspire your next product launch email sequence.
2. Announce your new product
The second email of your product launch email sequence is the email in which you reveal:
The official launch date.
New product name.
Product image.
Characteristics and technical details.
Product features.
Use your new product launch email campaign to engage your contacts.
The best time to announce your product is 7-5 days before the launch campaign.
Ask your contacts to pre-order or include a CTA that directs to a landing page to show the product with in-depth details.
3. Send your product launch announcement email
The last email of your product launch email sequence is the official product launch notification.
You send it on the official date of the announcement.
Through this email, your contacts can place orders, sign up for your product, or register for your event.
It's best to send a personalized product launch announcement emails to contacts who are already engaged with your teaser and product email.
These contact already showed attention to your upcoming product, and they're more likely to order it and start using it.
Keep your product launch announcement email action-driven and be direct about what action you want your contacts to make.
How to Set up a Product Launch Email Sequence in 9 Steps
Here we collected the 9 important steps of how to announce a product launch.
1. Use attention-grabbing product images
Words are powerful but don't underestimate the power of an image.
Your new product image can set the mood of your email and give your prospects a visual aspect.
When you use product image in your product launch announcement email:
Include a high-quality product image.
Use animated GIFs to grab attention.
Keep your image file size as low as possible.
Make sure your email is responsive.
Images are a great way to get your message around, increase engagement, and properly introduce the product you've been developing.
2. Stay on brand
Staying on brand means when your recipients open your email, they can identify it's from your company.
Your brand colours and designs are your visual identity.
Brand your email to the point that your contacts don't need to look at who's sending the email, and still identify it's from you.
Shape your upcoming product launch email in a way to match your website, social channels, and other marketing material.
Email marketing software such as Envoke helps you create and customize email templates to match your brand.
3. Include one strong CTA
When you create a product launch email campaign, one of the most critical components is the call to action (CTA).
Creating a call-to-action button grabs a subscriber's attention and encourages him or her to act.
It might seem as though more CTAs give subscribers more options. But if your email has too many calls to action, subscribers may get overwhelmed.
Choose one primary CTA that would take your contact to the next step with your new product.
Here are some great CTA examples to consider for your next product launch announcement emails:
Shop now
Pre-order
See details
Buy now
Buy now. Pay later
Buy it today
Yes! I want one
Read more
Curious? Read on
Get the app
See what's new
4. Choose an engaging email subject line
Your product announcement email subject line is the first thing your recipients see when you send them the email.
It's the brief statement that you'll use to pique their interest. 47% of email recipients open emails based on the subject line.
Unfortunately, 69% of people will report an email as spam based on the subject line alone.
One way to optimize your announcement email subject line is to run an AB test.
Subject line AB testing is the process of sending the same email with two variations of subject lines to a small portion of your list.
This process helps you understand which subject line works best for your product announcement email campaign.
Register to Envoke's free 30-day trial to AB test your email subject lines and send winner emails that engage your audience.
5. Personalize email
A personalized email subject line can increase the open rate of your product launch email by 50%.
This can be as simple as customizing your subject line to include the recipient's name.
This wouldn't take a minute in practice, but the results are impressive.
Personalized emails make your contacts feel as if you're reaching them in person and that would make them feel special.
Never make your customer feel like they're receiving an email from a robot.
Personalize your product launch announcement email to humanize your brand and improve your email performance.
6. Send CASL compliant product announcement emails
CASL stands for Canada's Anti-Spam Legislation that went into effect on July 1, 2014.
It's an anti-spam law that applies to businesses and organizations that send Commercial Electronic Messages (CEMs) to Canadian contacts.
Product announcements emails are considered Commercial Electronic Messages.
If you're sending your product launch campaign to prospects in Canada, you have to make sure you only send it to contacts with valid consent status.
Non-compliance leads to high CASL fines. Make sure to adopt a CASL compliant email marketing strategy in your business.
35 Product Launch Email Subject Lines to Increase Your Open Rates
A common mistake marketers make is that they keep the email subject line as a last-minute task.
When in reality, the product launch email subject line is the number one priority. Here is why.
Your email content and design will be for nothing if you don't get your contact to open your email.
It's crucial to create email subject lines that are relevant to your contacts. Otherwise, they may never open them.
The best product launch email subject lines:
Are brief.
Grab attention and interest.
Offer value.
Build trust.
Drive curiosity.
By crafting the best possible subject line, you can dramatically improve the results of your product launch email campaign and the sales of your new product.
To inspire you, we've collected 35 product launch email subject lines that are yours to take and use for your launch email campaign.
9 Announcement email subject line examples
1. Almost there! C&C 2017 lineup revealed
2. MAJOR announcement! big changes at DM
3. Big Celebrity Announcement
4. It's happening! Are you ready?
5. Announcing the 2nd Annual Content & Commerce Summit
6. Are you prepared for next week?
7. Announcing: The 7th Annual Black Friday Bootcamp
8. Yep, that just happened
9. Things are about to change!
17 Product launch email subject lines
1. Neil Patel: The Ultimate SEO Tool: Ubersuggest 3.0
2. Tesla: Tesla Updates: Model 3 is Available to Order
3. GoPro: HERO7 is here. Pre-order yours.
4. Google Store: New year. New gear.
5. Samsung: Express yourself with the Galaxy Tab S and S Pen
6. YouTube: Introducing YouTube Red: another way to YouTube
7. G2Crowd: G2 Crowd update: We've officially launched!
8. Moment: Moment 3.0 is here….crispier photos, smoother videos.
9. Envato: Introducing Placeit by Envato 🎉
10. CW&T: In 24 hours.
11. Casper: You barked, we listened.
12. Campo Santo: It's official. Firewatch comes out on February 9th, 2016.
13. Sumo: $5 to spend on the new Sumo Market
14. SAKARA: Our newest product launches tonight!
15. Ystudio: NEW The Limited Edition White Rollerball Pen by Ystudio
16. Playbuzz: The Story you have been waiting for
17. Away Travel: In case you missed it… something bigger is here
9 Website launch email subject lines
1. [Company] website redesigned! Check it out
2. Now you can order from [Company]
3. Introducing the new [Company]
4. It's big! [Company] website is here
5. See what's new on [URL]
6. New vision, new website!
7. Meet the new [Company]
8. New [Company] website
9. -IMPORTANT UPDATE- The all-new [Company] is here!
15 New Product Launch Announcement Email Examples to Copy
Your product announcement strategy is ready; you crafted a subject line.
Now is the time to sit and think through how your new product email should look like.
Have a look at the 15 new product announcement email templates to get inspired.
You can recreate these examples of product launch email templates in Envoke without needing any design or tech skills.
1. App lunch email template
The first product launch announcement email sample comes from Allset.
They share a sneak-peek of their new app interface while highlighting the features.
The black CTA "Check it out" stands out from the email background, and that's something to learn from this new app announcement email example.
For your new app release email, don't forget to include the download link for your app.
2. New feature announcement email example
Dovetail introduces their new feature as "A new way to tell stories with video."
A robust email header that makes readers curious about what's new.
A new feature announcement email is an opportunity to offer incentives for your contacts. You can provide free access if your business offers an online product or service.
The email includes a CTA at the top of the email after the title. And the same CTA is included after the text.
3. New product release announcement email
When we talk about the best product images in emails, we talk about Apple.
Apple sends the following new product release announcement email for their brand new AirPods Pro.
A stunning product image, a powerful header "Magic like you've never heard." Along with more specifications of the product.
4. Book launch email template
"Buy now" is the call to action used in the following book launch email example.
For a long email template, it's smart to include 3 CTAs, one in each section, to make it easily accessible for email recipients.
A straightforward white design with red CTAs that stand out.
5. Product update email template
This email from Nextdoor is a classic product update email template.
It includes a simple image as a header to set a positive mood for the email with the smiling face.
And right after a title, text, and of course, a CTA with the primary action: "Update your profile."
6. Software release email example
Framer Web sent the following software release email example as an invitation to try it out.
A one-column layout email, sharing details about the tool's functionalities; and the blue CTA stands out entirely from the white background.
7. New website announcement email sample
Nike introduced its new website using a well-thought-through and straightforward email.
This website announcement email highlights that the brand new website is accessible from different devices.
And to engage prospects, Nike offered a coupon code for free shipping.
8. Product announcement teaser email
I'm personally curious about how the partnership would look like between Mini Boden and Harry Potter.
And that's precisely the objective of a product announcement teaser email. It makes your prospects curious.
The GIF animation gives the email a spirit and grabs the attention of the recipients.
9. Early access announcement email
Sending early access announcement emails is a great strategy to earn your first product adopters.
With a one-column email layout, Harry's presents their new product and highlights its benefits for the skin.
10. Beta announcement email
This appealing beta announcement email from Dropbox has a cheerful design inviting users to start using DropboxPaper beta.
This announcement email is not colorful or a lot of design work, although the structure was right on target.
11. New product presentation email
This product presentation email is smart design-wise.
Colour contrasts between content help the eye flow through all elements. Clear and contrasting CTAs.
Beauty & The Bear present their just launched new product appealingly, creating a sense of urgency for their recipients.
"Order before 2 PM for next day delivery".
12. Mobile app announcement email
Kijabi introduces their app with a sneak peek of the interface to excite recipients to see it themselves.
They used screenshots and mockups of mobiles to make the layout a perfect match for a mobile app announcement email.
13. Party announcement email sample
Who doesn't want a free party and a free drink?
Starbucks sends the following party announcement email sample to celebrate with their customers.
The design sends positive energy with a cheerful copy. Make sure to include time, date, and location when sending a party announcement email.
14. Introducing a new special offer
This email from Peloton is sent to contacts announcing the new offer "3 Day home trial".
They used a clean white design with a centered image of the product, just as it would look like at the customer home.
To motive engagement, they provide incentives in their announcement email.
Free pickup.
Full refund.
Right under the black CTA, they include more convincing benefits to increase their click rates.
15. New policies announcement email
Due to COVID-19, we all had to adjust and change our lifestyle to keep ourselves and the others safe.
Launching a new health safety program, Lyft sent new policies announcement email to inform their users about the latest safety requirements.
Best Time to Send Your Product Launch Announcement Email
Sending your product launch announcement email at the right time could increase your email open rates and your new product's performance.
Here are some general tips for applying when you're scheduling your product launch email sequence.
Tuesday, Wednesday, and Thursday are marketers' favorite days to send email campaigns.
Weekends tend to have low email open rates. Avoid sending important emails during the weekends.
The best time to send your product announcement email:
7 AM: For contacts who begin their day with reading emails as they wake up or during breakfast.
10 AM: When everyone is well settled in their office or home.
12 PM: When people are going for the lunch break.
8 PM: For contacts who check their emails at the end of the day before going to bed.
The best time for sending your announcement email can change due to the demographic data of your audience.
If you're targeting the young, techy crowd, you can consider sending emails at night. Evening emails could work fine for younger audiences.
Always take into consideration your contacts' timezone. You want to customize email send times based  on where your recipients live.
Conclusion
New products and services are the lifeblood of any company. Yet, your customers and prospects wouldn't hear about it unless you tell them.
Your product launch announcement email is a critical element to your product's success. It's the message that will help you acquire your first customers.
Follow the steps included in this guide and let your prospects know what's coming soon.
Are you looking for a product launch email template? Register to Envoke for free and access email templates that are ready to send. No tech skills required.