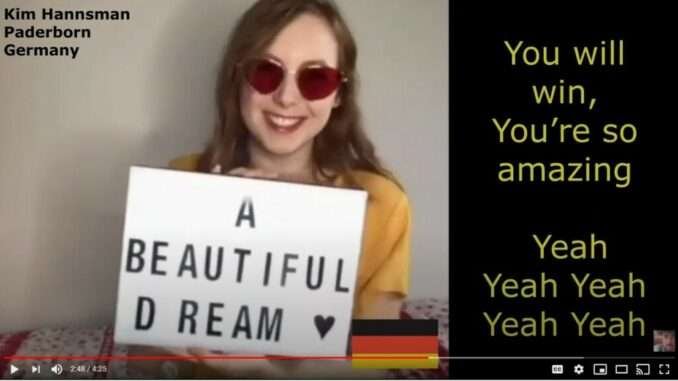 Renowned American singer, an outstanding guitarist, and a famous record producer Randy Hall has launched his new video song "A Beautiful Dream", produced and composed by Randy himself under the genre of R&B Soul Music and its lyrics is written by Zane Giles Attala.
"A Beautiful Dream" is a soft, touchy, lyrical smoothly motivating anthem and it's a remix of his smash track, with an interesting video that is produced by joining his fans short video clips, dancing, roller skating, and cuddling with their loved ones that they e-mailed him by participating in  #ABEAUTIFULDREAMCHALLENGE.
This is not an ordinary song of R&B Soul Music. It contains a very powerful message for everyone especially for women who have gone through the hard times of their lives or are facing difficult situations. This song is hope, motivation, inspiration, and a light for them to celebrate their lives every day with an open heart, no matter how miserable their lives is. It's a reminder to them that they are a beautiful dream.
"No matter What's Going On" In the World…We can rejoice because we have the love of our friends and family. Let's Dance and Celebrate this happiness. The most important things in life are the people we love. And that's …" A Beautiful Dream". A dream that is dear to us and close to our hearts," said Randy Hall, Singer-A Beautiful Dream.
"Soothing vocal melodies, soulful hooks, and a powerful message; the track serves as the perfect companion for anyone striving to pick themselves back up after a tough time in life. Letting us know that no matter what we are going through, we are all still "A Beautiful Dream", quoted from the website.
This song is one of the soundtracks of album-A Beautiful Dream and it is available on YouTube to hear, licensed by Interstreet Recordings on behalf of Ranvera Records.
You can also listen, buy, or stream this song-A Beautiful Dream here on this link too
Randy Hall/A Beautiful Dream
Media Assets:
Facebook: https://www.facebook.com/RandyHallMusic
Instagram: https://www.instagram.com/RandyHallMusic
YouTube: https://www.youtube.com/watch?v=M7fX38GoCNY
Twitter:  https://www.Twitter.com/RandyHallMusic
Sound cloud: https://www.soundcloud.com/RandyHallMusic