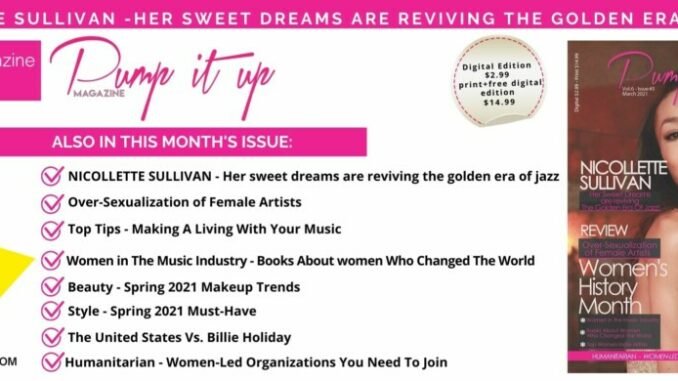 Dear Readers, This month I join in holding hands and embracing the hearts of every woman around the word who has not ceased to work on making further strides in all areas of life.
We here at Pump it Up Magazine dedicates this issue to International Women's Day.
The Cover Photo of this issue is Singer – Songwriter Nicolette Sullivan .
Nicollette breathes a whole new life into Sweet Dreams from the vantage point of a jazz singer.
Sweet Dreams is out now! The song is the first single from Nicollette's self-titled and debut album "Nicollette," which is slated for release on May 21, 2021
Also we are featuring many more interesting articles and reviews and of course music, music, music on Pump It Up Magazine Radio!
–
Nicollette Sullivan photography by Margaret John Molloy
Grab your copy March 1st www.pumpitupmagazine.com
Also available on Amazon-Barnes&Noble and more…
Pump it up magazine: Pump it up Magazine – Nicollette Sullivan – Women's History Month Edition Vol.6 – Issue #3
Greetings Readers,Wow how time flies. Seems it was just yesterday and we were headed to the voting booth. Speaking of voting it was not that long ago ( well, 1920) that women gained their right to vote and since then the contributions of women to events in history, are unsurpassed. This month…