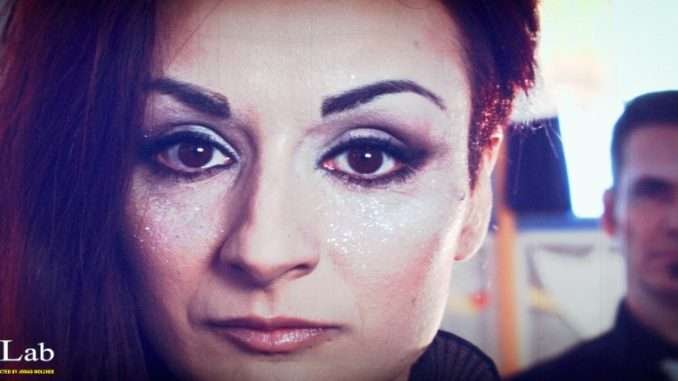 Photos: Octolab Press
Horror producer Jonas Wolcher known for strange titles such as the zombie cult movie "DIE ZOMBIEJÄGER" "HERMIT: MONSTER KILLER" and "CANNIBAL FOG" is back for the second time. "Mind and Matter" by Octolab. The band who consist of Arielle Andersson and Fredrik Lundvall Kindsäter.
Fredrik is more known for one of the band members in the cult electro-duo Presto Fervant.
Recently the band played at Electronic Summer 2017 and a couple of days later they won first price for their music video "Caravan" at a film festival in Romania.
Arielle: – We are having so much fun going on right now. "Mind and Matter" is the part two of the trilogy from our mini album "To Be Continued" which was released in June. This video we shot in April 30th.
In October we film "Run Off" the last video from the album.
Octolab enjoys horror. "Mind and Matter is no exception. Like the previous "Caravan" the theme is horror but this time a much darker and sinister one. The story is taking off where the previous one ended. The cenobite characters are played once again by the band. The Swedish star Ida Karolin Johansson and her co star Emelie Andersson are back as well including Malte Aronsson known from "CANNIBAL FOG".
"It seems like ages since we did "Caravan". During the shooting I felt a bit insecure at first. I've never acted before. This time I was much more comfortable in my costume and makeup", says Arielle and laughs.
Jonas: "We are like one big happy family getting together making wonderful videos. It's always fun working with Octolab. Both Fredrik and Arielle are both very easy to work with and they give me a lot of space for ideas.
Jonas:  "It was a pleasure to make this video. Me and my DoP David Eric Nilsson played a lot with angles, different film techniques, cameras lenses, filters and masks. Masks were the essential for the video".
The idea came from one line of the lyrics and then we just kept that. You can hide your face behind the mask or to pretend you are someone else.
More of everything
"Mind and Matter was in much larger scale than the first part. More of everything. More effects, makeup, equipment, extras and people behind the camera. We also used a lot of practical effects such as blood and gore. On the set we were nearly 20 people in the crew.
Jonas: – It's all about the eyes! Arielle, Emelie and Ida they all have very nice eyes to look at.
The release date for "Mind and Matter" is the 9/9 2017. Prepare yourself for some suspense and action.
https://soundcloud.com/octolab

https://www.discogs.com/artist/441735-Octolab

https://twitter.com/octolabmusic

https://www.facebook.com/octolab.brilliantsound
https://open.spotify.com/artist/5ZgInTTIxvjIhjljEkFwI7