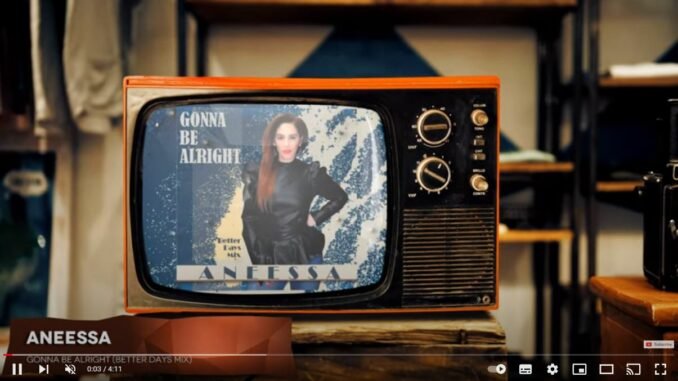 The multi-talented French-born singer and songwriter Aneessa has released a dazzling new single titled Gonna Be Alright (Better Day Mix). Produced and co-written by the legendary Michael B. Sutton, who is often noted for his work with Motown Records, Gonna Be Alright (Better Day Mix) possesses an awesome track that is bound to capture your attention.
Gonna Be Alright (Better Day Mix) is a superb testimony of Aneessa's growth and ability to reinvent herself as an artist. The song's upbeat groove is a clever amalgamation that incorporates elements from jazz, r&b, and soul musical genres. The tune has an fragrent bassline that enriches the texture and intensity of the composition's elaborate keyboard measures. Coupled with hints of brass and rhythm guitar, this rich vibrant serving is a destined winner.
Aneessa shines superbly over the track! Not only does this alluring songstress put the icing on the cake of this soulful offering but she is able to touch the heart of the listener with her practical lyricism and relatable message of reassurance. Additionally, the remarkable Jason Anderson applies his expertise to Gonna Be Alright (Better Day Mix) by providing an awesome mix. When it comes to music, Jason Anderson has a long list of credits, which include the likes of Keith Sweat, En Vogue, Boys II Men, Faith Evans – and Johnny Gill.
Gonna Be Alright (Better Day Mix) achieves a level of musical distinction due to its ability to capture a vibe that is inspiring and tailored made for good times and success, which makes Aneessa's latest work a must-have for lovers of r&b and soul music.
To know more about Aneessa, please visit:
www.Aneessa.com
Follow Aneessa on social media
@AneessaMusic