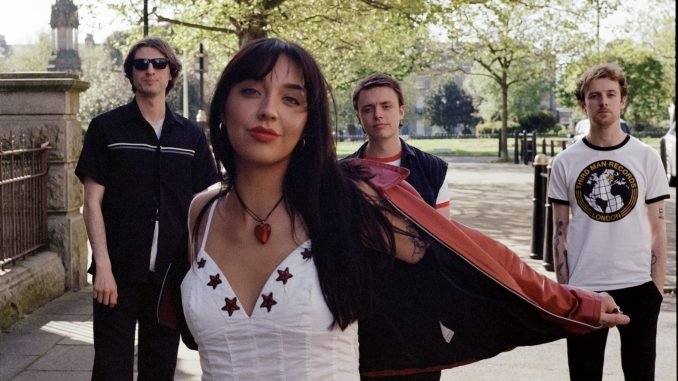 Photo by Charles Gall
Alt-rock sensation The Mysterines have made a triumphant return with their latest single, "Begin Again," setting the stage for their upcoming support slots on Arctic Monkeys' stadium tour in the UK. The track, now available for streaming, showcases the band's introspective lyricism and marks a significant step forward in their musical journey. Watch the accompanying video here to fully immerse yourself in the experience.
Premiered on BBC Radio 1 by Clara Amfo, "Begin Again" serves as the lead single from The Mysterines' forthcoming LP. The four-piece outfit has expertly crafted a mesmerizing composition, leveraging stripped-back instrumentation to create a powerful and evocative sound. The band's maturity and refinement shine through as they continue to explore profound themes and convey raw emotions.
Frontwoman Lia Metcalfe offers insight into the song's creation, sharing, "Written during a full moon in a barn in the West Country, 'Begin Again' felt like finding a key to the spirit realm the evening it arrived. It felt like I was embarking on a surreal journey of self-dissolution; think of the first verse as a set of instructions and see how far reality stretches."
Following their critically acclaimed debut album, "Reeling," which reached the UK Top 10 upon its release in March 2022, The Mysterines have experienced a whirlwind of success. They have embarked on multiple tours across the UK, North America, and the EU, and now find themselves joining their personal heroes, Arctic Monkeys, for an unforgettable tour across UK stadiums this summer.
"Reeling" received widespread praise, earning accolades from indie tastemakers and international publications. The Line of Best Fit hailed the album for its seething words, mountainous rock tones, and introspective exploration of life's painful inevitabilities. DIY magazine highlighted the band's melodic prowess and Lia Metcalfe's husky vocals as standout features, while NME deemed it an electrifying debut album, drawing comparisons to the classic sound of Hole's "Celebrity Skin" era.
The Mysterines' forthcoming tour with Arctic Monkeys is a testament to their rising status as one of the most exciting rock bands of the post-pandemic era. With their intense and energetic performances, combined with Lia Metcalfe's compelling stage presence and deeply expressive vocals, The Mysterines promise to deliver an unforgettable live experience.
Don't miss the opportunity to catch The Mysterines on their tour with Arctic Monkeys. Check out the tour dates below:
May 29 – Ashton Gate Stadium, Bristol
May 31 – Coventry Building Society Arena, Coventry
June 2 – Emirates Old Trafford, Manchester
June 3 – Emirates Old Trafford, Manchester
June 5 – Middlesbrough FC, Middlesbrough
June 7 – Carrow Stadium, Norwich
June 9 – Hillsborough Park, Sheffield
June 10 – Hillsborough, Sheffield
June 12 – Swansea.com Stadium – Swansea
June 14 – The Ages Bowl, Southampton
June 16 – Emirates Stadium, London
June 17 – Emirates Stadium, London
June 18 – Emirates Stadium, London
June 20 – Malahide Castle, Dublin
June 25 – Bellahouston Park, Glasgow
The Mysterines' captivating fusion of raw energy, impassioned vocals, and unfiltered storytelling establishes them as a force to be reckoned with in the rock music scene. Keep an eye out for their forthcoming LP, and be sure to follow them on their social media channels and streaming platforms for the latest updates.
For more information on The Mysterines, please visit:
Instagram / Twitter / Facebook / Spotify / YouTube / Apple Music / Website
Written by Anissa Sutton