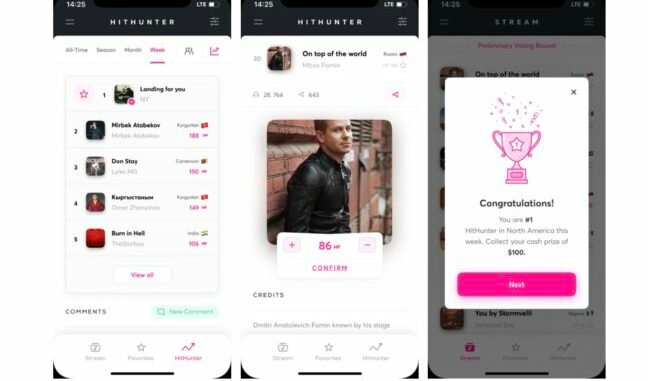 Music startup Djooky, an emerging artist platform, has launched a new feature on its app called HitHunter that promises to pay its users cash prizes for identifying potential hits.
The new A&R feature follows the inception of the Djooky Music Awards in July 2020. Described as "the world's first global online music contest", the competition is open to all artists and songwriters worldwide and will run four times a year.
Users can take part in the voting process for the awards via the Djooky app, with the winning artist receiving $10,000 in cash and a recording session at Capitol Studios in Hollywood.
Co-founded by multi-platinum US producer Brian Malouf, who has worked with the likes of Madonna and Michael Jackson, and ex-Universal Ukraine executive and record producer Andrew Dakhovsky, (CEO), Djooky operates from Los Angeles, Berlin, London and Kyiv in Ukraine.
The Djooky team also includes Grammy-nominated artist and music director Patrice Rushen, UK-based Ivor Novello winning songwriter Sacha Skarbek and producer/music executive and songwriter Justin Gray (whose credits include Mariah Carey, John Legend and Avril Lavigne).
The HitHunter feature works by letting the app's users back songs they believe will grow to be popular on the platform.
Djooky plans to run weekly and seasonal leaderboards for HitHunter via its app, with each user being granted 100 'Hit Points (HPs)' within the app, which reset every week. 
The more 'HPs' a user allocates to a given song, the higher they will rank if the track proves to be a hit amongst other users in the Djooky Music Awards.
Djooky states that cash prizes of $100, $75, $50, $25 and $10 will be awarded to successful users who can identify "the next potential big hit" on a weekly basis.
A grand prize of $1000 will be paid to the world's "ultimate HitHunter" in the final global round of the competition, with $500, $250, $100 and $50 being presented to users finishing second, third, fourth and fifth.
"IT EXTENDS THE PRINCIPLE OF MUSIC RECOMMENDATION BY INVOLVING OUR COMMUNITY IN THE CURATION PROCESS."

ANDREW DAKHOVSKY
Djooky co-founder Andrew Dakhovsky said: "These are incredibly difficult times for artists, and we are proud to be presenting the HitHunter function in our app to help new talent engage with new audiences.
"It extends the principle of music recommendation by involving our community in the curation process."
"NOW HITHUNTER GIVES THE NON-MUSICIANS IN OUR COMMUNITY A FUN AND UNIQUE OPPORTUNITY TO SHOWCASE THEIR TALENT-SPOTTING PROWESS AND MORE IMPORTANTLY BECOME RECOGNISED FOR IT IN THE FORM OF LEADERBOARDS AND PRIZES."

BRIAN MALOUF, DJOOKY
Djooky co-founder/multi-platinum US producer, Brian Malouf, added: "We always envisioned that this competition would go beyond the songwriting aspect of the contest for our creative community, especially given that the fans play such a huge part in their success through the voting functionality.
"Now HitHunter gives the non-musicians in our community a fun and unique opportunity to showcase their talent-spotting prowess and more importantly become recognised for it in the form of leaderboards and prizes."
Music Business Worldwide