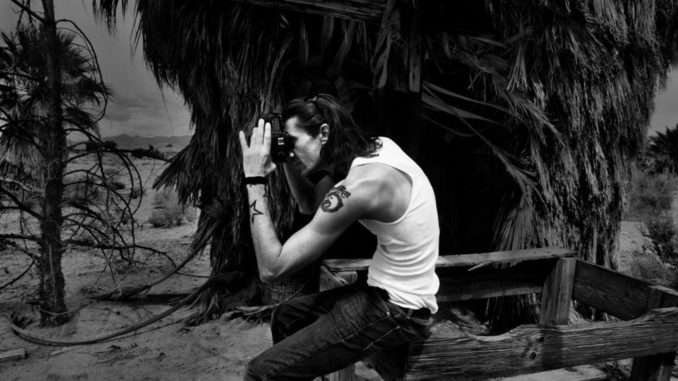 Award-winning photographer Mark Maryanovich has captured an impressive variety of artists including Chris Cornell, Bob Rock, Chad Kroeger, Elliott Smith and Henry Rollins.
Mark Maryanovich's photographs appear as album covers and artwork for companies such as Sony, EMI, Warner Chappell Music, and Mark has been nominated four times (twice in the same category in 2012), and has received two Canadian Country Music Awards for Recording Package of the Year.
Mark's commercial clients include Gibson Guitars and Peavey Electronics, and his work has been published in Rolling Stone and Billboard magazines. Mark had the honor of providing the author photo for best selling biographer Robert Lacey's Model Woman: Eileen Ford and the Business of Beauty, and book cover images for the legendary Randy Bachman's autobiography Vinyl Tap Stories, and Matt Sorum's autobiography Double Talkin' Jive: True Rock 'N' Roll Stories From the Drummer of Guns N' Roses, the Cult and Velvet Revolver.
Mark has been recognized by the prestigious Photo Review magazine competition with his selection as a prominent entry, and by the California art community, with his placement as a finalist in the Images From A Glass Eye International Juried Photography Show, and honorable mention in the American Icon Art Competition.
Because of his work in this genre, the esteemed Annenberg Space for Photography selected Mark to be part of their slideshow exhibition Country: Portraits of an American Sound, which celebrates the pioneers, poets and icons of country music.
Mark's images stand out from the masses with a unique quality, a quality created by a unique style of shooting; an experience that captures the raw essence of his subjects. Mark provides a multitude of images to fulfill the constant demand for visual content, while creating a cohesive brand identity for his clients that translates intangible qualities into tangible form.
Currently, Mark is excited to be working on The ART of GIVING with Co~Creator Matt Sorum. Purely a project fueled by passion, The ART of GIVING exists to create awareness for the charitable causes championed by the world's most iconic artists. https://www.theartofgiving.art/
How did you first get into photography, and how did your career develop?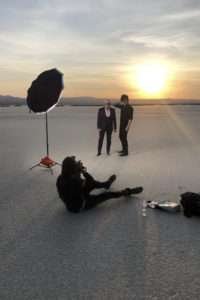 Mark Maryanovich : I first began my photography career while living in Montreal Canada. I had the opportunity to meet a phenomenal photographer who was working with a rock band my brother was managing at the time. We instantly became friends, and over the next couple years he mentored me in photography and changed my life. I then moved to Vancouver Canada and began my career as a music portrait photographer. After nearly a decade of developing my craft and style, I headed south to Los Angeles, California. I began working in LA and other cities throughout the States, including New York, Philadelphia, Pittsburg, Austin, Nashville, Phoenix and Las Vegas.
What gear do you shoot with these days?
Mark Maryanovich : These days I primarily work with Canon cameras, though throughout my career I've used many different brands and formats.
Bronica, Pentax, Lumix, Nikon, and every kind of film and Polaroid.
What are some unique challenges that come with working with indie music artists?
Mark Maryanovich : The biggest challenge I find in working with indie music artists, or any music artist, is that they usually would rather be performing, recording or writing music than getting their photo taken, which I can completely understand. I think it's my job to be organized, quick and efficient to help make the process as painless as possible.
Mark Maryanovitch Photography | CD COVERS
How do you determine how much to charge for your work?
Mark Maryanovich : Usually what determines the cost of the work is, the time it takes, the number of set ups (different shots requested), the amount of prep work (location hunting, travel, etc.) and the amount of post production work involved. I found in my experience that no two jobs are ever the same.
What is the one photo you're most proud of creating?
Mark Maryanovich : I'm very grateful for every opportunity I've had throughout my career to work with some fantastic artists and individuals.
The photo I'm most proud of creating is the portrait of Billy F Gibbons from ZZ Top.
The portrait was taken during the first webisode of The ART of GIVING, a new series that exists to create awareness for the charitable causes championed by the world's most iconic artists, created by Matt Sorum (legendary drummer of Guns N' Roses, The Cult, and Velvet Revolver) and myself. The autographed print of the portrait is at auction via Charitybuzz.com with proceeds benefiting Adopt the Arts Foundation, a non-profit organization keeping the arts alive in America's public schools.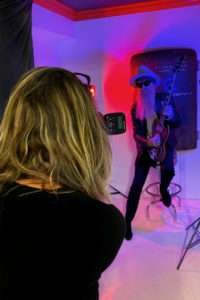 What's the biggest lesson you've learned so far in photography?
Mark Maryanovich : One of the biggest lessons I've learned is to be over prepared. Things will never go exactly as planned, bad weather, locations fall through, people are late, anything can happen on a shoot. Being able to pivot and adjust quickly to any situation comes from being prepared for anything.
What advice do you have for photographers looking to follow in your footsteps?
Mark Maryanovich : The best advice I can give anyone who would like to be a photographer, is to take a business course first. Anyone can take a good photo these days, but having good business skills and great customer service is what will make someone a professional.
To know more about Mark Maryanovich, please visit:
https://www.markmaryanovich.com
https://www.instagram.com/markmaryanovich/
https://www.facebook.com/MarkMaryanovich/
https://twitter.com/markmaryanovich
Email: markmaryanovich@me.com
To know more about The ART of GIVING, please visit:
www.theartofgiving.art
info@theartofgiving.art
ig: @theartofgiving.art
fb: The ART of Giving | theartofgiving.art
tw: @TheAofG_art