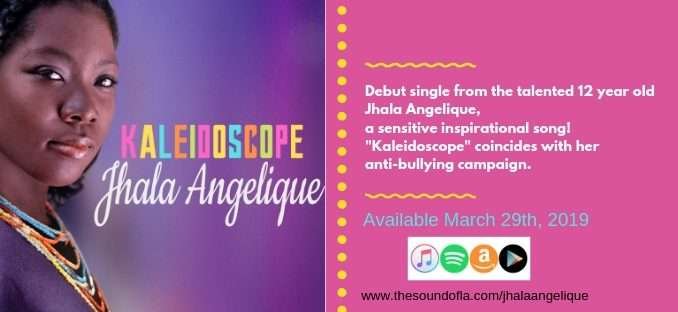 (Los Angeles, CA – March 29, 2019) – At a time in America and, indeed, around the globe when the battle for righteousness over evil incarnate has never been more transparent, 12-year-old singer/activist/author Jhala is making her sparkling debut with an anthem for the ages, "Kaleidoscope," a song stressing impenetrably strong self-image. Winner of Los Angeles' acclaimed and celebrated "A Taste of Soul" and "StarQuest" singing competitions, Jhala is a fast-rising vocal dynamo who sees her future not merely as a catch-all for superstardom but as a catalyst for positive change in the hearts and minds of her generation. And she is launching her career with one of the most dynamically enriching and empowering message-missives to come along since "The Greatest Love of All" with "Kaleidoscope."
"I was born to sing and I love to sing," Jhala declares! "And from the very first time I heard 'Kaleidoscope,' I knew it was the perfect song to introduce me and my message to the world. It speaks of who we all are…on the inside."
The lyric, penned by Jackie Hendon to music by Donald Lyle, begins as follows:
"I am forever changing / Painted different colors
Every form I take on is won-der-ful-ly unique
See, I am a rainbow of sorts / Super strong and I'm a force
And I'm still rising high / I still haven't reached my peak"
Jhala (pronounced 'jay-lah' and meaning "God is with you") is a Los Angeles native who was attending school in Fontana when she became a victim of bullying in 2nd grade. "I was a happy, high-energy kid before my mom started seeing a change," Jhala shares. "She asked me a series of questions which led to me telling her what was happening to me. I was just 7-years-old and the only Black kid in my class. A group of girls would run up during recess and take turns hitting me, calling me names because of the color of my skin. My mother immediately demanded many meetings with the principal, parents and my teacher who instigated some of the attacks. At the end of the semester, she made the decision to homeschool me."
"I later heard about kids that were bullied committing suicide," Jhala continues. "I told my Mom I wanted to be a voice of change. So, I started my anti-bullying campaign on YouTube to encourage my peers to unite and stand up to bullying! On my YouTube channel, I speak encouraging words, reminding kids they are beautiful, strong, courageous and worthy of all the best things life has to offer. And then I sing songs like Andra Day's 'Rise Up' and 'When You Believe' (the Whitney Houston & Mariah Carey duet from the movie 'The Prince of Egypt')."
Jhala Angelique is also featured on Pump it up Magazine Print/Digital Edition:
Spring Edition With Bergamot Rose – Vol. 4 Issue #3 – April/May 2019
Dear Readers,As the weather starts to warm up, we all start to spend more time outside. For me, this usually means grabbing my roller skates and skate away!From events in L.A. to books to read, great music to listen to, fashion and beauty tips, we have found the best things locals and…
Jhala was so inspired by the positive feedback from her YouTube channel that she began journaling and wrote her inspirational book, "The I Am Journal," which became the first in a series of "I Am" books for children that also includes "I Am Who I Say That I Am" and "I Am Beautiful." Jhala's goal now is to travel and visit schools everywhere speaking and singing the uplifting and uniting messages of her overall "I Am" campaign.
Singing since the age of 2 and encouraged by a musical family that includes her mother, two sisters and a brother, Jhala cites her primary musical influences as a combination of Contemporary Gospel stars Tamala Mann, Tasha Cobbs and Fred Hammond plus Soul-Pop icons Whitney Houston and Michael Jackson.
Since winning the "13th Annual Taste of Soul" competition October 19, 2018, Jhala has been booked solid every weekend for concerts, rallies, youth awards programs and Dr. Martin Luther King Day celebrations. Blessed with a bubbly presence and personality, she has also been featured in a national television commercial for Ford Motor Company and for the healthy eating campaign Champions For Change.
Jhala is currently in the midst of completing her debut EP centered around her awe-inspiring debut single, "Kaleidoscope."
"Kaleidoscope' really encouraged me and lifted my spirit the first day I heard it," Jhala concludes. "I was so excited, I felt like running and jumping over the moon! I am looking forward to carrying that message around the globe to encourage people – near and far."
Label Website : www.thesoundofla.com/jhalaangelique
For more information about Jhala, her I Am campaign and "Kaleidoscope," contact  Byrddove MGMT / Steven J. Byrd / Tel: 216-702-4082 / Email : sjbanointedproductions1@gmail.com