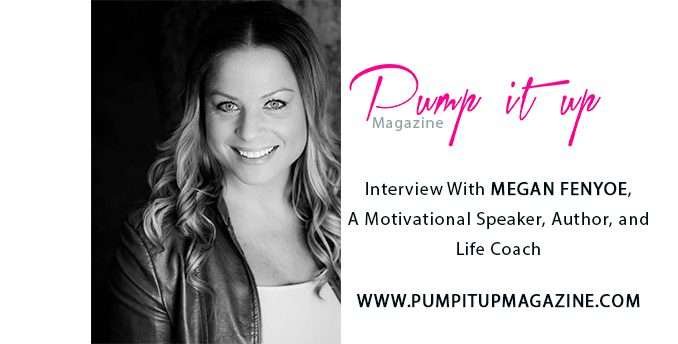 Megan Fenyoe, Motivational Speaker, Author, and Life Coach shares a proven system to motivate people, bring accountability and to inspire people.
Megan is a Licensed Clinical Social Worker (LCSW), Motivational Speaker, Life Coach, Veteran, and owner of Mission Strength. Although she is a Health and Mindset Coach, she knows how difficult it can be when life seems to be crumbling around us and how our negative thoughts can control every area of our lives and how difficult it can be at times to get out of bed in the morning.
Her personal journey through countless disappointments and defeats began early in childhood where she experienced abuse and neglect as well as dealing with a learning disability and the struggles continued through her young adulthood all the way up to her divorce in 2016.
In 2016 while working full time in a hospital she began working on healing her heart after her divorce. She began to feel a nudging in her soul to do something more with her life yet she couldn't figure out what that something was. Like many, she was feeling stuck and lost.
Tell us about your background.
I have been an LCSW since 2008 and I am licensed in both Michigan and California. I worked for 12-years in the child welfare system and in 2012, I accepted a medical commission as a Captain in the Air Force. I provided intense mental health and substance abuse treatment to active duty members, veteran, and their families. I separated from service in 2014 and began working full time as a substance abuse therapist in a hospital. In 2017, after a year of soul searching and healing, I was able to FINALLY identify those feelings and I made the decision to take a job transfer and move from Northern California to San Diego. Once I arrived in San Diego I was feeling even more restless and wanted to help more people outside the 4 walls of my office in a hospital. I began to take charge and began to "own my life" which catapulted me into entrepreneurship. Being in the field of mental health for the past 15 years and spending countless years in the health and fitness industry, I decided to integrate my love for both and that is when Mission Strength was created. Today, I am not just the owner of Mission Strength but also own a health food franchise!
How important is minds set to being successful?
I have learned many health and mindset skills over the past 25+ years (personally and professionally) and it was those skills that ultimately gave me the COURAGE and CONFIDENCE to step into my GREATNESS and finally believe that I AM ENOUGH!
Tell us about Mission Strength.
Many people ask me where the name Mission Strength came from and I respond: "I am on a MISSION to inspire healthy living (mind.body.and soul) around the world and it took STRENGTH to get me to where I am today!"
I help clients overcome sabotaging patterns and clear mental blocks and to create positive strategies and healthier habits for the Mind, Body, and Soul. I am looking for clients who are feeling stuck whether they are looking to transform their physical health, career, relationships or just finding that one thing that makes them excited to get out of bed every morning.
I have a proven 5-Step System to motivate people, bring accountability and inspire people to begin to believe they are ENOUGH and to reach the goals they have set for themselves.
Tell us about your Self-Help book, "You are Enough."
You Are Enough was written for those who need to discover a roadmap for living a passionate and purposeful life. This book is a step-by-step guide to redesigning your life so you can truly live the life you have always dreamed.
It is about MIND, BODY, & SOUL EMPOWERMENT TO LIVE THE LIFE YOU TRULY DESIRE. Have you been in a rut, feeling a little static or stuck in negativity, and are not sure how to create the life you were meant to live? Have you ever felt you could not escape your negative thoughts and feelings? Do you feel an emptiness inside as if a "piece" of you is missing? If you answered "yes" to any of these questions, you are not alone! We all have challenged whether it be with our health, career, or relationships. However, it is how we deal with these challenges that allow us to either remain stuck or to begin creating the life we truly desire!
What does your coaching offer? What can people take away with working with you?
I offer multiple free resources including workbooks, guides, and exercises on my website.  I also offer individual 1 on 1 coaching.  Here is a description of the program:
Over a series of coaching calls, we'll hone in on what you desire most deeply, and what's driving it. Together we'll explore what's been working for you in getting closer to your goal, and what's keeping you stuck.
Perhaps you've been in the same dead-end relationship or job for years, too scared to speak up or leave or you feel overwhelmed by work deadlines or family demands—tired of looking after everyone but your own exhausted self.
1 on 1 coaching is a process in which we will discuss a myriad of issues, events, experiences, and memories for the purpose of creating positive change so that you can experience your life more fully. It provides an opportunity to better and more deeply understand oneself, as well as any problems or difficulties you may be experiencing. Coaching is a joint effort between us. Progress and success may vary depending on the particular problems or issues being addressed, as well as many other factors.
What you'll learn:
The simple 5-step system people need who don't know where to start when it comes to achieving a healthy lifestyle or what to do next

How to identify mindset blocks that can prohibit you from achieving the life you truly want

How to identify healthy habits that work for you

How to implement those healthy habits including morning rituals, time management and self-care tools to get you believing YOU ARE ENOUGH!
You will get the strategies and perspective to make smart decisions and create change. The energizing, fulfilling, lasting kind you've been craving.
You will get the tools and support you need to drop the old patterns and beliefs holding you back, and create new goals and a crystal-clear action plan to meet them, whether it's a new business opportunity, relationship or lifestyle you're after.
You'll discover who you really are and how to live a nourishing life where you're honoring your journey while balancing the needs of work, family and everything else.
What makes your techniques different from other Health & Mind Coaches?
Being a mental health therapist for the past 15 years, health and mindset coach, business owner and fitness fanatic has taught me a great deal personally and professionally about the positive effects of embracing good health and positive mindset. I have worked the 5- Step System. I share my story with my clients which I find makes for a very positive working relationship with both the client and myself.
Interview by Jules Lavallee