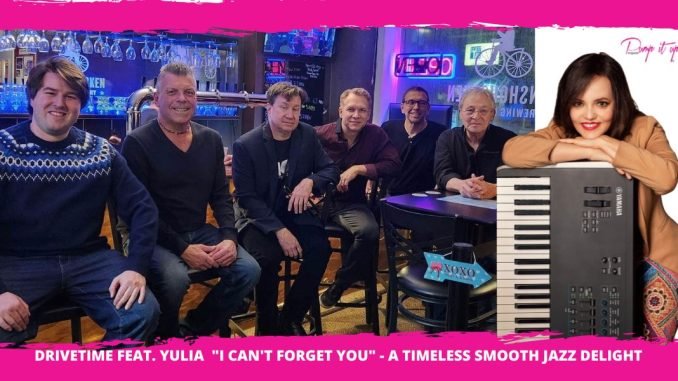 Step into the enchanting world of smooth jazz as Bernie Capodici, the esteemed musician from the celebrated band Drivetime, unravels the heartfelt story behind their soul-stirring duet, "I Can't Forget You." In this exclusive interview, Bernie takes us on a melodic journey, delving into the inspiration and emotions that shaped this timeless musical delight. Joining him in this remarkable collaboration is the exceptionally talented pianist, Yulia, who lends her artistry to the harmonious duet. Discover the essence of smooth jazz and the magic that Bernie and Yulia create together in this unforgettable musical experience.
Can you tell us more about your upcoming release, "I Can't Forget You"? What can fans expect from this new track?
There seems to have been a shift in smooth jazz of late, the Broadcast Architecture rules have been turned on their head. Artists are freed from the antiquated form of production. This is definitely one of those tunes. Free from the critics' restrictive conventional format.
The release date for "I Can't Forget You" is just around the corner. How are you feeling about this big day?
I am very excited. The song has a couple of meanings to me personally. It was written for my friend and mentor, the late great Geator with the Heater, the Boss with the Hot Sauce Jerry Blavat. The other distinction is being able to work with Yulia Petrova for the recording: I consider Yulia one of the best pianists in the jazz world today. I think the tune is a fitting tribute to both Jerry and Yulia
We heard you've set up a Smart URL link for pre-saving the track. Could you tell us more about it and how it benefits your fans?
This is brilliant, it gives our listeners an easy and convenient way to access the track. I think in today's market you have to make it as convenient as possible for the music consumer.
How important is it for you to have your fans pre-save the track before the release date? What impact does it have on your music's launch?
I think it gives you a good indication on how far it will go and how interested people are in the music.
What streaming platforms can fans listen to "I Can't Forget You" on using the link https://qmusic.lnk.to/ICantForgetYou?
You'll find it on Spotify, Apple Music, Amazon Music, Deezer, YouTube.
Are there any special surprises or additional content planned for fans?
For this release, listeners can go to DrivetimeUOJ.com sign up and get a free mp3 of our breakout single "Getin' Witit" featuring Bob Baldwin.
Social media plays a significant role in reaching out to fans. How will you be leveraging your platforms to encourage pre-saves and promote the release?
It's a team effort, from marketing to each individual connected to the project. We are fortunate to have a team we have built over the last twelve years, so we do marketing, distribution, social, direct contact with DJ's. Most of this is handled by our label at The Sound of L.A., our music consultant Michael B. Sutton  and our marketing agency Editions L.A.
In addition to the Smart URL link https://qmusic.lnk.to/ICantForgetYou, what other promotional activities or strategies do you have in place to ensure the success of "I Can't Forget You"?
Thanks to our label The Sound of L.A. we have a solid radio promotion for this release.
As an artist, how do you feel your music has evolved with this release compared to your previous works?
This was a personal goal for me. It's a lot different than my usual style. I wrote with two things in mind: the first creating a tribute to my ole' friend Jerry Blavat whom we lost this year, and the second styling the tune to show Yulia's exquisite talent.
Is there a particular message or emotion you want your listeners to take away from "I Can't Forget You"?
There sure is: passion, and the melancholy of loss and then hopefulness. Finally, the triumph of a life well-spent.
Are there any upcoming live performances or events where fans can experience the new track in person?
Drivetime will be appearing at Jamey's House of Music in Lansdowne, PA on Friday December 8th 2023
What has been the most rewarding part of the process in creating and preparing for this release?
I enjoy all of it but love working with the other musicians involved. The composition starts out in a fluid state then turns into a solid upon completion.
Do you have any rituals or routines to help you stay focused and calm?
Practice, Practice, Practice, and I stay focused at the job at hand. Knowing you're doing all you can to promote a work is what keeps things moving; and when they're moving you have the satisfaction of knowing your efforts have added up. That keeps you calm.
Lastly, is there anything else you'd like to share with your fans about "I Can't Forget You" ?
Yulia is a priceless gem, and I knew I wanted to collaborate with her the first time I heard her play. Her touch is masterful: light when needed, hard when called for. And I can't forget guitarist Gene Terramani: His rhythm work on this was precise and his solo is outstanding. Bassist Nick Terramani adds the deep and soulful bottom that complements Yulia's extraordinary piano style.  And God bless The Geator with the Heater. RIP Jerry.