by Jimi Wang
Jimi Wang worked for China Music industry for 25 years, he once worked for Universal Music , Music Magazine Audio &Video World. Now he has his own music studio.In early 1990s, Jimi Wang was one of China's earliest music critics, Seymour Stein said: "He was a Rock'n'Roll pioneer in China."He wrote many influential features about the developments of the changing music trends in China. And He also signed many Chinese Rock Bands.He was invited to make speeches on many international music panels such as: Midem,Canadian Music Week, Musexpo,Music Matters, One Movement Festival…
Thirty years ago, if someone offered you a music business in China, no one would have responded it because there was no music market in China at that time. If you invest money , that means  "no return".
Now, China's music market is one of the fastest growing markets in the world. If you don't want to enter China, your music business is equal to "drop a big wallet".
The world's most populous country, and their consumers' pockets are bulging, and there is no reason why you should not come to China to do the music business.
In fact, despite the new era, music business is still an old one. The president of Gold Mountain Entertainment(signed with Nirvana, Beastie Boys, Beck, Rickie Lee Jones, Foo Fighters, Sonic Youth, Tracy Chapman ) Ron Stone has said that :"The music business now is the same as it was 2,000 years ago. Why is that? It's all about making your artist or song famous first, and then can do the next business."
It has been the same for thousands of years.
To make your artists and songs famous, the media is the first thing to consider.
China's music media has many particularities due to historical reasons. It didn't really form until the late 1980s. At that time,mainly music media are  newspaper, radio and television station.
Since China is a news – controlled country, newspapers and magazines are less regulated than TVs and radios. So, the rise of the magazines began to drive the market for music in China at the beginning.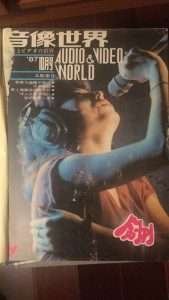 In 1987. China's first popular music magazine, "Audio &  Video World", was born, and the magazine was hailed as China's "Rolling Stone"  magazine(and later, it did,In 2006 They published a music magazine together,named "Rolling Stone China Edition".but only one issue and forbidden by government ). Basical function as with "Rolling Stone", as long as  "Audio &  Video World" magazine introduces artists, it must be famous and popular.
With the birth of  "Audio &  Video World" , many music magazines, such as X Music, Music Heaven, Modern Music Field,Hit Music, have been born. And also  the TVs and radios were grew up  before 2000, basically all these music media were called music market orientation.
After the millennium, with the rise of the Internet, traditional media are declining. New media were born.
So, what are the current media of music in China?
1) Traditional media
TV stations, for example, are still a better platform, but they only recommend famous artists. For new artist, It is very difficult to get the chance to get exposure.So when you promote your artists and new music, you can choose some magazines such as "X Music " ,"Q magazine Chinese edition", "Easy Music World",and even some foreign music magazine will also report it such as the Pump it Up magazine. They often focus on China music market.
2)New media
This kind of media have professional people to write music introduction and have a large number of regular music fans.They promote artists and music through wechat and weibo this king of new media. It's a great medium to promote music in China,because their fans have very good taste.Most of them only like western music .There are many famous new media  in China now: Music Heavn, Rocker, Jam music,Luoo, etc.
3) Digital Platform
Digital  Music platform has music playing function and also an important platform for music sales. Currently the main platforms have the largest database of Chinese music fans. For example, QQ music, Xiami, Netease Cloud music. There are others platforms that can combine online and offline  functions such as See Music, Street Voice,Dou Banand crowd-funding platform  Musi kid.
Also, Because  Youtube,Facebook and Twitter are blocked in China mainland, so if you want to promote music through video's  platforms ,you can choose Youku, Tudou, iQIYI, and YinyueTai, etc.
4)Media research
There are already a lot of research media about music market and major events in China, you can read these media and decide how to do.Such as Music Businee China,Rechord, Vision,etc. They are very good music consultants.
5)Professional network
This kind of media is like linkedin,can build managements/labels and artists very professtional relationships.Music dish China is a very strong music network in China.
The current music media in China basically includes the above, if you want to promote your music and entertainers, these are all you have to consider.
So please don't wait,do it.