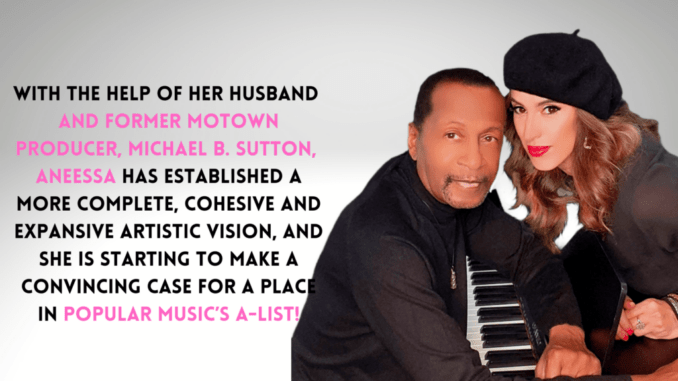 Across the sonic canvas, the basslines are bolder, the drums bang harder, while the strings, keys and brass, shimmer and shine with enhanced vibrancy.  And considering the soulfully slinky aesthetic the groove of the song carries, the distinctive instrumental strength "Gonna Be Alright – Better Days Mix" has, plays a big role in allowing it to stand from similar projects. It maintains all of its classy and magnetic 70's funk, soul and jazz flavors, while laying down an absolutely contemporary dancefloor banger.
"Gonna Be Alright – Better Days Mix" is an impeccably crafted, joyfully executed, four minutes of musical perfection. Add that to the fact that Aneessa and Michael B. Sutton enrolled Jason Anderson – whose credits include New Edition, Johnny Gill, Keith Sweat, Boys ll Men, En Vogue, Faith Evans, Los Lonely Boys, BeBe Winans, and The Pointer Sisters – to take care of mixing, and you have some of the best elements of a top class team on board.
Another great attribute this single has, aside from its production, is Aneessa herself. Pair the singer's compelling vocals with her narrative flow, and you have a very immersive performance. Add in the stunningly smooth and powerful production, and you have an irresistible song. Unwaveringly, the "Gonna Be Alright – Better Days Mix" sound, production and singing has more than enough momentum to pull you in for the whole ride.
More importantly the "Gonna Be Alright – Better Days Mix" assures us that as an artist, Aneessa is beginning to make new rules, by stretching and creating new spaces for herself within and around the pop genre. Though the song's expensive sonic outer-sheen is impressive, it is what Aneessa and Michael B. Sutton have done on the inside that matters just as much. The songwriting, the arranging and the singing, is superlative to say the least.
Aneessa has certainly come a very long way since her earlier days in the music scene, and "Gonna Be Alright – Better Days Mix" now shows us an independent artist who clearly aspires for greatness. With the help of her husband Michael B. Sutton, Aneessa has established a more complete, cohesive and expansive artistic vision, and she is starting to make a convincing case for a place in popular music's A-list.
"Gonna Be Alright – Better Days Mix" is an effective, and exceptional record, in showing off all of Aneessa's artistic wares. In the opening lines of the song, she sings: "I know better days are coming. I'm ready. Yes I'm ready!" If that doesn't sound like a convincing mission statement, then nothing does. You better believe her!
hing does. You better believe her!
Don't forget to join in Aneessa's newsletter!
Sign in here >> https://bit.ly/3azDIj5
OFFICIAL LINKS: WEBSITE – THE SOUND OF L.A. LABEL – YOUTUBE – FACEBOOK – INSTAGRAM – TWITTER – SOUNDCLOUD – TUMBLR – TWITCH – APPLE MUSIC – SPOTIFY