Today, we are thrilled to speak with an extraordinary woman who has turned her passion for cooking and baking into a world-renowned business, inspiring women everywhere to pursue their dreams and passions.
Glynis Albright, CEO of Glynis' Kitchen, has overcome many obstacles on her journey to success, including a rare blood disease, but through her tenacity, drive, and faith, she has triumphed and created a successful gourmet food and wellness brand. In this interview, Glynis will share her inspiring story, offer advice to aspiring female entrepreneurs, and discuss the importance of pursuing your passions and incorporating love into everything you do.
Join us as we celebrate women and their incredible accomplishments.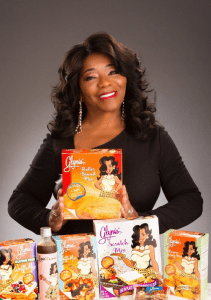 Glynis you are an inspiration to many women who dream of turning their passion into a business.  Can you tell us about the journey that led you to become the CEO of Glynis' Kitchen? 
I was diagnosed with a rare form of leukemia years ago which led me down the nutritional path.  My lifestyle and diet had to change which meant not only preparing my meals a certain way but also being careful about my choice of foods.  It also meant having a more regimented eating schedule.  My relationship with food changed completely.  I ate to live, to make my body stronger and to guard it against dis-ease as opposed to eating due to cravings and/or hunger.
You're known as the Waffle Queen, and your food has attracted visitors from all over the word.  What motivates you to create such delicious and memorable dishes?
Meeting people who share their health struggles with me really motivate me to create something delicious for them using the nutrients that they need to help with their healing process.   It is enough that you are enduring an illness but to be deprived of the things that you love just didn't sit right with me.   I felt that it was my Purpose to create foods that would satisfy the palates of those who are "going through a storm" as well.  I decided to create gourmet food lines that stayed without certain health guidelines but taste good.  I wanted my clients to be healing while eating, instead of making themselves sick because they treated themselves to something that they were once told they couldn't have!
Your success didn't come without challenges.  How did you overcome the obstacles that came your way, especially during the toughest bout with leukemia? 
One of my biggest challenges was asking for help from others.  I was so used to doing things on my own.  I found myself in a place where I was no longer in control.  I couldn't control what the disease was doing to me internally, I couldn't control how I felt, I couldn't control the effects of the medications, nor could I control the way it was affecting my outer appearance.  I was forced to concentrate on one thing – the desire to live.  I had to face the facts that there were certain things that I would no longer be able to do and would need assistance.  That was a huge pill to swallow.  I also had to face the sadness of learning who were prayers and who were preyers; who were friends and who were acquaintances.  It was indeed a challenge to receive help from a very small circle of who I will always call my family – a small group of people who I didn't expect — and who did not look like me.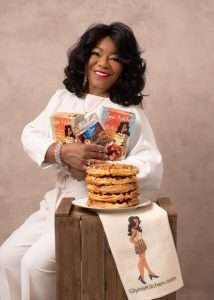 Can you tell us more about your natural approach to healing, and how it led to the creation of Just Sweet Enough ® and Cookie Dots ®? 
Due to my illness, it forced me to think more carefully about the foods that I was putting into my body.  My goal was to fuel it with foods that were wholesome and not processed/loaded with chemicals.  Just Sweet Enough ® and Cookie Dots ® were my first two gourmet food lines.  The core of those two companies consists of four elements:  fruits, vegetables, herbs, and spices.  From Apple Cinnamon to Zucchini Carrot (and all in-between), I was able to create two food lines that use what God has gifted us.  Elements that grow up from the ground that are nourished by the sun, wind, and rain.  Wholesome foods.    Every fruit, vegetable, herb, and spice exist and serve a purpose for our bodies to sustain good health.  My delicious treats gave many people the opportunity to have desserts with the nutrients in them that wouldn't inflame whatever health challenges they were enduring.  With Just Sweet Enough ®, I created over 31 flavors of poundcakes, a dozen different cookies and 5 different mini-pies.  As for Cookie Dots ®, over 20 different tiny treats were created with 6 of them being infused with black, white, or green tea.
Many women struggle with balancing their personal and professional lives.  How have you managed to juggle both, especially as a wife and mother? 
Juggling being a wife, mother, and now grandmother takes a lot of prioritizing.  I was so accustomed to doing it all and sometimes doing several things at once.
Now, I place things in order of importance, say "no" to things that I cannot do, and whatever I don't finish in a day, place it at the top of my list for the following day.  My family has always been first before anything so prioritizing my responsibilities as a wife, mother and grandmother took some adjusting.  It meant hiring various employees to assist me in areas of my business that they are trained to do so that I could spend more time with my husband.  I had to hire a cleaning service so that my home can be the way I wanted it to be, instead of wearing myself out trying to handle the house after running my businesses.  I stopped micromanaging my adult kids which relieved my mind, and I could enjoy myself with my husband.  I said "no" to people and friends who were so used to me doing for them what they couldn't or wouldn't do for me.
As a successful entrepreneur, what advice do you have for other women who are looking to start their own business?  Also, what message do you have for women who are striving to achieve their goals and dreams, particularly in the male-dominated worlds of entrepreneur and business?
My advice to women out there who are considering starting a business is just as Nike's slogan – Just do it!!  It is never too late.  When I read that Colonel Sanders started Kentucky Fried Chicken at the age of 65, it encouraged me to keep on going and never stop until I've had enough.  Find that passion at whatever age and go for it!!  I started my first culinary company at age 35 (although I had two other successful businesses prior).  I am now 6 culinary food lines in, the last being Glynis' Products which I started at age 60!!  And to top that off, I became a print model at age 63!!!  It's never too late.  Just do it!!!
The business world in this country is male-dominated – so what?  Do you!!  Knock down the doors, climb through those windows, and crash those ceilings.  Do it!!  Concentrate on YOU.  Don't compare yourself to anyone else – just YOU – and go for it.  Give it all you have and do it.  Age and gender are no longer excuses.  I am a Black business owner.  A 65-year-old senior woman.  No loans, investors or people giving me money, just because they like me.  I am pretty sure that I have more years behind me than ahead of me, but I will not allow that to stop me from doing what I want to do and enjoying it.  It's not easy all the time, but I you will never let you see me sweating.  I will make it look easy because I'm doing ME and loving it!!
You have a PhD in Natural Health/Food Science.  How has your education influenced your approach to running your business? 
My education had EVERYTHING to do with my business!  I have been able to use every math, science, and technology course that I took to make Glynis' Products a success.  If fact, whatever I didn't get from UCLA, I obtained from other educational institutions.  It was important to me when implementing my food lines, to do my best and give my best without sacrificing the taste and quality of my creations.
 The pandemic has hit small businesses particularly hard.  How have you adapted to the challenges presented by COVID-19, and what advice do you have for other entrepreneurs in these difficult times?
Adjust, adjust, and adjust some more.  We were all turned off by the affects Covid, especially once it became a pandemic.  Covid shut a lot of us down.  Some of us couldn't recover after trying hard to do so.  Covid made us all RE-invent ourselves.  It forced us to find other streams of income to survive.  It pushed us to figure how to do as much as we can with just a little.  It stabbed all businesses with a wake-up call that had us scattering like ants who've lost their farm, searching for their leader.
For me, I had to sit still and think about all pros and cons of my business and prioritize.  I worked with the parts of my business (Glynis' Kitchen) that were the easiest to get a monetary return.  Just Sweet Enough ®, Cookie Dots ®, Mrs. Albright's TeaCakes ™, Cookie Patties ™, and 'Lina's Nutty Treats ™ were items that all required a staff of at least 11 people prepping, baking, packaging, and then packaging for shipping.  Glynis' Products was my only line that had mixes that were in bulk that had been manufactured and only required packaging for shipping.  Glynis' Products could be handled by ONE person, if absolutely necessary.  It would be hard, but it could be done.
As much as I hated to do such a crazy thing, I had to shut down five of my culinary food lines and concentrate on just ONE– Glynis' Products.  I had to become a businesswoman of ONE.  I had to take in orders and handle shipments so that product could get to the stores that needed their shelves stocked for the masses.  Internet orders were done alone.  There was little sleeping because those Internet orders needed to be packaged up for shipping.  A lot was being done with just a little if I wanted to survive.
You must be true to yourself.  Be honest.  If your business can't do it, don't.  Figure out what your business CAN do and do JUST THAT.  I'd rather do one thing well and make money at it than to try to do it all and fall short.
A friend of mine used to say, "It's all temporary."  Although we didn't know when Covid would end, we knew at some point it would.  We just wanted to be able to say that we survived it.  So do what's best, not what you think looks good.
You've shared your story on major platforms, including the Food Network and various morning shows.  Why is it important for women to share their experiences and stories of resilience and perseverance? 
You never know who is listening to your voice, who needs to hear your message, and who's spiritual appetite is longing for that little bit of encouragement to get to the next phase in their lives or business.  I'm not saying that you have tell all your personal business.  It is important for us to share the portions of our journey that may help to fill someone else's cup.  Pay it forward.  That is what God wants us to do – share our talents so that the goodness of your talents will be multiplied.
Visit Glynis website: https://www.glyniskitchen.com