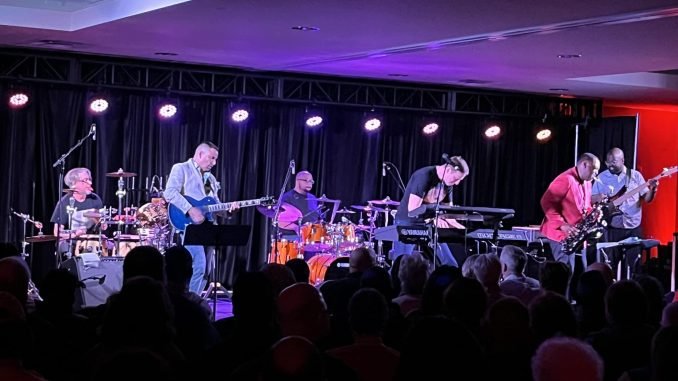 The Berks Jazz Festival: What an exhilarating experience if you're a Smooth Jazz fan! Celebrating 32 years in 2023, Berks Jazz Fest is one of the most prolific festivals of its kind, drawing nearly 30,000 visitors from all over the world. Musicians from all backgrounds, locales, and genres convene annually for the 10-day festival, which features dozens of concerts at venues across the region.
What's really cool about Berks is that the artists are so accessible and approachable. I only hung out at the Double Tree Hotel, but I have to say it kept me busy. When I arrived, keyboardist and London-based Oli Silk was on stage playing with a dynamic ensemble including saxophonist Doc Martin from the DC area and Los Angeles- based trumpeter IIya Serov. Oli Silk has created eight albums, most recently "6". He was named Debut Artist of the Year in 2006 by Smooth Jazz News, and was nominated for International Artist of the Year by the American Smooth Jazz Awards. I had the chance to meet and have a brief interview with Oli, which you can hear on my radio show.
From the corner of my eye, I spotted Andrew Neu, who has played on many of our CD's; so I grabbed an interview and selfie with him. I consider Andrew one of the most talented sax players in Smooth Jazz today. In the lobby Ken (Spider) Webb from WIR-Webb Internet Radio was playing all kinds of tracks, even some from the 50's – the kind of classics Jerry Blavat used to play (The Geator with the Heater and Hall of Fame DJ, a Philadelphia legend who sadly passed away early this year).
Andrew and I got in touch with Michael Tozzi, owner of ijazzglobal, who was just finishing up at the Scottish Rite Cathedral with Manhattan Transfer, celebrating 50 years of their distinctive and eclectic sound in their "final world tour." Tozzi joined us for dinner, but was more interested in a gin martini after a very long and eventful day. We had a great conversation about the state of the music business, in particular Smooth Jazz.
After dinner it was time to hear and meet one of the most prolific song writers and pianists on today's Smooth Jazz circuit, the lovely and talented Carol Albert appearing in the Cheers American Bistro right there at the Double Tree.  Carol hit #1 on the Billboard Jazz Chart and ended 2022 with her hit tune Paradigm Shift. I have to say I wasn't happy with the set-up they provided for this a#1 Billboard artist. (They had her as a solo playing with tracks in a very loud bar. For me it's the worst-case scenario and a slight on an amazing artist. Sometimes I wonder how the politics of Berks works.) Needless to say, Carol was right on the mark and performed flawlessly.
I loved how artists were just milling about. When I stepped outside to get some air I struck up a conversation with Sharon Sansaverino- as luck would have it -wife of famed guitarist
JJ Sansaverino!! When I said I'd love to meet him, she led me right back to the lobby to introduce us. I love his work, and turns out he's very personable as well. We hit it off like two guys from the corner. His tune Ride With Me hit #3 on the charts in the beginning of March.
All in all, the feeling at Berks was gracious and chilled out, from the help, the volunteers, to the artists themselves. No matter where you're from, if Smooth Jazz is your groove, you must attend.
Berks dates for next year are April 5 – April 14 2024.  Mark your calendars.